by Ken Lain, the mountain gardener

Rosemary is a hardy mountain evergreen shrub that's easy to grow outside and even easier to use inside.  Prized in the culinary world for its flavorful leaves Rosemary also has a fragrance and early spring beauty with its show of lavender flowers.  There are so many ways to use rosemary from the garden, too many to list them all in one garden column.   I ran the idea past the plant ambassadors here at Watters Garden Center.  Here are our ten favorite things to do with Rosemary from the crew here at Watters.
#1 Food – Cooking with rosemary tops the list. And, you can use rosemary in recipes with almost anything you can think. It goes well with poultry, lamb, stews, soups, bread, crackers, cookies, nuts, vegetables, jams, and jellies.
 #2 Tasty Drinks – There are many great drinks made with rosemary as well. Add rosemary to water, hot tea, lemonade, and Cocktails.
#3 Centerpiece – Rosemary cones and topiary make great centerpieces for parties and holiday gatherings. Just place them in a decorative container and add a bow.
#4 BBQ Skewer – A fun way to use rosemary while grilling is to remove the leaves and use the woody stems as a skewer. It infuses flavor into your ingredients while you are grilling. And, don't throw away the leaves! Mix those in with your marinades.
#5 Infused Olive Oil – Snip 4 or 5 stems of Rosemary and simmered in a cup of olive oil over medium heat five to seven minutes. Let the rosemary and oil fusion cool. Then pour the olive oil and rosemary into a bottle. Seal the bottle and enjoy the beauty and flavor of your homemade gift to yourself.  Friends will also be impressed your homemade gift to them as well.  Impressive as a birthday or housewarming gift.
#6 Container Gardens – Rosemary is beautiful in container gardens. Trailing varieties look great spilling over the edge of containers, and upright varieties give pots some height. Plant them alone or mix them with other herbs and flowers.  Rosemary loves the heat and summer is a good time to plant one of your own.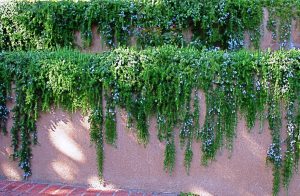 #7 Basting Brush – Infuse a little extra flavor in meat by creating a basting brush with rosemary. Cut 6 – 8 stems of woody branches of rosemary at least 10 inches long. Remove a third of the leaves at the bottom of the branch. Tie together with cooking twine and use to brush on marinades.
#8 Landscaping – Rosemary is a superior mountain shrub in the landscape. As a super low water user, this evergreen is also deer resistant and even less maintenance. There are upright varieties that add evergreen structure against hot walls and soften rock lawns. Watters also sell ground cover varieties planted in troubled spots; they look great spreading between boulders and spilling over raised beds.
#9 Decoration – Spreading fragrant cheer there are many ways to use this winter evergreen indoors during the holidays. We love using them at the table as a place setting or napkin ring.
 #10 Fragrance – Rosemary has a beautiful scent. Add it to a simmering pot of water that adds an herbal fragrance only scented candles dream of.  Your home will smell of a heavenly garden, even in mid-winter.
Until next month, I'll be hanging around the rosemary here at Watters Garden Center.
Ken Lain can be found throughout the week at Watters Garden Center, 1815 W. Iron Springs Rd in Prescott, or contacted through his website at WattersGardenCenter.com or  FB.com/WattersGardenCenter