by Ken Lain, the mountain gardener
Every plant needs water, but drought-resistant varieties need only dainty sips once they're established. They are perfect for low-rainfall areas, or low-energy gardeners. Native plants have the best chance of surviving dry summers or whatever Mother Nature throws at them. They've evolved to thrive in our high mountain climate without a whole lot of extra work or water.
Here are 5 drought-resistant plants that won't break your water budget.  Establish these stunners in your landscape and retire your watering can!
#1 Gilt Edge Silverberry (Elaeagnus) – A striking golden-yellow-edged blue leaf delivers year-round color.  A
superb native hedge, this plant beats Red Tip Photinia hands down in water use and disease resistance.  Growing easily to head height or a bit taller this evergreen thrives in our wind, sun, heat, and cold with virtually no maintenance once established.   The best part, the silvery spring flowers are tiny but ever so fragrant that they put the scent of lilacs to shame.
#2  Deer Grass (Muhlenbergia rigens): This knee-high native grass, found in many desert gardens, is a spiky and dependable ornamental. It loves full sun but will grow in a bit of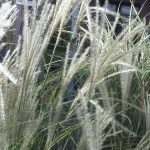 shade. Water every three days until established. After the first year water every three weeks or less during the rainy season of summer.
#3 Salvia, Heatwave series: These dependable perennials were developed in Australia to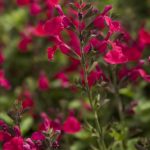 withstand extreme weather. As a bonus, they bloom spring through fall, to the delight of hummingbirds and butterflies. Colors include white, pink, red, and salmon.
#4 Russian Sage: This hip-high blue bloomer has been in flower for over a month and won't stop until the middle of autumn.  Water to establish this perennial in year one and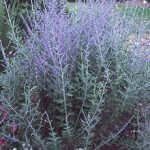 never water again.  This beauty has perfect blooms for about 10 years then becomes a bit ugly and overgrown.  Dig up and replace at the first sign of untidy ugliness.
#5 Tickweed (Coreopsis): These yellow perennials add a burst of sunshine to any garden
or border. The more than 100 species are long-blooming and low-maintenance. They range from long and leggy to small and mounded. Also very easy to divide, creating many more plants season after season.
Need more low water ideas?  Check out Watters' entire list of low care plants in our Yavapai Friendly Plant List. 
Gardening Classes – Held in the comfort of Watters' greenhouse, classes begin at 9:30 every Saturday morning and are free of charge.  These are the topics for the next 4 weeks of classes:
July 22 – Perennial Flowers with Impressive Blooms
July 29 – Easy Grow Roses
August 5  – Herbs from Garden to Table
August 12 – Arizona's Raptor Experience ~ 'Creatures of the Night'
Take a look at the entire summer class lineup .
Until next week, I'll be helping local gardeners with low water plants here at Watters Garden Center.
Ken Lain can be found throughout the week at Watters Garden Center, 1815 W. Iron Springs Rd in Prescott, or contacted through his web site at WattersGardenCenter.com or  FB.com/WattersGardenCenter .