by Ken Lain, the mountain gardener
When Lisa and I were just married and struggling to keep fresh food on our table, a saint of a neighbor came to our rescue. Harry lived across the street, and his entire backyard was filled with produce-growing plants. His passion was vegetables, and he purposely grew extra to share with family, neighbors, and the local food bank. Fresh tomatoes, peppers, squash, and other edibles from his garden were delivered fresh to our door. We gratefully consumed every piece of deliciously nutritious food he gave us! He was a lifesaver.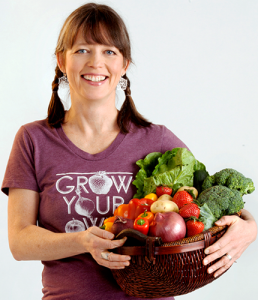 A lawn is beautiful, and Fifi enjoys going wee-wee on it, but grass is a wasteful entity. Better to mimic Harry and grow less grass and more edible-producing plants. It's sure to use a fraction of the water without the weekly chore of mowing. Add a few flowers to the garden, and you have the plants that benefit pollinating butterflies, bees, and hummingbirds all at the same time.
6 Reasons to Become a Backyard Farmer
#1 Lawns Waste Resources – In the U.S alone, there are approximately 40 million acres of unsustainable turf-grass lawns.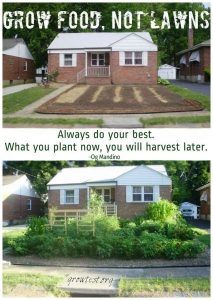 These lawns use valuable resources of water, fertilizers, energy, fossil fuels, and our time. Gasoline in the millions of gallons is wasted weekly mowing lawns. This usage is almost obscene as it contributes to the U.S and Canada doing everything possible to extract highly polluting resources out of tar sands, deep waters, and fracked earth. Gardeners are wasting time and energy maintaining lawns that do nothing more beneficial than looking good.
#2 Community Building – Before the 1940s, supermarkets hardly existed. People grew much of their produce and got their meat, dairy, and other food items from local ranchers. Today most of us jump into our cars and drive to our nearest warehouses or supermarkets for our edibles. Many Western countries have squandered resources around an automobile-dependent culture, which has led to the supermarket-dependent culture. Being involved in growing our own backyard food helps build community. As people grow excess produce, they tend to share it with neighbors and friends, hence strengthening local networks and community resilience.
#3 Backyard Gardening Improves Health – Studies show that people who grow their food eat more healthily and share with other members of their families and communities. As a backyard gardener, you reduce reliance on industrially produced and chemically enhanced foods. Plus, you introduce others to the higher quality of homegrown produce. There's no question that Backyard Tomatoes just taste better!
#4 Food Security – A packet of seeds costs only a few dollars yet generates hundreds of plants. With the price of fruit and vegetables increasing and inflation eating away at our spending power, it makes sense to grow as much of our food as possible. As Harry used to say, "Growing your food is like printing your own money." He was right then, and he's still right today! The more fresh produce one grows lessens dependence on long supply chains and highly industrialized food systems.
#5 Increasing Local Food Production and Efficiency – Some of the benefits of backyard gardening are: reduced numbers of miles food travels, personal food security, improved soil quality, less waste on packaging and storage costs, support of small ranchers and independent garden centers, increased local employment, increased flow of local capital, higher quality produce, reduced dependence on the global supply chain, and better environmental outcomes in regards to pollution and use of fuels. The benefits of being out-of-doors and growing our own food appear to be endless.
#6 Know Where Your Food Comes From – Becoming a backyard gardener or purchasing from a local rancher or farmer reduces the distance food travels to reach our tables. Produce grown locally is fresher than that obtained from grocers. Many supermarkets use extensive cold storage and distribution centers to hold and process fruits and vegetables. Goods are in transit for days, even weeks, reducing their nutritive values. Instead of using storage and processing facilities, local farmers pick and rapidly distribute their ultra-fresh produce.
Garden Helper – If you need help growing more vegetables and herbs this spring, the experts at Watters are here to help. Our center has the largest selection of locally grown, pesticide-free, organic plants in Northern Arizona, and the experts to show you how to grow them. Start with my local Vegetable Calendar so you know exactly when to plant each crop.
Until next week, I'll be here at Watters Garden Center helping local gardeners grow more food.
Ken Lain can be found throughout the week at Watters Garden Center, 1815 W. Iron Springs Rd in Prescott, or contacted through his web site at WattersGardenCenter.com or FB.com/WattersGardenCenter .