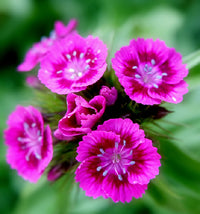 The featured plant for this week is the Lavender Lady carnation. Perennial carnations are the most popular cut flowers in the world, and this stunning newcomer with its long vigorous stems is a standout. The flowers last and last after cutting and, of course, hang around even longer when left in container gardens or flowerbeds. Snip a bloom for your buttonhole and you'll put a spring in your step and harvest a huge crop of compliments all day! Best of all, this perennial bloomer never will be devoured by critters, not even javalinas. In my opinion, every mountain garden should have at least one of these hardy plants.
I routinely read almost every garden blog, magazine, and book that pertains to the mountains of Arizona. However, the idea for today's article comes from next month's issue of one of my favorite garden magazines, "Phoenix Home & Garden". Although most of the publication's articles are aimed at desert dwellers, I find inspiration for my own landscape and adapt desert gardening ideas to my mountain plants. Here follow the top 9 spring gardening blunders we mountain gardeners want to avoid.
Mistake #1 – The 'Butcher' pruning job. Informal, more natural looking landscape designs seem better suited to northern Arizona. Cutting shrubs and trees into pom-poms, balls, or stripping off a plant's lower branches so it appears "pineappled" is out of place. These are eastern U.S. or Midwest practices; you are not in Kansas anymore, Toto.
Mistake #2 – One drip for all. Micro-irrigation is the way to save water, time, and money in any landscape. As most drip systems pay for themselves within the first 18 months of use, every landscape will benefit from a professional drip system. Problems arise when flowers, trees, shrubs, containers, and the vegetable garden all use the same irrigation line. I have trees, shrubs, and roses on one timer; the lawn, raised flowerbeds, and containers are on their own separate drip systems. In all I have 8 values watering the landscape in my lush ½ acre lot and use far less water than most homes. It's those darn showering teenagers that use all the water at my house, not my plants!
Mistake #3 – Lack of plant continuity. There always are new plants and/or new plant colors to attract a gardener's eye and playful fancy. If whimsy and impulse are allowed free rein a garden can end up with a bit of everything without a sense of composition. Fortunately this fault is easily corrected; simply select a few theme plants to repeat throughout the garden to pull the landscape together. We "plant nuts" are the worst offenders; I know because my own gardens can lean toward the school of haphazard design!
Mistake #4 – Buying plants without consideration for their mature sizes. Many of my customers misjudge how big a plant can get and the consequences can be discouraging and costly. Consult the professionals at your favorite garden center to be sure you allow plants enough space to grow to their full potential.
Mistake #5 – Planting too deeply. A prevalent myth that "deeper is better" is not true in the mountains of Arizona, and often results in many plants' demise. This is especially true for trees after the plants have matured, making replacement more difficult. Remember, the top of the planted root ball should always remain exposed to light.
Mistake #6. – Mistaking dormant plants for dead. This blunder especially plays out for heat-loving plants like crape myrtle, hibiscus, ash trees, and ornamental grasses. Give most of these plants until mid-May before pronouncing them dead and replacing them. If a branch snaps off easily and is dry, that branch is dead; if pliable and difficult to break, it's alive. Of course, if a plant is ugly or you don't like it . . . replace it . . . whether it's dead or alive.
Mistake #7 – Not understanding a plant's needs. Plants at higher vs. lower elevations react differently to sun, wind, and frost. Do your homework and ask lots of questions of the horticulturalist on staff where you get your plants. Before you buy you should understand a plant's frost sensitivity, sun exposure, wind tolerance, soil requirements, and its ultimate size.
Mistake #8 – Over-watering the landscape. Watering more than necessary is not just a big waste of money, but over-watered plants are hosts to rot, fungus, and other nasty diseases. Check water lines and emitters for leaks and breaks at the beginning of each spring, and turn off the irrigation system during rainstorms.
Note – I have a simple watering guide at the garden center that's free for the asking. It's just the right size to tape inside an irrigation clock with seasonal recommendations for trees, shrubs, lawns, flowers, and vegetables. It can help avoid over-watering.
Mistake #9 – Planting in poorly draining soil. Our poorly draining mountain soils lead to root rot and disease. Compacted, layered soil will limit root growth, while well-blended soils provide great drainage and encourage vigorous root growth. It's the wise gardener who blends amendments into the soil.
There you have it, the 9 gardening mis-steps to avoid this year. If mistakes already have been made go ahead and live with them until you're ready to move or replace plants to correct the errors. If you think transplanting a few plants in the yard will help, go ahead, but you are running out of time. I would finish all plant relocations in the yard within the next few weeks.
Note – Plant relocation is as hard on a plant as it is for any new plant added to a garden. "Root & Grow" is a new transplant juice I created for our local gardens. It encourages fast, healthy root development and reduces or eliminates transplant shock. Every 2 weeks plants should be watered with this rooting liquid until they have stabilized and new leaf growth appears.
~ ~ ~ ~ ~ ~ ~
Join me Saturdays at 9:30 a.m. at the garden center for informal, informative gardening classes that are fun, entertaining, and free. Today's class is, "Tasty Herbs in the Landscape"; then on April 2nd we have "Easy Maintenance Landscapes".
Until next week, I'll see you at the garden center.