by Ken Lain, the mountain gardener
Birthdays' gemstones are exciting, but there are limits to the numbers of emeralds, diamonds, etc. we can bestow on our loved ones! Instead, the practicality and versatility of birth month flower gifts are better suited to today's lifestyles and personal finances. Below are birth month flowers readily available in family gardens or at local garden centers or florist shops.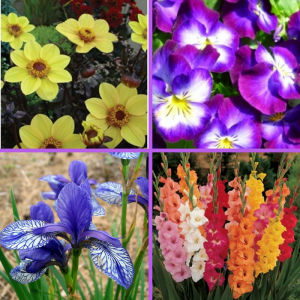 January ~ Carnation – At a time when most landscapes are denuded of flowers, the spicy clove scent of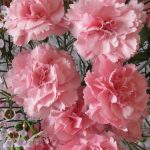 carnations is most welcoming. The low cost of carnations has somewhat sullied their reputation as a sophisticated, gift-worthy flower, but a skilled florist can create a contemporary design using a "foliage cage" of overlapping grasses, a cube-shaped vase, or a sweet pomander to create excitement with this modest bloom. Carnations are easy to work with, so why not purchase a block of floral foam and create your own gift design tailored to the recipient?
February ~ Iris and Violets – I always have envied those with February birthdays as they claim the lovely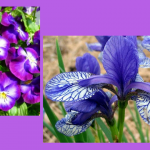 amethyst as their birthstone, plus they get the regal iris, too! The blue Dutch iris looks stunning when paired with yellow spring flowers available in late winter, such as tulips, forsythia, or jonquils. Violets also are considered a birth flower for February, so a nosegay of the tiny blooms or a tasty confection dusted with candied violets makes an exceptional birthday gift.
March ~ Daffodil – Although you can order fresh-cut daffodil arrangements for March birthday gifts, a live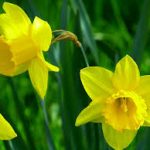 planted basket or trug will endure for up to two weeks longer than a bouquet. DIY types can plan a jumbo planted basket by forcing bulbs during the winter: Keep them in a cold frame or refrigerator for 16 weeks, then pot up in a sunny window for a few more weeks before the gift-giving date.
April ~ Daisy – Celebrate April birthdays with a gift of fresh cut daisies, either the traditional shastas or one of the many gerbera varieties. The secret to the longest lasting gerbera daisy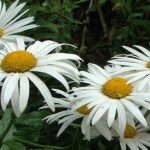 arrangements is to recondition the flowers every day. Cut off the lowest part of the stem under fresh water to encourage water uptake and to discourage rot.
May ~ Lily of the Valley – The lily of the valley has always been a favorite of royalty, as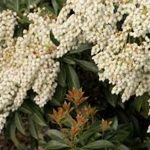 seen in the bridal bouquets of both Princess Diana and Princess Kate. The quintessential springtime flowers make a fragrant birthday gift, either as a potted plant or in a small bouquet. The unusual and hard to find pink form is every bit as vigorous in the garden as the white variety.
June ~ Rose – Roses love to be planted in the heat of summer, to bloom for the rest of the year.  If a gift of roses feels cliche after all of the other flower-giving holidays, find a new way to present this timeless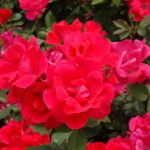 bloom to a loved one.  A live blooming miniature rose is a long-lasting alternative to a short-lived rose bouquet. Ultimately, nothing tops the fragrance of a bunch of old garden roses instead of the standard bouquet of florist's nearly scentless roses.
July ~ Larkspur – Gardeners may know the July birth month flower, larkspur, by its other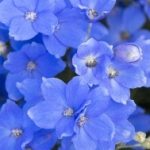 botanical name, the delphinium.  The blooms are packed together very tightly so this flower prefers cool, moist summers to grow, but if that doesn't describe your growing region, create a dramatic, shaded planting area to cultivate the tall pink, blue, purple, or white spikes of this perennial favorite.
August ~ Gladiolus and Dahlia – August birthdays have two flashy birth flowers designated to their month. The thousands of varieties of flowers included in these two beauties means you have an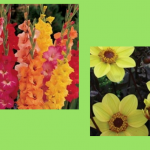 unlimited color palette to play with when choosing floral gifts. Gladiolus bulbs or dahlia tubers may not look pretty but are appreciated as gifts by gardeners who love to include bold, tall flowers in their landscapes.  We have both in full bloom most of the growing season here at Watters.
September ~ Aster – The prolific blooms of a potted aster are a welcome way to bridge the
gap between summer and fall when most flowers are winding down for the season. You can choose from flower colors in all shades of blue, white, pink, and purple on plants that will stay in bloom through late fall. Plant them in the ground and this hardy flower will come back each year.
October ~ Marigold – The vibrant pumpkin orange and harvest gold hues make this
flower stand out above the rest of Autumn's blooms. The low cost and lush shape of marigolds means you can give a birthday gift that looks bigger than it really is.  The plants prefer cool, moist soils that follow our mountain monsoon rains, and if so indulged will continue to flourish well into late autumn.
November ~ Chrysanthemum -When you give a gift of chrysanthemums, you continue a
tradition of flower giving at birthdays that dates back to the 15th century B.C. This flower, native to China, still looks lovely as part of a corsage, and brings cheer to front porches in our favorite autumn colors of yellow, orange, and red.
December ~ Poinsettia – Not everyone gravitates to the traditional red poinsettia, so if your recipients feel that the winter holidays impinge on their birthday celebrations, give a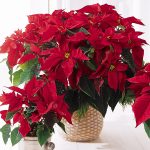 cheerful coral-colored poinsettia, or one of the color-enhanced pink, burgundy, or white blooms we grow specially for Watters Garden Center. Horticulturists have also been playing with the form of this Mexican native flower, so you can create a fairy garden with a miniature poinsettia or give a poinsettia with ruffled bracts. If the birthday celebrant is a gardener, it may be fun trying to re-bloom the poinsettia next year!
There you have it, the most popular flowers to honor each month of the year.  All can be found and grown as plants during the growing season.  It's especially touching to celebrate your loved ones by planting their respective birth month flowers in your garden. 
Until next week, I'll be helping local gardeners celebrate floral birthdays from our stock here at Watters Garden Center.
Ken Lain can be found throughout the week at Watters Garden Center, 1815 W. Iron Springs Rd in Prescott, or contacted through his web site at WattersGardenCenter.com or  FB.com/WattersGardenCenter .