by Ken Lain, the mountain gardener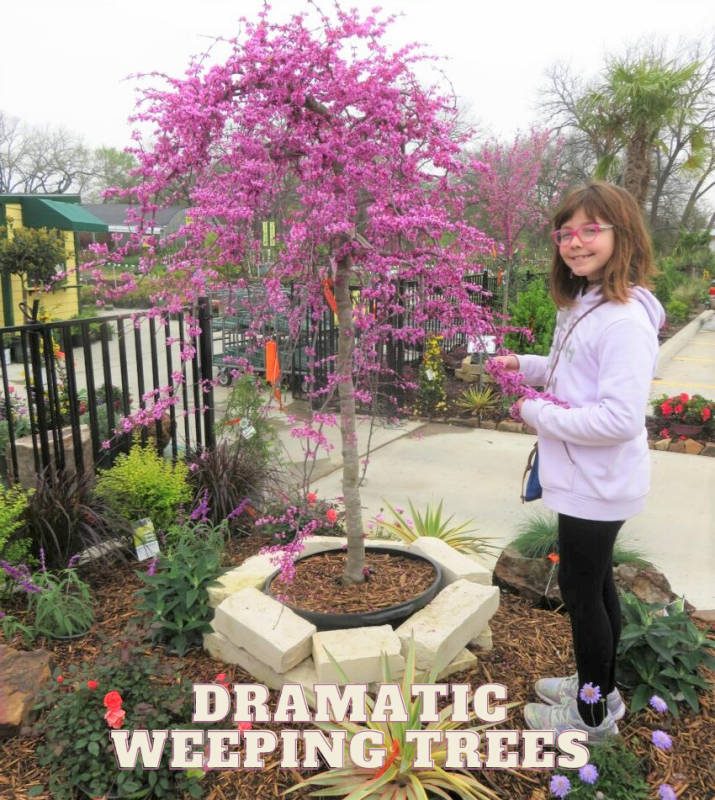 The branches of a weeping tree gracefully flow and draw style into your garden. Many weeping varieties have "pendulum" or "pendula" in their name, stemming from the Latin pendula, meaning "hang down." Weeping trees cannot be propagated by simply planting seeds as the drooping habit will not carry through. This habit is usually achieved through propagation, where cuttings of certain species are grafted onto the rootstock of a common species.
The unusual drooping habit makes it a real eyecatcher, a focal point in the garden. Here's my list of small to tall weeping trees used in local landscapes.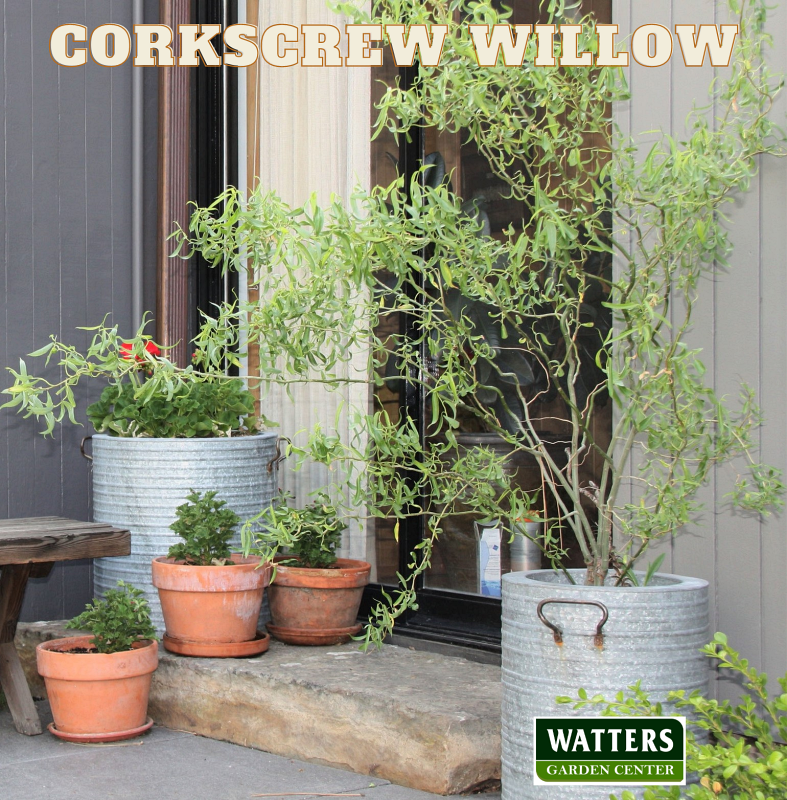 Corkscrew Willow, Salix matsudana, there when you want to liven up a garden, especially in winter. Both the branches and the leaves twist and curl. It grows 20′ x 10′ feet wide. The Golden Curls Willow benefits from aggressive pruning in early spring.
Higam Weeping Cherry, Prunus subhirtella, branches cascade and dazzle the garden in showy double pink flowers, which serve as an early food source for pollinators. There are many weeping cherries in the Prunus genus. The 'Pendula' cultivar is grafted to form a stable trunk with gently weeping branches. It grows 20′ x 10′ feet wide and has pea-size cherries the birds find delicious.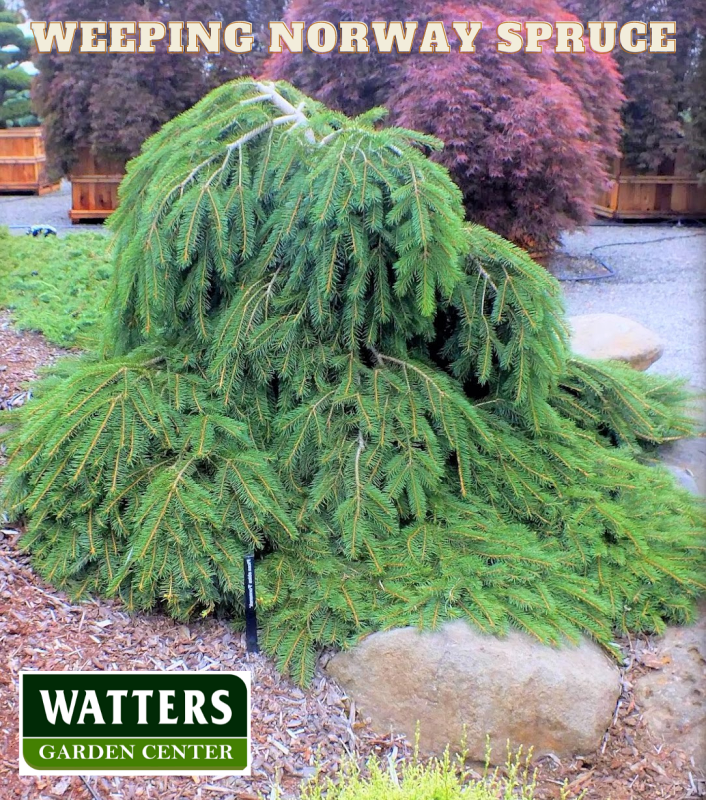 Inversa Weeping Norway Spruce, Picea abies. Without a support structure, it grows as a weeping ground cover. The height depends on its training. Choose a central leader and attach it to a stake or pole to encourage vertical growth, which has something to lean against.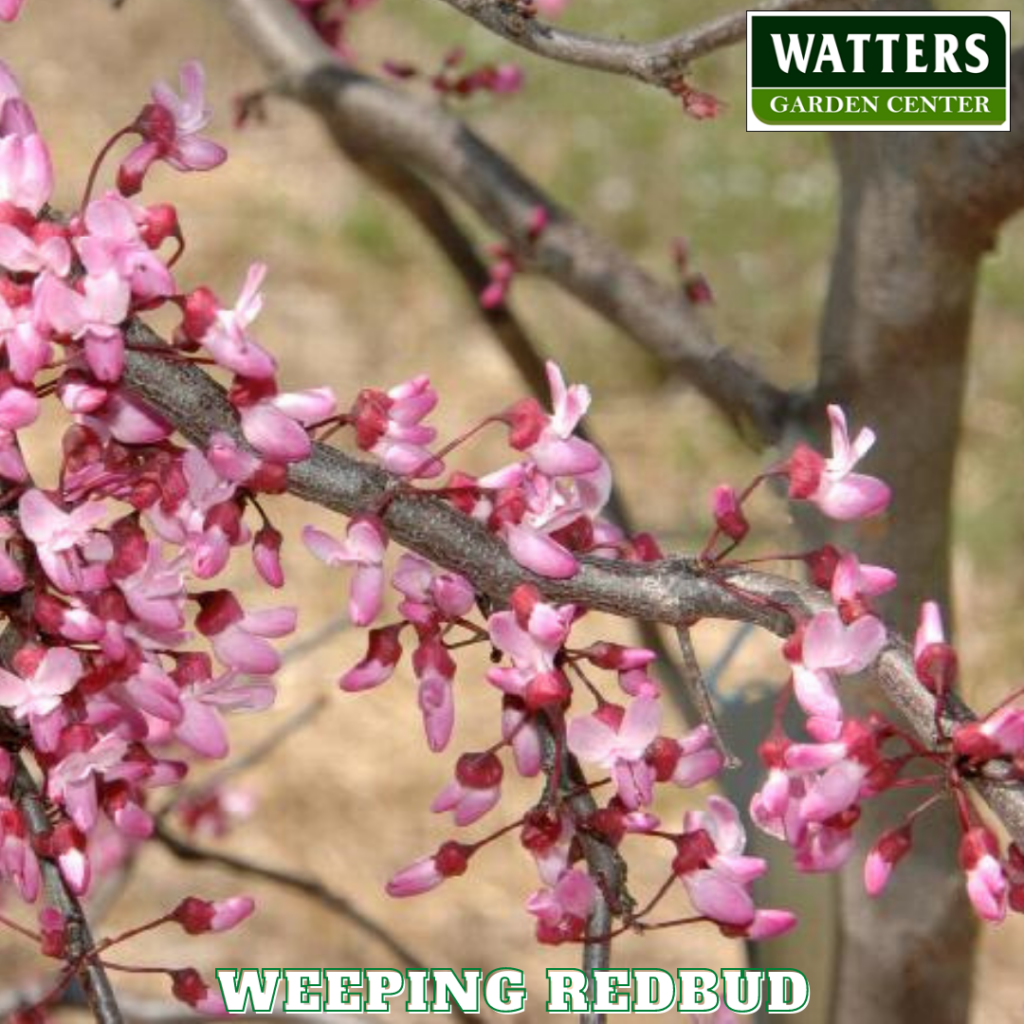 Ruby Falls Redbud, Cercis canadensis, is a dwarf cascading beauty with tons of purple power! If you are looking for a small flowering tree to significantly impact your landscape, this is it. With maroon to purple leaves from spring to autumn and lavender spring blooms that sit atop bold red stems, she excites springs arrival! But this distinctive weeping redbud is beautiful in winter with its flowing branches and unique habit. It looks natural in a large container at a mere 6′ feet tall and 5′ feet wide at maturity. Surprisingly easy to care for, grows in full sun to part shade, and tolerates most soil conditions!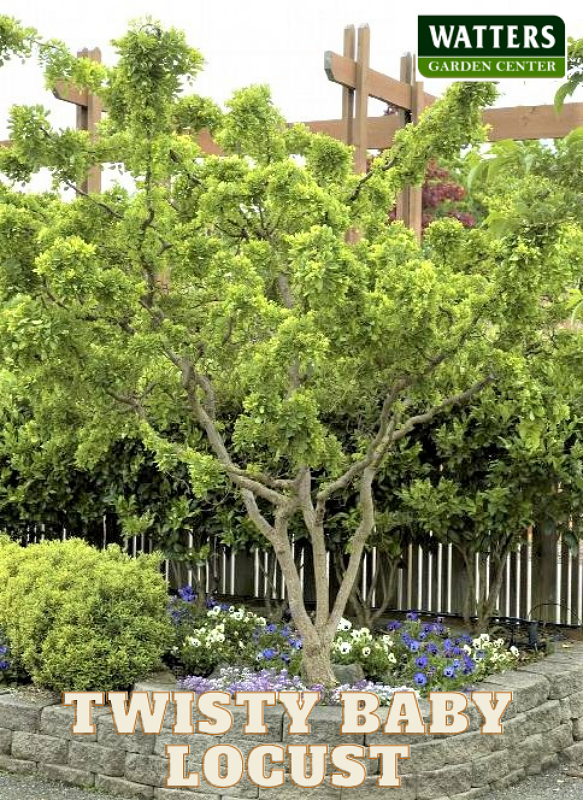 Twisty Baby Locust, Robinia pseudoacacia, is a unique dwarf tree with interesting twisted branches. The contorted form makes an excellent small patio specimen and conversation piece. Grows well for many years in large containers. Prune back annually to encourage distorted growth.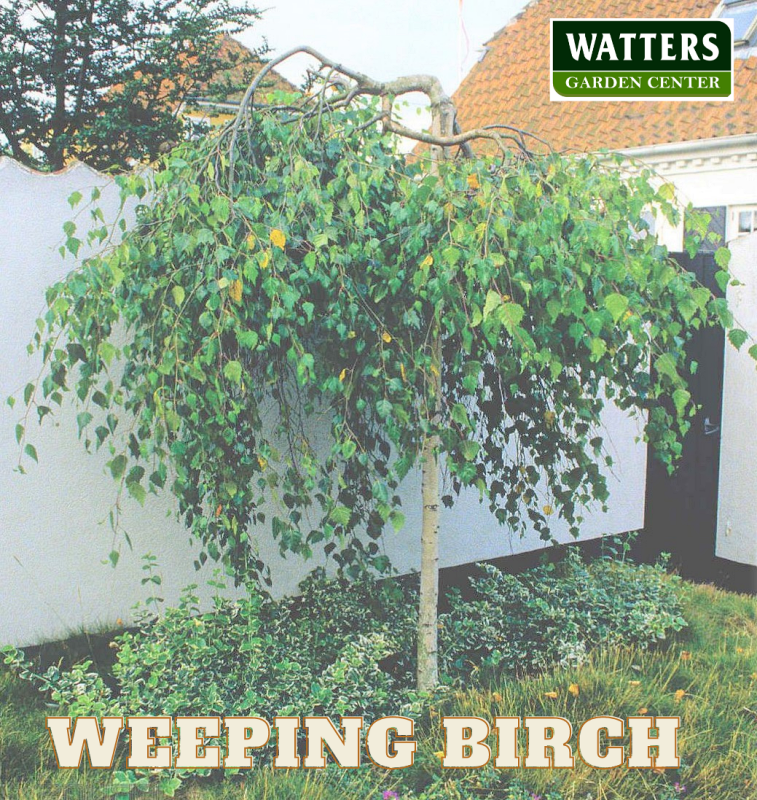 Weeping Birch, Betula pendula, are notable for their white-colored bark and usual rich yellow foliage through autumn. Whitebark like aspen, but far hardier and handsome. Growing to 40′ x 20′ feet wide, the draping branches of the weeping birch create a graceful focal point in the garden.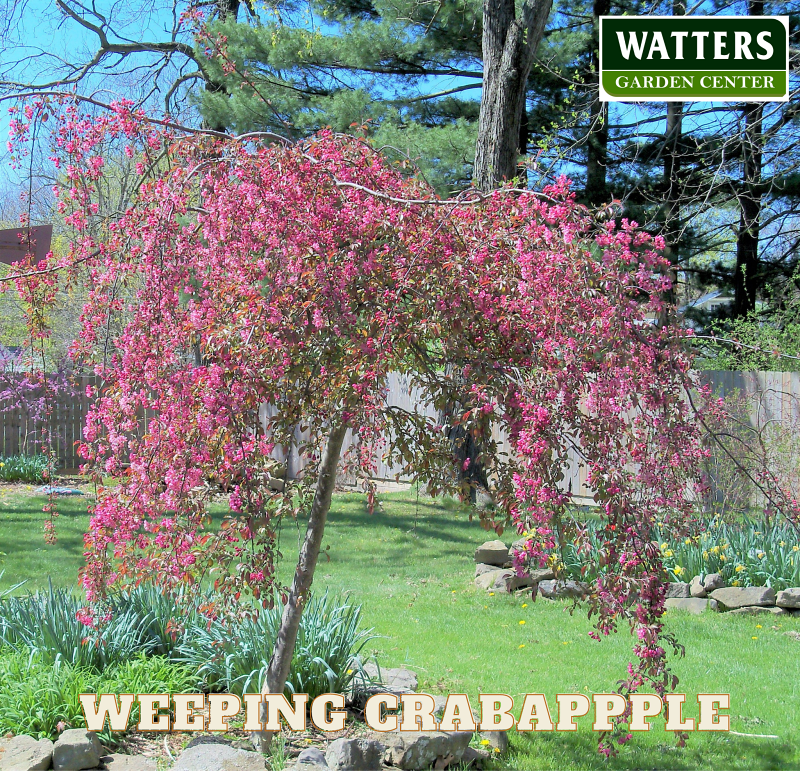 Weeping Crabapple, Malus, provides beauty and grace throughout the year. In spring, it is covered with a profusion of flowers. These form red fruits that add color and provide food for wildlife in the fall and winter. Weeping crabapple pollinates most fruiting apple varieties for those that only want one fruiting tree in the yard. Make sure the trees are planted within at least 100′ feet of each other. Bees will have an easier time the closer they are, especially with dwarf weeping varieties.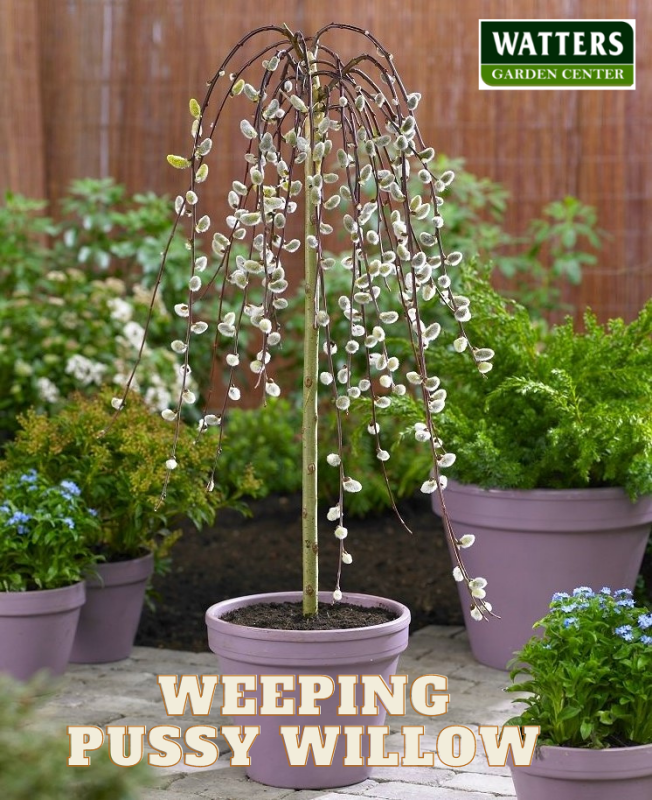 Weeping Pussy Willow, Salix caprea, The sweet, fuzzy catkins, and the weeping form welcome spring with lots of style. This easy-to-grow deciduous tree does not demand a lot of work. It is fast-growing and long-lived and tolerates all soil types. It looks great all year long. In summer, you'll love the dark green foliage that lushly cloaks the downturned branches. Even in fall, you'll appreciate the golden-yellow tones. The lyrical weeping form easily elevates the look of any landscape.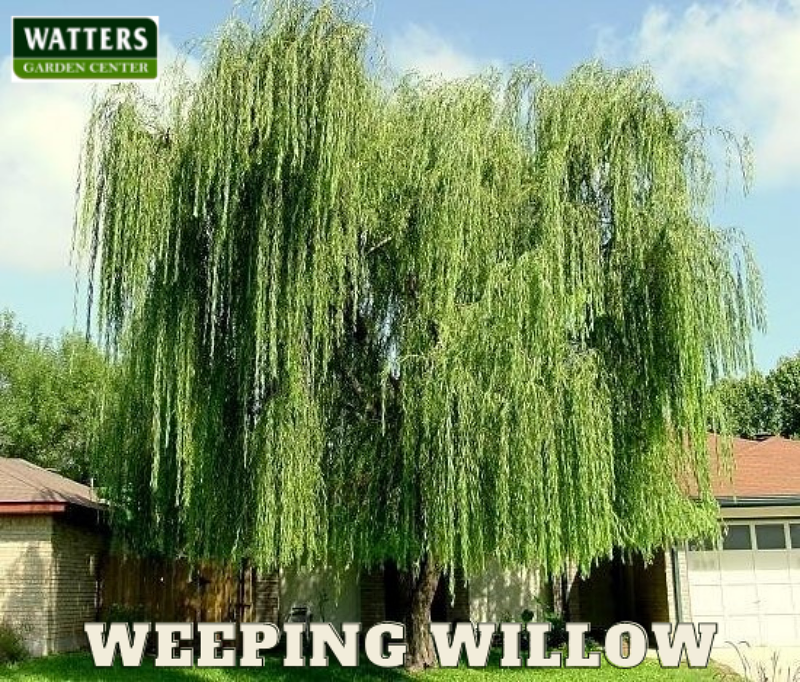 Weeping Willow, Salix babylonica, are commonly found by rivers, lakes, streams, and other bodies of water. This willow can grow 50′ feet tall and wide with slender, graceful branches reaching the ground. This riparian species loves wet soil. For that reason, it is best planted away from the house, lest the roots find your pipes. Since the wood tends to snap quickly, choose a safe location from high winds.
The best selection of twisted, dropping, weeping trees can be found in spring. Now is the ideal time to plant a weeping accent in your own yard.
March Plant Food – the best recommendation for every tree in the yard is to feed them with 7-4-4 All Purpose Plant Food by the end of the month.
Spring Open House – Watters Garden Center celebrates our 60th Spring Open House through March 20. This year's newest fruit trees, roses, flower baskets with unusual perennial colors are unveiled for the 2022 planting season. McKenzie Lain, 3rd generation owner, "Gardeners will simply fall in love with this year's colors. It's been fun growing up in the family business and watching the nursery grow with the community."
Until next week, I'll be helping gardeners plant the fanciest trees in their landscape.
Ken Lain can be found at Watters Garden Center throughout the week, 1815 Iron Springs Rd in Prescott, or contacted through his website at WattersGardenCenter.com or Top10Trees.com.