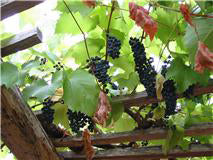 At the start of the recession any and all edible plants were of interest to my customers. Now there's no doubt that victory gardens are back and more popular than ever! As an older gardener I am most encouraged by the number of younger customers visiting the garden center wanting to learn how to put in a vegetable garden, plant a fruit tree, start a vineyard, or grow their own herbs. This is an opportunity for our next generation to become interested in the marvels of gardening.
Gardening is one of the most sociable hobbies. New gardeners cannot interpret all the Google garden talk so they are very receptive to neighborly advice from more experienced gardeners. While gardening truly is learned by 'hard knocks', killing a few plants is to be expected, but as you figure out your unique soil, shade, sun, and wind influences, fatalities can be minimized from the wisdom of experience. So, let those of us with more gardening hours under our trowels help these newbies increase their gardening successes, neighbor-to-neighbor, friend-to-friend, family-to-family.
My personal gardening interest started when gardening with my grandparents on their farm and in the backyard. It peaked with edible things from the garden. To pick a fresh cucumber from the summer garden, with salt shaker in hand, made me almost giddy. It seems to be that way with many folks. Gardening interests seem to be sparked by edible plants, spreading quickly to flowers, then landscaping in general.
It's too early to plant tomatoes and peppers, but I did get in the first crop of cool season plant starts this week. Cabbage, broccoli, brussel sprouts, lettuce, seed potatoes, onions, garlic, and more should all be planted this month. Also ready to go into the ground are blackberries, raspberries, grapes, and blueberries.
Blackberries and raspberries have proven themselves in local gardens by producing amazingly well in our mountain landscapes. I highly recommend starting with at least a 1-5 gallon -sized berry plant. It will flush new growth this spring and begin to set new berries in May. The typical one gallon size plant costs between $10 and $15 and will live for decades. Planting berry bushes while they are dormant will reap huge rewards in spring and summer.
Where you plant berries in your garden is fundamental to their success. These fruiting wonders produce best when they have at least 6 hours of sun. Most will produce even more fruit in full sun locations.
Over the years I've picked a lot of blackberries and I've always ended up with scratched arms. Thankfully, there is a new variety that is my absolute favorite because of its extremely large fruits and lack of thorns. It is the 'Black Satin Blackberry', a prolific producer of the tastiest fruits that begin arriving in midsummer. The plant itself is a beauty with small soft pink flowers that fade to white as they precede fruit formation on erect, thornless canes. There is a new raspberry plant being introduced, the 'Canby Red' that also is thornless. Both of these varieties allow for pain-free harvesting without the picker's arms looking like survivors of a cat fight!
Grapes are surprisingly easy to grow. As with berries, because this is the time to plant, selection is plentiful right now. Whether you like table grapes, seedless, or wine grapes, there is only one secret to choosing the best plants: Buy the tallest, leggiest plants available. I look for the tallest plants, preferably with single stems. Plant each shrub as deeply as possible. Put the plants in with soil right up to the first branches starting to form on the main stem. Grapes are one of those odd plants that will root up and down the length of the stem, and in a dry climate this characteristic produces superior grapes. I have planted grapes in two-foot deep holes. This technique is not for berry plants, but it works every time with grapes.
Blueberries can produce very well, but they take a little more care then other berry plants. I just created a new handout specific to blueberries, so if growing blueberries is your passion, ask for this handy, informative guide to producing the absolutely best blueberries ever.
Better yet, this Saturday's free garden class is 'Grapes, Brambles, & Berries for Life'. I plan to hand out the new guide to everyone at the class. You will be surprised at how many types of these fruiting beauties are grown locally. By the end of the class you can be an expert on all things edible. The great thing about using a large greenhouse as a classroom is that rain or shine the weather is perfectly regulated for both plants and people. Join us at 9:30 every Saturday during spring for informative, enjoyable, gardening classes.
~ ~ ~ ~ ~ ~ ~
If you follow me on Facebook or visited the garden center this week you saw Lisa, my wife, with her arm in a cast. Yes, she fell on the ice and broke her arm just above the wrist after that last storm. Surgery will be this Wednesday to set the bones properly with an implanted plate. The bionic gardener, here she comes! Seriously, we thank you for all your encouragement in the way of kind thoughts and prayers.
Until next week, I'll see you at the garden center.