Who Will be the Winner?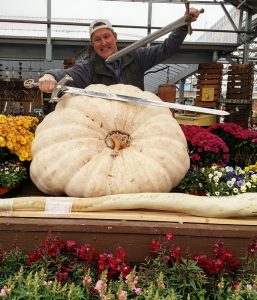 Ken or the Pumpkin?
Ever wonder what's inside a GIANT pumpkin?  There are rumors of super slim, double thick walls and thousands upon thousands of seeds inside.  The second largest pumpkin in the state of Arizona is on display here at Watters Garden Center.
On November 3rd at 11:00 a.m. we will slice and dice this big boy to discover its Contents of Horrors! Every attendee receives one of the seeds, and the rest will be grown for next spring's garden customers to plant.  Join us and be part of the fun!
For More Information on Growing Giant Pumpkins Click Here