by Ken Lain, the mountain gardener
The mountains of Arizona have three main growing seasons.  So, as the nights of Autumn become cooler we change our local vegetable gardens from fruiting tomatoes and squash to kale, broccoli, chives, and lettuce.  Now through the end of the year is when the best-flavored leafy vegetables are harvested. As deciduous plants start dropping their leaves it's time to start planting some gorgeous winter plants and winter-blooming vegetables.
When many of my summer vegetables stopped producing I pulled them from the gardens.  Pumpkin, tomato, cucumber, and squash, even the decorative gourds have all been removed from the Lain gardens.  Basil has been picked to make delicious, locally-sourced pesto, and to free-up space for winter chives, lavender, rosemary, and thyme.  This also makes room for fresh cauliflower, kale, spinach, and other healthful leafy vegetables.  Gardeners new to the local landscape find it hard to believe, but Arizona mountains are so mild you can harvest something from the gardens every month of the year.  Right now my favorite crop is lettuce.
No vegetable garden is complete without lettuce.  It's so easy to grow lettuce tucked around plants, using it as edging and filling containers. Forget the round heads of iceberg and uniform stacked hearts of romaine from the grocery store. These are crispy, but the varieties grown in your own backyard are far healthier to serve at your table.  Lettuce is as varied as any of the spring greens and so much fun to "play" within the landscape!
Lettuce Varieties
You'll be impressed with how many varieties of lettuce can be grown locally. Options vary for height, shape, texture, and color. Every lettuce wanted for a local garden is available now in seeds and starts at Watters Garden Center.  Start by looking at the main categories of lettuce types: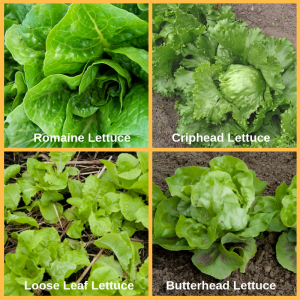 Crisphead varieties form a head like iceberg lettuce, the outer leaves protecting the inner leaves from the heat. Regina Dei Ghiacci is an Italian crisphead with just a hint of texture to the outer leaves.
Butterhead has loose leaves, but the base forms a semi-heart.  These are more tolerant of mountain drought. Lolla Rossa/Lollo Rosso lettuce has a base but forms full, frilly, deep red leaves that make for an excellent foliage contrast.
Romaine doesn't actually have a heart, but its shape is upright and looks nice in a border. Cimmaron is one of the more popular romaine varieties because of its beautiful, glowing red color.  Rouge D'Hiver is another romaine with red tinges that does well in both mountain cold and heat.
Loose leaf has neither head nor heart but a floppy structure, and a non-stop harvest throughout all the seasons.  Australian Yellow is an excellent example of  a loose -leaved variety with texture and bright gold colors. Winter Marvel is excellent for the fall garden, tolerating the cold of the transition from fall to winter.
Do not overlook heirloom varieties with lots of history and proven success. The excellent antique varieties have stood the test of time and will perform well in your garden today.
Starting Lettuce
You can find lettuce starts from garden centers and farmers' markets, but seeds are the best way to go. Conveniently, and a real time-saver, lettuce seeds may be sown directly into the garden.
The first outdoor lettuce seed can be sown when the ground is at 45 degrees, which is the month of November in the mountains of Arizona.  In the fall, wait until the soil cools and the air has cooled to 70 degrees or below.  Tuck starts around other more slowly maturing annuals, which later will fill the spaces left by harvested lettuces.
Mulch helps keep soil cool and weeds suppressed, giving lettuces the ideal growing environment. As long as they aren't competing for moisture it's pretty easy to grow juicy, flavorful, prolific lettuces.
Fill the Garden with Lettuces
For an edible landscape, use lettuces as edging for beds or to fill space as ground covers.
Containers make ideal lettuce gardens.  Plant a combination of lettuces, flowers, and herbs for an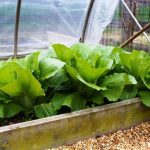 interesting assortment that will last right through winter.  Mixing flowers and herbs with lettuces will blend colors and texture. A "salad garden" truly is a fun project!.  Tuck lettuce around other salad veggies like cauliflower to keep everything in one yummy spot.
With varying heights and textures, you can plan a whole lettuce patch for fast-growing spring color.  Lettuce appreciates the shade from other plants as they fill in and block the warming sun of late spring and early summer.
Just Published!   The Secret Garden: Plants as a Natural Screen is a book for local gardeners with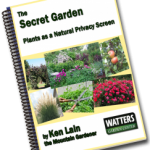 details about screening plants.  Free copies are available for download at WattersGardenCenter.com under 'LEARN'.
Until the next issue, I'll be on hand at the garden center helping local gardeners plan their winter gardens.
Ken Lain can be found throughout the week at Watters Garden Center, 1815 W. Iron Springs Rd in Prescott, or contacted through his website at WattersGardenCenter.com or  FB.com/WattersGardenCenter .