by Ken Lain, the mountain gardener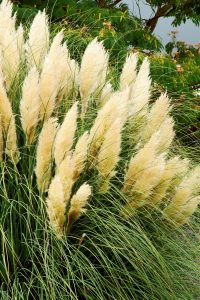 Dwarf Pampas Grass blends into a desert or Mediterranean landscape well. The ivory-colored plumes reach well above the foliage and offer an architectural look around patios and ponds. Well suited as a visual barrier or hedge in the far reaches of the garden. Plant with other bold forms like Agave and Yucca or keep it the standout plant amongst evergreen shrubs and perennials.
This beautiful landscape grass is prized for its stunning autumn plumes. The long stalks of dramatic, creamy white plumes are held above dense clumps of green foliage. A perennial grass that is both wind and drought-tolerant, and provides a showy windbreak or screen. The smaller dwarf form is well-suited to smaller gardens and landscapes.
Botanical name: Cortaderia Selloana
Common names: Pampas Grass
Size: 5'x5′ feet Ivory Feather compact/ 10'x10′ all others
Flowers: White, Pink, Cream
Bloom time: Late summer through Early Winter
Leaves: Green, stiff and held upright in the strongest of breeze
Growing Zone: 7-11
Light Needs: 6+ Hours per day
Water Needs: Once established, water occasionally; more in extreme heat.
Flowers: 11″ plumes tower above dark green foliage
Problems: Resistant pests, disease, and animals like deer, elk, and javelina.
Wildlife: Attracts birds .
Special features: Dwarf Plant, Easy Care, Fast Growing, Pet Friendly, Waterwise
Companion Plants: Ninebark; Spruce; Yucca; Russian Sage; Rosemary
Pampas grass is beautiful and complements other plants in your garden. The grass also makes a fantastic filler for the garden areas that look sparse, around pools, or the corners of your yard.
1.Dig hole 2-3 times the width of the container but the same depth.
2. Score the root ball sides and bottom with a utility knife or pruners and place in the planting hole.
3. Blend Watters Premium Mulch into the native soil at 1 part mulch with two parts soil dug from the hole and pack firmly around the roots.
4. Sprinkle 7-4-4 All Purpose Plant Food around the planting area.
5. Prevent 'Transplant Shock' by adding Watters "Root & Grow" to your water at 2-week cycles for the first 2 months.
6. Use remaining Watters Mulch inside the tree well as a top dressing. This will keep weeds down, insulate roots from heat and cold, and keep the roots moist.
Always water your newly planted grass thoroughly after transplanting. The roots require plenty of moisture to recover from the stress of the transplant. Failing to water your pampas grass could stunt its growth.
Ensure that you keep the soil uniformly moist. Push your finger an inch into the soil. If it feels moist, then your grass is fine. However, if it's dry, it means that the roots aren't getting the moisture they need.
During the first year after planting, fertilize your grass in the early spring, summer, and fall with 7-4-4 All Purpose Plant Food. It might take up to 3-years for your grass to establish itself and bloom.
Dividing Pampas Grass
Pampas grass is best divided/propagated in late winter and early spring.
Follow these steps when propagating your pampas grass.
1. Cut the grass back to 1-2′ feet from the ground until you can see the plant's base.
2. Examine the stems of the grass at the soil level.
3. You should see shoots are forming at its base.
4. Using a sharp knife or spade and cut a plug from the mother plants.
5. See the guide above to plant your new grass clump
6. Water thoroughly with 'Root & Grow' to reduce transplant shock.
Pests and Diseases Affecting Pampas Grass
This grass is hardy, with no known animals eating the top growth. Gophers sometimes like to nest under the roots and easily discouraged with Molemax if noticed. Guide to Controlling Gophers
Pampas grass does occasionally experience an infection with a fungus that shows up as spots. This fungus typically arrives during warm and rainy parts of the season. Spritz foilage until dripping wet with Revitalize; this bio-fungicide/bactericide treats the infection and restore your pampas grass to health.
Overwintering Pampas Grass
Pampas grass can survive the cold months of winter. Leave the foliage standing tall to insulate and protect the roots. In March, cut back any old foliage to make room for new growth the following season. Long-handle loopers are recommended for trimming your pampas grass.
Remove old stalks then use string to tie the plant together. Cut last year's foliage back to within 1-2′ feet from the ground until you can see the plant's base.
Pampas grass likes full sun, at least six hours a day, and grows best in well-drained soil. If you're planting a hedge, space the plants six feet apart. Loosen the roots when you lower the plant into its hole, leaving the top of the rootball exposed to garden air as it was in the grower's pot.
Ivory Feathers Pampas grass is a select dwarf variety that grows to 5 feet high, with sterile seed, so it won't sprout throughout the yard. It's much easier to care for and longer-lived that traditional pampas grass.