By Ken Lain, the mountain gardener
Incredible, long clusters of purple flowers in May that look just like Wisteria flowers hanging from this local bloomer. The 8″ inch fragrant clusters cover the tree profusely! Super hardy and drought tough with a brisk growth rate of 2 feet in one year. It's the perfect summer shade tree.
Fragrant, Wisteria-like Purple Flower Clusters
Fast Growing
Mid-Sized Ornamental Flowering Tree
Easy to Grow
Excellent, Hard-Wooded Street Tree
Purple Robe Locust botanical name is Robinia pseudoacacia, an improvement of the native Black Locust tree.
Once established, this tree is super hardy and drought tolerant with a brisk growth rate of 2 or 3 feet of growth each year.
Purple Robe Locust is a tremendous shade tree that develops long clusters of purple-colored flowers in May that resemble Wisteria flowers. These beautifully fragrant clusters cover the tree profusely that grows up to eight inches long each!
An impressive show and worthy of cutting a few flowers and bringing them indoors for enjoyment.
How to Use Purple Robe Locust in the Landscape
1. An excellent barrier plant to protect your property beautifully.
2. An easy-care, fast-growing specimen in lawns. Mow the grass right up to the trunk to keep the plant as a single stem.
3. An excellent small yard tree, needing little fertilizer or much of anything.
4. Make a great street tree, handling the tough conditions with ease. It is hard wooded and tolerates storms well.
5. It can grow in just about any condition as long as the soil drains quickly after a rain. Even in poor, infertile soils, the plants seem to grow.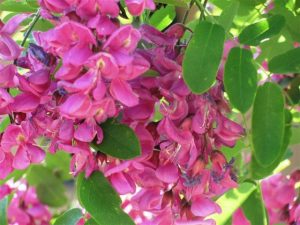 Easy Care Native Tree
The variety 'Purple Robe' features beautiful, fragrant purple flowers. Bees and beneficial insects love the flowers. Each spring, the leaves emerge reddish bronze, before maturing to dark blue-green. The large compound leaves have smaller blue-green leaflets, and you'll love the fine-textured look of the tree in summer.
Fall clean up is easy with the small leaves.
Water
Establish it the first year with careful watering. Don't plant it too deeply, as is key for any new tree. Follow the Watters planting guidelines for the best results.
Pruning Tips
Timing is important! Wait until late spring, when the flowers are done blooming, before making any cuts. You won't want to miss any of the show.
Companion Plants with Purple Robe Locust for a Stunning Backyard
The perfect mountain perennial with huge fiery flowers on a compact plant. She loves the heat and super drought hardy. You can count on this bloomer to show off all summer long in raised beds, containers, or directly in the ground. Javelina and rabbit proof, this bloomer is a 'must-have.' Arizona plant.
Just plant in a sunny spot and enjoy! We've married the beauty of long stem roses with the Easy-care of shrub roses for landscape color like no other plant in the backyard. Choose fragrant reds, radiant pinks, corals, vivacious yellows, and stately whites. Extremely fragrant and only found locally at Watters.
The wind is no problem for this evergreen bloomer. Rose, Pink to white flowers cover this spring bloomer that often repeat blooms in fall. The dark blue berries adorn this compact bush that takes the wind and soaks up the sun like a native. Perfect for low maintenance gardening with virtually no pruning ever. Every backyard should have at least one.
A super vigorous vine with dangling stalks of fragrant flowers appears in early spring. Blooms are often followed by showy, 4″ purple edible fruit . . .yum! She proliferates up arbors, pergolas, fences, and stunning as a ground cover to retain hills. One of the fastest-growing evergreen vines for mountain gardens.
Mountain famous for continual blooms spring through autumn with just a bit of care. The perfect cottage garden flower ideally grown in containers, hanging baskets, or raised beds. Sunshine Geraniums make gardening brighter! Feed twice monthly with Watters 'Flower Power' for a riotous bloom all season long.