by Ken Lain, the Mountain Gardener
Celebrate the end of winter with an explosion of pink blossoms. At just 16′ feet tall, this local native is super easy to grow. Vibrant, red flowers cloak the branches of early spring. Luscious heart-shaped leaves emerge with a soft pink tinge that matures to a vibrant green.
A wonderful landscape specimen valued for its profusion of vibrant, petite, purple-red flowers that cloak the bare branches to bridge the gap between winter and spring! Lustrous heart-shaped foliage emerges with a soft pink tinge as the flowers fade then matures to a rich green. May develop as a multi-trunk tree.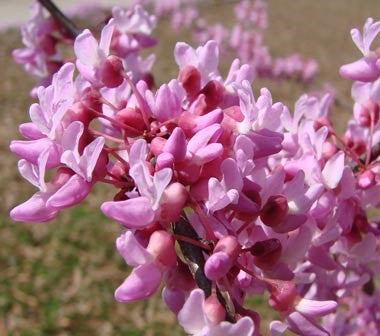 Botanical Name Cercis canadensis
Common Name Redbud
Plant Type Deciduous Tree
Sun Exposure 6+ hours Full sun
Soil Type Well-drained
Soil pH 6.5 to 7.5
Bloom Time Early spring
Flower Color Bright Pink trending to red
Hardiness Zones 4 to 9, USDA
1. Dig hole 2-3 times the width of the container but same depth.
2. Check drainage by filling the hole with water. All water should drain away within 12 hours. If not, you have hardpan soil, and it will need to be penetrated – dig deeper & add a layer of gypsum.
3. Watters "Premium Mulch" – Blend 1 part mulch with two parts soil taken from hole.
4. Score the root ball sides and bottom with a utility knife or pruners.
5. Blend Soil – Mulch – 7-4-4 Plant Food & Aqua Boost mixture then pack firmly around the root ball.
6. Stakes & V-Strap – install stakes just outside the roots making sure the stakes are deeper than the soil mix. Remove original shipping stake. Use V-Straps around tree trunks to support trees from wind. Use one strap just under the tree canopy and a second 18″ below the first. If necessary, use a small nail or screw on the lodgepole to stop the wire from slipping.
7. Build a well around the tree and water with "Root & Grow" mixture. Water with Root & Grow every 2 weeks for the first 2 months. Use remaining Watters Mulch inside the tree well as a top dressing. This will keep weeds down, insulate roots from heat and cold, and keep the roots moist.
How to Use Redbud in the Landscape
1. An excellent barrier plant to protect your property beautifully.
2. An easy-care, fast-growing specimen in lawns. Mow the grass right up to the trunk to keep the plant as a single stem.
3. An excellent small yard tree, needing little fertilizer or much of anything.
4. Make a great street tree, handling the tough conditions with ease. It is hard wooded and tolerates storms well.
5. It can grow in just about any condition as long as the soil drains quickly after rain. Even in poor, infertile soils, the plants seem to grow.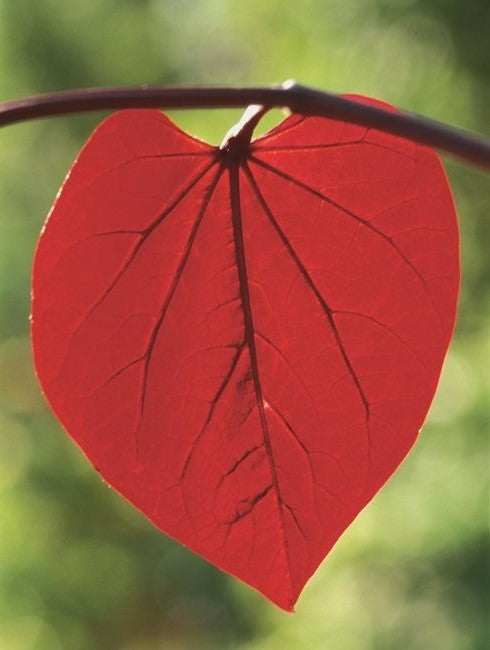 Light
Redbuds need a location that receives at least 6+ hours of sun each day, and a full day of sun is even better. Without sufficient sunlight, fewer blooms and smaller flowers are expected. Powdery mildew is also an issue in shade gardens.
Soil
Redbuds are very adaptable; they do like well-drained soil. Watters Premium Mulch makes it easier for your plant to settle in when planting in heavy clay soil.
Water newly planted trees regularly with a garden hose for at least one month (2 months in Summer). Automatic irrigation systems may not be sufficient initially. Water frequency will vary according to the season, exposure, and plant size.
April – Oct this Maple should be irrigated 2 x weekly
Nov – Mar this Maple should be irrigated 2 x monthly
Fertilizer
Keep this ornamental tree happy by feeding 3x times per year with 7-4-4 All Purpose Food (March, July, and October).
Temperature and Humidity
Redbud can grow in various climate conditions, but it will perish if exposed to temperatures below minus -33 degrees F.
Pruning Tips
Timing is important! Wait until late spring, when the flowers are done blooming, before making any cuts. You won't want to miss any of the show.
Best Varieties for Residential Gardens
Although most redbuds have lavender-pink flowers, certain varieties and cultivars have white, deep magenta, or light pink flowers. The leaf color may also vary, ranging from deep purple to chartreuse.
'Forest Pansy' is one of the most popular cultivars, with deep purple foliage and rose-colored flowers. The foliage retains its burgundy color throughout the summer.
'Ruby Falls' is an excellent redbud for small spaces. Its weeping habit, red-purple flowers, and heart-shaped leaves will bring elegance to any garden.
'Texas White' produces an abundance of bright white flowers and has leathery, glossy, colorful green foliage. 'Alba' is another white-flowered variety with light green foliage.
'The Rising Sun' offers spectacular color with new growth starting apricot, transitioning to striking gold, and finally bright green.
'Ace of Hearts' is a dwarf variety ideal for small gardens. It tops out at 12 feet and requires no pruning to maintain its shape.
'Silver Cloud' has attractive variegated foliage with splashes of creamy white and pink.
'Hearts of Gold' features bright golden-yellow foliage that gradually changes to chartreuse during the summer.
'Merlot' (a hybrid of 'Forest Pansy' and 'Texas White') has lustrous dark purple foliage and good heat and drought tolerance.
Better Together: Companion Plants for March
Mountain Heath
This impressive bloomer is covered with flowers right now. Animal resistive with fragrance all pollinators adore. A knee-high evergreen is super easy to care for in the ground or containers.
Prescott Pansy
Giants 3″ flowers thrive in extreme March gardens. Large, velvety blooms dazzle with radiant colors of blue, violet, yellow, and variations of stripes that look like smiling faces and love being planted in March.
Fanciful Forsythia
This gorgeous shrub explodes with masses of solar yellow flowers followed by shiny green leaves. Every home should have one for sheer beauty, fall color, and gentle natural care.
Rosemary Creeper
A local favorite for rock gardens, groundcover, or spilling over retaining walls, not all local rosemary is created equal. This one lives where others die. Knowing you can also use it in the kitchen is sheer bliss.