Wondering why the grass is always greener on the other side?
Well, it's probably because your neighbor used the All-purpose fertilizer from Watters Garden Center.
Monsoon is right around the corner, and it's the perfect time to feed your plants.
Watters' All Purpose Fertilizer is the only organic made especially for Arizona mountain soils.
Don't buy a bunch of different fertilizer for your flowers, veggies, trees or grass—this one does it all!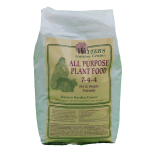 The plants on YOUR side will be happier, healthier, well…GREENER.
Safe. Natural. Organic. Watters Garden Center in Prescott.