by Ken Lain, the mountain gardener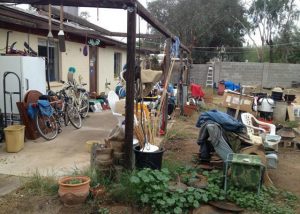 Although you make "every effort" the yard just never seems to have that cared-for look. Chances are that you have at least a couple of items of clutter that should be on their way to a recycling bin. They probably are things that have been littering your yard/garden for so long that you don't even "see" them anymore.  Start the year with a fresh sweep to remove unsightly litter. It will give your yard a tended look and brighten your spirits and those of your neighbors
Cleaning the Yard ~
Garden Pots and Containers – Face it; you aren't going to get around to repairing that ceramic flower pot you've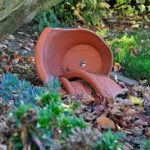 been tripping over for months. Give yourself a break and toss it, along with other cracked or broken garden containers no longer usable.
Broken Garden Statues and Ornaments – Artistically placed in a well-kept landscape a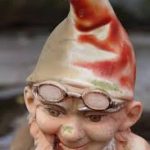 fractured garden statue can sometimes look charming. However, if the statue is in an unsightly yard and the angel has no wings, it's time to make that hard call and chuck it!
Old Paint – Don't just toss containers of paint into the garbage. There are recycle centers that specialize  in getting rid of unwanted paint. Check paintcare.org for a list of drop-off locations and the products accepted. The list of Arizona locations is growing by the month, as well as the products that can be disposed at each one. Among the products that can be recycled: Interior and exterior architectural paints, deck coatings, stains, primers, sealers, waterproofing sealers and repellents, rust preventatives, and field and lawn paints.
Dying Lawn – If you cringe when your eyes sweep over that increasingly browned, parched lawn. Simply replace it with a lawn alternative and free yourself from that nagging burden of guilt.
Garden YouTube on Plants that replace Lawns
Piles of Wood – Have pieces of wood you've been saving for some unknown outdoor project or an impromptu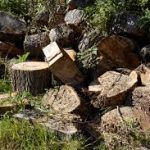 bonfire?  If they've been cluttering the yard far too long put on a pair of gloves and move that stash to your garbage bin or take it to a local recycling center.
About that bonfire – check local laws regarding wood-burning. They recently may have been updated because of the weather.
Drought Factor – Seriously consider replacing stressed-out plants with some that are more robust and drought-resistant.  There are so many exciting native choices that are undemanding yet brighten a landscape.  Now is the time to take that hard step and rip out that ugly plant that is bringing down views of your gardens.
Broken and Old Garden Tools, Equipment – A few years ago, the handle fell off of your garden spade. So get rid of it!  If they're metal, be sure to put discards into the recycling bin.  For $25 you can get yourself a brand new shovel that will let you do a better job at gardening tasks.
Old Spa or Hot Tub – You can try selling your spa on a site like Craigslist.org, but don't think interested parties
will be busting down your door once the ad posts. Hot tubs are big, bulky, and not everyone wants a used hot tub.  Try giving it away to those that will haul it off for free.  Try a local business that specializes in spa demolition and removal.  Sometimes a crane is needed to exhume the dead carcass!
Plant Trimmings – If you are ambitious and want to be more environmentally proactive, start a backyard compost bin.  It's an easy way to recycle  leaves, grass, and other plant matter.  You can add vegetable and fruit scraps, tea bags and leaves, coffee grounds, eggshells, and a lot of other green kitchen waste. The finished compost can be  used as a mulch or added to your garden to improve the soil.
If composting doesn't have your name on it, gather up all twigs, leaves, and other plant waste to top off your trashcans on pick-up days.  It's amazing how much can be crammed into a trash can!  For large jobs, cities have annual pickup dates.  Check them out here:
Prescott Annual Pickup dates
Prescott Valley Clean-up Day Event
Old Charcoal – Have you switched from a charcoal barbecue to a gas grill but still have left-over briquettes or pieces of lump charcoal? Don't just throw them away.  Add a few pieces to the compost pile; they will help to break down organic matter.  Use it in a toolbox to absorb moisture. Crushed charcoal can suppress weed growth in a garden or along fence lines.
Dated Playground Equipment – Katelyn is a junior in high school, and James graduated from university last
spring. Think it might be time to part with that large wood and metal jungle gym they loved as grade-schoolers?
Clean it up, tighten screws and bolts, and post it on Craigslist.org at a reasonable price. Or, give it to the young family down the street who will enjoy it for years to come.  Your act of good will is sure to earn you immediate 'good neighbor' points.  No, don't save it for the grandchildren you might someday have. Think about what you could do with the space: plant a kitchen garden or maybe install that hot tub you've always wanted.
Old Yard Toys – That Big Wheel, trampoline, or plastic castle have seen better days, and now they've been relegated to that vast wasteland known as the "side yard". Oh, and somehow a teddy bear and other assorted indoor toys have been lying there for what looks like a generation. Time to put them all in a recycling bin or take it to a recycling center!
Split or Broken Garden Hoses – You gave it your best care, but that vintage hose still developed leaks that made it unusable.  Discard it in the recycling bin and buy a new one!  Garden hoses are not meant to last for years in the Arizona sun.  A good quality hose only lasts 3-4 years at most, and then begins to kink.  Inferior quality hoses don't last even that long.
There's the list.  Now pick a nice day and start with the least demanding item on your list; its completion will give you the encouragement to proceed to other tasks.  Declutter the yard and move on to some fresh new, spirit-lifting ideas.
Until next week, I'll be helping local gardeners here at Watters Garden Center.
Ken Lain can be found throughout the week at Watters Garden Center, 1815 W. Iron Springs Rd in Prescott, or contacted through his website at WattersGardenCenter.com or  FB.com/WattersGardenCenter .