Watters just received fresh herbs for Autumn planting.  Many herbs are best used when freshly picked, others taste better after they're dried.   With so many herbs to choose from for our gardens, I've listed the seven herbs easiest to dry.
Nothing compares to the flavors of fresh herbs, but they often are not available. If that's the case, there is nothing more convenient than having some dried herbs on hand, especially if they've been dried fresh from our own gardens.
Not all herbs retain their flavor when dried. Delicate herbs, such as basil, borage, chives, cilantro, and parsley, lose a lot of their punch when dried.  Freezing might be a better option with these herbs.
Some herbs hang onto both their scent and a good deal of flavor when dried. Their character will vary from year to year and garden to garden, but the following herbs can be counted on to deliver when dried: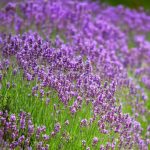 Lavender – If any herb holds onto its aroma when dried, it is lavender. It is the flowers that we eat or make into drinks. Even when dry, the blooms are quite tart, so be sure to break them apart into individual buds before using. Lavender is versatile enough to be used in savory dishes, like pork tenderloin, yet sweet enough to enhance deserts. Some popular favorites include Lavender Shortbread and Lavender Vodka.  A bundle of lavender will air dry within a couple of weeks.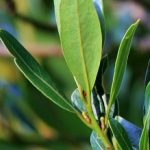 Bay – One of the best things about having a small bay tree is that as the leaves grow older and ready to drop off the tree, they dry themselves!  Bay leaves start off with a menthol-like scent and taste, but when simmered long enough, they mellow into a tannin back-note that works its magic in dishes the way a dash of nutmeg does – you can't quite tell what it is, but it makes the recipe better. However, as with nutmeg, too much of this good thing can ruin a dish.
Rosemary – When dried this herb is not necessarily better than fresh, but it does have its pluses.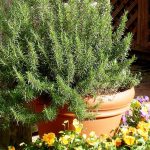 Like bay, rosemary seems to mellow out when it is dried, losing some of the overwhelming pine-like scents. Unfortunately, it also loses its supple texture and becomes as brittle and harsh as pine needles. It's best to grind dried rosemary, to avoid that unpleasant texture. To dry it, simply remove a sprig from the plant and let it sit for a couple of days. Keep in mind that, even dried, only a tiny amount is needed to flavor foods. Go easy, you can always add more.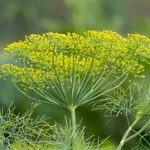 Dill –  Here's how this plant keeps on giving:  The leaves are aromatic and tangy. The flowers attract beneficial insects. The seeds are delicious on their own and they self-sow, providing more plants. Dill's narrow leaves are quick to dry.  They are challenging to handle, so dry them in a paper bag.
Lemon Balm – There are a lot of lemon-scented herbs, and lemon balm is often considered a poor relation, probably because it is such an overly-enthusiastic grower. It may lack the tang of lemon verbena or lemongrass,  but it dries much better than the other two, and it retains a true lemon flavor. Harvest before it flowers for the highest concentration of oils and the best taste. Lemon balm dries best in a dehydrator or when air-dried.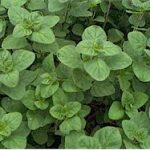 Oregano –  One of the most popular herbs for cooking, oregano actually tastes better dried than when it is fresh. Drying concentrates the scent while lessening the bitter, hot quality of fresh oregano. This is one of the most natural herbs to dry. Just cut the stems and let them hang until dehydrated.  When ready to use, run your fingers down the stems to crumble the dried leaves onto a pizza or into tomato sauce.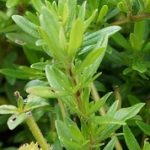 Thyme – The flavor of thyme becomes much more delicate when dried, so you will use larger quantities of it dried than fresh. However, like oregano, it is best dried on the stem. Leave the stems intact for storing, and when ready to use in cooking run your fingers down the stem to crumble the leaves. This helps thyme retain its oils and, thereby, much of its aroma and flavor. Air-drying works well with thyme.
For Exactly how to dry, freeze, and process fresh herbs in ice cubes.
Irrigation in the Waterwise Landscape – October 6 @ 9:30 am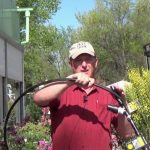 Irrigation systems can confound even the most experienced gardeners! Learn the benefits of drip irrigation, the best emitters and parts, and how to set a system up or add to it.  With the right system, you can save water and have healthier plants.  Students will also learn which plants are considered "water-wise," and how to grow a beautiful landscape while saving our most precious resource – water!
Top Trees for Fall and All – October 13 @ 9:30 am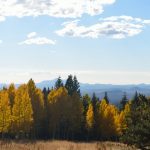 Whether providing privacy, shade, color, blooms, and/or year-round greens – trees are the foundation of every landscape! With so many choices, selecting the perfect tree can seem overwhelming, but not after this class. Students will learn which trees are best for their respective garden wish lists. Equally important, they will be taught which trees can provide stunning, year-round interest when planted together. Our horticultural team will be on hand after the class to help with tree-related questions.
If you can't attend this class, watch the Livestream on Facebook. Like our Page to be notified when we go Live.
Until next week, I'll be here at Watters Garden Center helping local gardeners plant more fresh herbs.
Ken Lain can be found throughout the week at Watters Garden Center, 1815 W. Iron Springs Rd in Prescott, or contacted through his website at WattersGardenCenter.com or  FB.com/WattersGardenCenter