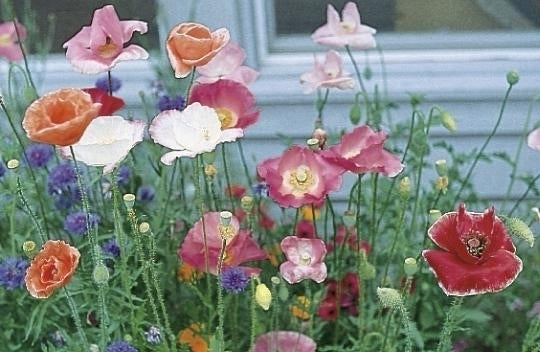 Wildflower seeds cling to the soil as it heaves with the freeze and thaw of late winter, and it's an action that insures a good spring showing of wildflowers.  Our weather has been so warm that the window to spread wildflower seeds has been shortened. Delay too long to plant the seeds and you will learn that the germination rate of wild seed is ravaged as the temperature rises. Seed should be spread no later than February for optimal results.
How wildflower seeds are planted is so critical that it can make all the difference between a successful showing and one of disappointing failure.
It all comes down to four simple steps that make the difference between wildflower success and failure.  Here are the specific planting techniques that I count on to guarantee breath-taking crops of wildflowers:
Step 1:  Select and prepare the planting area.  Planting in weed-free soil assures optimal results so pull out any growth you don't want mixed in with your wildflowers.  Then rake the seedbed to loosen the top 1- 2 inches of soil.
Step 2:  Create your own hydro mulch.  Some wild seeds are so small you barely can tell if you've spread them evenly across the soil.  Pour it a bag of composted mulch into a wheelbarrow and mix in the seed.  Spread this seed-mulch blend over the prepared seedbed.  This simple trick helps you visually see where the seed is placed, insures good seed-to-soil contact, insulates the seed, and camouflages it from hungry birds.
Step 3:  Encourage deeper roots and better flowers with the right nutrients.  With my hand spreader I scatter  'Soil Activator' and 'All Purpose Plant Food' 7-4-4.  These two products bring the best out of wildflower seeds, and it doesn't matter which one is applied first. Spread both like a regular dry fertilizer over the entire seedbed and watch your new seedlings come alive. The ensuing flowers will exhibit a similar boost in their colors and fragrance. These additives mean the difference between a struggling bed of wildflowers and WOW!
Step 4:  Keep the seedbed moist. With sufficient moisture, seeds will start to germinate as soon as soil temperatures warm, anytime from the end of February through April.  Regardless of planting location, your wildflowers will require supplemental water if there isn't enough rain to keep the seedbed moist.   Irrigate every 7-10 days for best seed germination.
~~ ~~ ~~ ~~ ~~ ~~ ~~
Mixing varieties of seeds balances the beauty, maintenance care, and water use of the flowers. I have enjoyed playing with different seed mixtures for years and have developed my own seed blends. It's rewarding to have mixed several different blends together for the best show in an arid climate.
Wildflower success goes up when using a blend of different seeds that are companions to each other.  Since my favorite color is red, I like to purchase an existing blend and personalize it by adding some additional red-colored flower seeds.  You can customize your own mixture by adding specific varieties or colors into your own wild mix.  Remember, in Step 2 the seeds get blended together in the wheelbarrow full of mulch.
Several blends that grow well in our landscapes are 'Parade of Poppies', 'Arizona Wildflower Seed', and 'Deer Resistive'.  For added fragrance customize your mix by adding in a package of 'Palmer Penstemon'(pictured on the left).  This wonderfully aromatic knee-high tubular flower is attractive to hummingbirds and humans alike.
Bird lovers like to add 'Firewheel' to their store-bought seed mix.  A sun- and drought-loving flower with bright daisies of red and gold rays around a maroon center, it is absolutely irresistible to our feathered friends.
To create meadows of wildflowers use the same four steps to start wild grasses and meadows as you do with wildflower beds. Just make sure to plant wild grasses that will grow lower than the flowers.  Several blends of wild grasses have been created with the wildflower seed already added.  I have had favorable experiences with the 'Low Maintenance Grass & Wildflowers' mix, and have helped put together several other flower and grass blends.
~~ ~~ ~~ ~~ ~~ ~~ ~~
Garden Alert – This week many gardeners have brought to the garden center samples of pine, spruce, and cypress trees attacked by aphids. Symptoms of trees with aphids are: sap dripping from the branches, shimmering pine needles, and, under the trees, soil that appears to be wet. Aphids are the only insects that cause these symptoms.  Although aphids can damage large trees and kill small ones, they are easy to control. With the help of a hose end sprayer drench the tree with 'Multi-Purpose Insect Spray' from two different angles until the tree is dripping wet. This spray not only kills insects on contact, but also has a repelling action to subsequent aphids trying to feed on the tree.
Gardening Class – To learn about planting wildflowers first hand come to our February 1 class 'Escape to the Backyard & Plant Wildflowers'.  Listen in for free, but the first 10 students to sign up with $15 receive a package of Ken's specially blended mountain mix with all the goodies to make them bloom like crazy this spring. Wildflowers can be harder to grow than you think, but not after this info heavy class.  Class will be held in the back greenhouses at Watters Garden Center.
Until next week, I'll see you in the garden center.