Because they are in bloom now, this is the season to plant larger specimen trees and shrubs that flower in fall.  It's enticing to select these plants for fall now because the blooms you see now are the blooms you will see this fall and every fall that these specimens are in your garden.  Below are 10 of the showiest plants for autumn gardens.  I tried to list plants that you might not find in other neighbors' yards.  They are my local favorites that thrive in the fall landscape when planted now.
1.  Carmine Snapdragon – This overachiever produces dramatic open-faced flowers in striking shades of pinkish deep reds.  Whether left to be showy in the border or cut to make lightly scented bouquets, when kept deadheaded it is an abundant bloomer. Even while blooming profusely its stems are so sturdy they withstand assaults of mountain wind and sun.  Grown from forests to the open plains, this 12" tall blooming machine is chosen for its beauty, yet boasts that foraging animals, even javalinas, dislike it!
2.  Cardinal Red Twig Dogwood – Add fiery orange and gold foliage to your autumn landscape with this easy-to-grow privacy hedge.  Unlike most shrubs, when this dogwood loses its leaves it is at its best, because its cardinal red stems stand out in any winter landscape.  For many seasons it will enhance the coldest of winters with its bright red stems.
3.  Dusty Miller – This dependable plant is a favorite because its silver white foliage is a great foil to complement other flowers.  Whichever variety is used it "looks good" with everything!  Although prized for its foliage, a flower erupts from its 12" center in waves of yellow.  It is delightfully easy to grow, and tolerates heat and drought like a champ.  Wildlife will not bother this plant, including rascally rabbits, javalinas, and deer.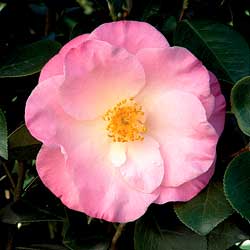 4.  Ice Angels Camellia – Because of its year-round beauty, this evergreen shrub deserves front yard status or special focal points around a patio or terrace. Its enormous white blooms are gracing plants at garden centers now.  Its flowers are much hardier than the camellias our grandmothers grew.  The beautiful evergreen foliage makes a fine informal hedge, screen, or dark background for bright blooming beds and borders. It is well adapted to the acidic soils beneath individual junipers, conifers, and maples as well as in mixed groves.
5.  Fire Alarm Red Mums – With a name like Fire Alarm Red large red blooms would be expected from this mum, and that's what it delivers. Just provide an average garden soil for a flaming red that would take a fire hose to put out the glowing petals.  Both the plant and its prolific blooms will last through the first hard freezes of winter.  A big plus for this plant is that it is perennial so will come back next fall with an even bigger showing.
6.  Pink Muhly Grass – Masses of tall, delicate panicles create a vibrant rosy red haze over the finely textured grassy leaves of this shrub.  Highly attractive through winter, this grass makes a superior ground cover when massed with other shrubs and trees. Adapted to the rigors of reflected heat, dry sites, and crummy soils, once established this low care grass rarely needs water.
7.  Dwarf Pomegranate – This small shrub grows well in heat absorbing containers where most plants seem to die, and is just the right size to tuck into blisteringly hot areas of summer gardens.  Its attractive bright red spring flowers form equally handsome red fruits that hold well into winter.  The autumn red fruits are an especially attractive contrast to the plant's yellow gold fall foliage.  This versatile plant is very deer resistive and an effective plant for bonsai.
8.  Armstrong Maple – This maple sports the brightest orange leaves of all shade trees. It is similar in size to its cousin the blaze maple so give it "room to grow". Mature growth is 40 feet tall by 20 feet wide. It bursts into autumn with rare colors that complement the red of blaze maples, the purple of raywood ash, and aspens' golds.  It is one of the fastest growing shade trees.
9.  Quaking Aspen – Native to surrounding hilltops, this farm-raised crop of shade trees is hand primped and groomed to perfection.  Each plant has a well-defined perfect cluster of 3-5 trees.  The narrow form is perfect for small spaces, for use as screens, and for lining driveways where the golden leaves can truly be appreciated.
10.  Prescott Pansy –This specially grown 12-inch tall Prescott blend is smothered with mammoth sized flowers that love our inclement fall weather.  Each bloom resembles a carefree-colored monkey's face. This mountain hardy variety that brings cool weather beds and containers back to life is oh-so-easy to grow.  What a treat to bring the blossoms indoors as cut flowers to enjoy the scent of the Prescott pansy.
~~ ~~ ~~ ~~ ~~ ~~ ~~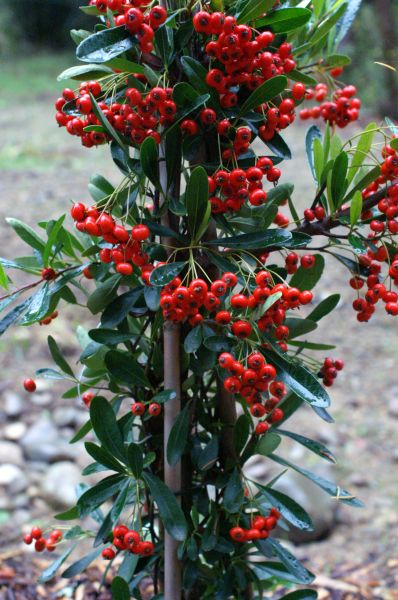 Plant of the Week:  Although the Victory Pyracantha is not known for its fall foliage or flowers, it does have bold, upright stems that display winter-long, intensely red berry clusters. This versatile shrub can create an excellent evergreen hedge, screen, windbreak, or barrier.   It also performs well when left free standing or espaliered against a wall.
Until next week, I'll see you in the garden center.