by Ken Lain, the mountain gardener
We've all seen  dreary, low-water landscapes. Though well-intentioned, the only color is gray to gray-green, with plants that look brittle and bone-dry. But water-wise gardens can be vibrant, colorful, and yes, even lush-looking.
Although we have a lot of low water plants here at Watters Garden Center, I have a list of my top 40 water-thrifty plants that will add beauty and vibrancy to xeric gardens. They are listed by either flower or foliage color. Most are perennial varieties , but I've sprinkled in a few of my favorite tough annuals that really make for outstanding gardens. Not enough space here to mention all 40, but we can highlight a few beginning with yellow, the most common Arizona color.
YELLOW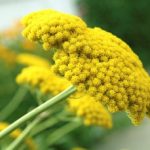 Yarrow – With low, ferny, gray-green foliage and flat-topped bunches of tiny flowers on skinny stems in shades of pale to intense yellow, this is a striking addition to any landscape. Watters also offers this plant with white, pink, paprika, and terracotta  flowers.
Kangaroo Paws – Mounds of dark green spiky foliage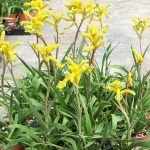 anchor spindly stems ranging from 18-inches to 6-feet tall, with clouds of fuzzy, curiously shaped flowers on top. This is an annual flower at the higher elevations of Arizona, but useful as a hot addition to sunny container gardens with reflective heat.  The most popular kangaroo paws seem to be in the yellow and greenish tones, but there are pink, red, and orange kangaroo paws, too.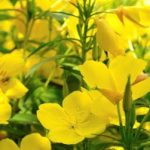 Primroses – Bright, single, clear yellow flowers look a bit like poppies, but are blossoms on  one of the varieties of  oenotheras (pronounced "ee-NO-thur-a").  Primroses are a great addition to an Arizona cottage garden.
Rudbeckia – Giant, daisy-like flowers appear on 18-inch to 3-foot tall plants, depending on the variety. Commonly yellow, some show off with orange, lime, and red blossoms.
Santolina – This classic Mediterranean style plant has mounds of silver foliage and small button flowers of pale or bright yellow.  Javalinas, rabbits, and deer detest the herbal taste of this evergreen perennial.
ORANGE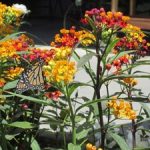 Butterfly Weed, or Asclepias, (pronounced "a-SKLEE-pee-us") — This garden workhorse produces clumps (3-feet tall and 1 foot wide) of narrow leaves that become covered with clusters of bright orange or yellow flowers.   Looks its best with regular water, but will hang tough with little water once it's established. Butterflies LOVE it!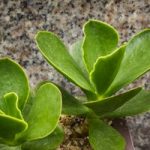 Cotyledon – This annual succulent looks great in containers. Its rounded pairs of gray or green leaves are graced with clusters of orange, bell-shaped flowers in summer.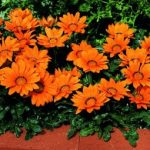 Gazania – This is a classic annual flower with low, mounding, water-thrifty plants and bold daisy-like blooms in wonderful Mexican hues. Orange is the most common color, but there are pink, red, yellow, and cream varieties, too. Flowers close for the evening.
Lion's Tail, or Leonotis — Easy-to-grow, this woody perennial bears burnt orange flowers in bunches on tall stems. If it gets too big, just cut it back in winter. It reseeds to produce a natural effect.
Mimulus – The water-thrifty "monkey flower" is the woody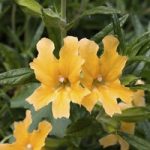 perennial (M. aurantiacas), not the fleshy annual sometimes found in flower-packs. Mounding plants with tiny leaves clothe irregular and curvy stems with lots of ruffled flowers on and off all year. You'll find red, white, and yellow monkey flowers.
PINK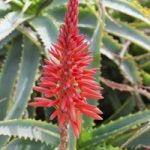 Aloe – You'd plant aloes just for their architecture, but come winter, you'll be stunned by their beautiful, long-lasting flowers on tall stems. Unfortunately, you can only enjoy this annual if it's brought indoors during cold weather.  It likes the heat of summer, but doesn't like cold mountain winters.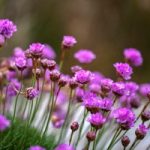 Armeria – Here's a happy plant that looks sensational when massed because the brightly- colored lollipop flowers rise above its beautiful, grass-like foliage. Flower colors include red, pink, lavender, and white with heights ranging from 4 – to 12-inches tall. Mix the colors in drifts for a low-water wildflower meadow.  Loves all bright mountain areas and the coldest of winters.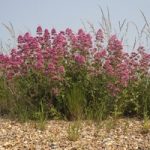 Centranthus – The great English garden designer, Rosemary Verey, once said that great gardens are 20% self-sown. In Prescott, Jupiter's beard (Centranthus) is the perfect self-sowing perennial. It's very tolerant of drought and of very poor soil. You'll find it with red, pink, or white blooms.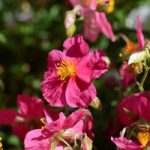 Rock Rose, or Cistus– A tidy shrub of varying sizes, it covers itself with white, pink, rose, or purplish poppy-like flowers. Simply replace it if it gets overly woody. Rock roses are great choices to soften those really hot spots in the garden.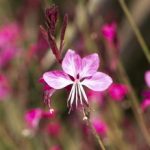 Gaura – Gaura looks best in mixed plantings with other perennials and annuals. The entire plant is wispy; the effect of the flowers along the tall, narrow stems is like clouds of tiny white or pink butterflies
Crape myrtle —The signature summer mountain shrub that gardeners like to plant in mixed borders.  Whack (the technical garden term is "coppice") them to the ground each winter for a sensational, small blooming shrub. New this year at Watters is a  purpled foliage crape with sensational florescent flowers.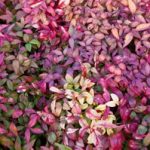 Nandina – This is a common shrub in Prescott gardens, but there are lots of newer varieties that have interesting red and gold foliage. This plant varies in size, but most tend to be small, making them good choices for small gardens. All nandinas  require no care beyond watering.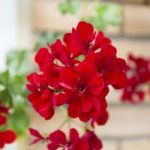 Geraniums — The most popular perennial garden flowers in Arizona for several reasons: They bloom almost year round; ivy geraniums do bloom 12 months of the year. They require little to no care beyond watering.  They're forgiving if you occasionally forget to water them, and they thrive in our dry heat. Bring this annual indoors for the winter months to continue the thrill of annual color.   
WHITE, CREAM, SILVER
Alyssum – You might wonder what an annual is doing on a low water list, but if you've ever grown alyssum and it has reseeded in some unwatered out-of-the-way place, you'll know why it's here. This is one tough annual, yet oh, so pretty.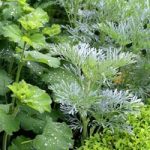 Artemisia – The mounding, finely-cut, silver or silvery-green foliage of artemesia is stunning when mixed with perennials—especially with shades of pink and purple. It can look delicate, but it will take heat and drought better than many other plants.  Plus, animals won't touch this drought lover.
PURPLE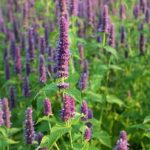 Agastache – This plant is just beginning to get the attention it deserves. Although it has a wild, untamed look, a bit like lavender, its color range of purples, reds, oranges, pinks, and yellows certainly exceeds that of lavender.   It serves as a tidy substitute for Russian Sage.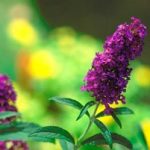 Butterfly Bush, or buddleia – This is one of the most colorful water-wise shrubs for Prescott gardens. If not cut almost to the ground each winter, it can be large and ungainly. The desirable new dwarf forms are now available here at Watters. Large plants or small, they come in lavender, white, and rosy-purple.  Truly, swallow tails, painted ladies, and monarch butterflies are drawn to this blooming beauty.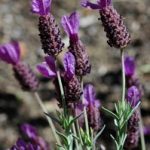 Lavandula  – Lavenders are classic, Mediterranean water-wise plants. For year-round color,  Spanish, French, and fern leaf types deliver the best show.
Verbena – This wonderfully tall and airy plant rises above most perennials to add striking spots of purple to borders. Cedros Island verbena is a highland lover that forms a low mound of airy foliage and blooms almost all year long.
LAVENDER & BLUE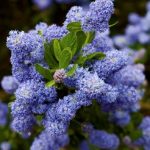 Ceanothus – From ground covers to large shrubs, this plant comes in many sizes. All have small leaves and beautiful clusters of spring flowers that range from light blue to stunning indigo.  Plant in full, blisteringly hot sun for results that come back year after year.  In bloom now around our neighborhoods and at the garden center.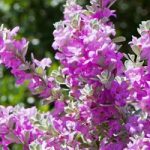 Leucophyllum —The name applied to several plants in this family is Texas Ranger. Most have small silvery leaves and become covered with purple or lavender flowers.
Penstemon – This dainty, sophisticated perennial has bluish-green foliage and bright blue or blue-purple dainty bells.  Watters specializes in native penstemon and collects more drought hardy varieties each year.  One trait is true for all penstemons, hummingbirds love the taste.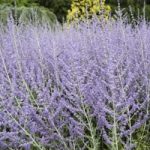 Perovskia – Commonly known as Russian sage, when grown against a contrasting backdrop, this is a spectacular bright spot for any yard. Plant it by itself or where it's the tallest flower, it's merely "ho-hum".  However, planted with Gaura, or Autumn Joy sedum it becomes one of the truly striking companion plantings in a drought hard landscape.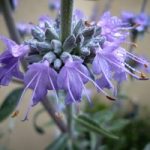 Salvia –  Although all varieties of salvia have rather undistinguished foliage, their blooms are pretty spectacular..  Flowers range from blues, purple, reds, white, even apricot color.  They all are loved by hummingbirds, but javelinas, rabbits, and deer truly detest their herbal taste.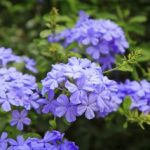 Plumbago – Often left to sprawl in mountain gardens, a better use is to train it on a pillar like they do in Provence. It's a stunning vine-like shrub with bright blue flowers from spring through autumn.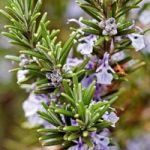 Rosemary – This tough-as-nails shrub, depending on the variety, can be used as a groundcover, mixed border perennial, kitchen garden plant, or for a background/hedge plant. It can even be formally clipped.  All varieties can be used in the kitchen or on the grill.
Catmint, or Nepeta –Steadily gaining respect in  mountain landscapes,  the long-lasting mounds of gray-green foliage    are topped with spectacular 12- inch long spikes of beautiful lavender flowers. Watters also grows a white flower variety. Every low-water landscape deserves at least one of these show stoppers.
GREEN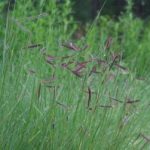 Blue Grama Grass – While most grasses are not water wise, as is widely assumed, this western native truly is. Blue grama, as it's commonly called, has unusual flowers that flicker above the leaves, and can be used as a drought-tolerant lawn grass—mowed or unmowed.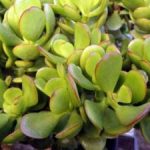 Crassula – You'll recognize crassula as the ever-popular jade plant. While there are different types, all are colorful and architecturally pleasing.  Best used on deck or patio as a container plant, then brought indoors and used as a decorative houseplant through winter.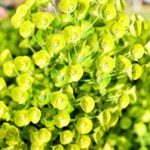 Euphorbia,or spurge   –   There are lots of different spurges  that are drought tolerant. These evergreen perennials grow knee high with the most striking chartreuse flowers that make stunning bouquets when combined with white flowers.  Mountain mammals are not attracted to spurges.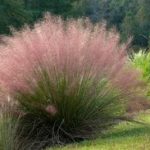 Muhly Grass, or Muhlenbergia —   Watters specializes in several varieties of this tough, two-foot high grass.  All have narrow blue-green leaves with large, showy, colorful flowers opening in summer and continuing through winter. When in full flower, it suggests a mist hovering above the foliage.
Sedum –  Almost all sedums are  low water plants. The very
colorful ground cover types are especially interesting because of their fascinating textures.  Not all sedums are created equal, so make sure to use hardy winter varieties outdoors as permanent landscape features in rock gardens and in containers.  This family of plants is so interesting and has so-o-o many varieties that Watters also carries many of the annual types.
EVERY COLOR OF THE RAINBOW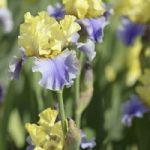 Bearded Iris is almost indestructible. It sports spectacular blossoms, many re-bloom, and are available in almost every color, including black, brown, and true, true blue. Every garden should have generous showings of these beauties.
So many plants thrive with little care that I've written a book on the subject.  The Low Maintenance Landscape Book is free to download, and covers soil preparation, ideal irrigation, etc.
Now through October is planting time in the mountains of Arizona.  Therefore, the plants mentioned in my list, and many more, will arrive at Watters weekly throughout the season.  Visit often for an ever-changing selection of these low care, low water plants.
Until next week, I'll see you browsing through the native plants at Watters Garden Center.
Ken Lain can be found throughout the week at Watters Garden Center, 1815 W. Iron Springs Rd in Prescott, or contacted through his web site at WattersGardenCenter.com or  FB.com/WattersGardenCenter .