Interestingly, the front yard often is the sunniest spot in a landscape, and although vegetable gardens thrive in lots of sun we rarely install what is basically a working farm in the front yard. With careful planning edible plants can become parts of a striking front yard design.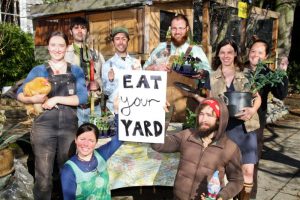 "Hide them in plain sight" is the secret to a great-looking landscape that also can add to your harvest. Artichoke plants are the superstars of the front yard edibles. These attention-grabbing plants make quite a bold statement with their softball-sized purple flowers shown off against dramatic downy blue leaves. The designer in me likes the architectural structure of the whole plant and that as a perennial it comes back every year. For the best flavor harvest the fruits before the color shows on the flowers. If you leave the thistles on the plant you'll provide an exuberant show for your family, friends, and yourself!
For maximum landscaping impact try grouping edible and non-edible plants:
Sage & Succulents show well together. Rosy Afterglow Chicks and Hen look great when surrounded by Salvia officinalis. This tricolor sage with mouth-watering culinary flavor has year 'round appeal as a contrast plant against succulents.
Thyme & Phormium planted for impact. A mound of blue green culinary thyme, Thymus vulgaris, softens the upright foliage of the stiffer New Zealand flax. Thyme also works well when planted with yucca, agave, and upright native grasses.
Purple Basil & Golden Thyme combine for a landscaper's WOW! Lemon thyme is low growing with bright gold leaves that when planted with 'Red Rubin' or 'Siam' basil the effect yells, "We have style". Both bring great flavors to the kitchen. Although they look good in container gardens, try planting them directly into a driveway border.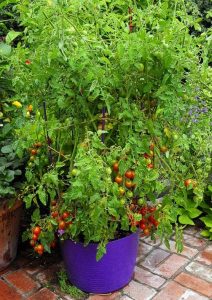 Tomatoes in the front yard? Yes! I like to use small-fruited tomatoes, especially the sweet 100, yellow pears, golden sweet, or brown berry varieties. The clusters are extremely ornamental and their foliage doesn't deteriorate too rapidly at the end of the season. Plant tomatoes at the edge of raised beds and just let them tumble over . . . very pretty. Planted in a large ox blood red container, growing through a solar yellow cage with purple wave petunias spilling over the container's edges and you have a container garden that exhibits great taste that tastes great. Even when it's showcased right at the front door.
Many culinary herbs are direct descendants of our native plants that make for hardy landscape edibles. Low growing oregano, sage, and creeping rosemary knit the landscape together for a cultivated garden look. Most herbs are perennial and spread each year, so that you can just let them grow. You can never have too many herb plants in the yard. Allowing extra plants to flower will lure bees into the yard, and we all know that these insects increase production of your other edible plants, including fruit trees and berries.
Mints can be invasive so most garden writers suggest planting them in the confinement of containers. Mint does make a superior container plant, but I prefer planting it by the driveway, especially at the low side where rain naturally runs. Mint flourishes under the extra moisture and can its dense roots help with erosion control. Chocolate mint can take over lush garden settings so if it gets too aggressive, run it over with the SUV. Go ahead, abuse that mint, it still will produce those wonderful chocolaty leaves perfect for summer party teas!
Caring for edibles is undemanding. To bring out the best flavor of edible landscaping, encourage new growth with an application of organic fertilizer at six-week intervals. "All Purpose Plant Food", 7-4- 4, is a natural fertilizer blend that I put together for our local landscapes. Herbs and vegetables thrive on this food. "Captain Jack's Dead Bug Brew" is a new organic bug control that knocks down summer insects, yet safe enough to use on all edible plants.
Trees can be your greatest sources of food. Not only do fruit trees bloom in the spring, provide shade in summer, and deliver great fall colors, they deliver abundant produce to any landscape. Friends and the local food banks will welcome the leftover harvest you simply cannot use. Or, if you're so inclined, dust off the canning supplies and use all of that bounty.
Some edibles develop better flavor with a bit of shade, so take advantage of the irrigation already plumbed to tree wells. Crops like lettuces, kale, peas, nasturtiums, radishes, and cabbages thrive under shaded conditions and look great in contrast to a stark tree well. Use these demands and existing conditions to your advantage. See more Shade Loving Vegetables.
Design Wednesdays with Rich Olson. If you need serious help from a local landscape designer, Rich Olson will set up shop here at Watters Garden Center every Wednesday from 9:00 a.m. to 12:00 p.m. His first half hour of professional advice is free, including his digital enhancement of your landscape photos. This is an exceptional opportunity to address those difficult-to-design spots in your landscape. Rich also can do full scale landscapes with overlapping irrigation and lighting plans. Make and appointment ahead of time for an assured time slot. Schedule your appointment with Rich and shoot him a photo of your landscape project via email at:[email protected] .
Until next month, I'll see you at the garden center.
Ken Lain can be found throughout the week at Watters Garden Center, 1815 W. Iron Springs Rd in Prescott, or contacted through his web site at www.WattersGardenCenter.com or www.Facebook page facebook.com/WattersGardenCenter .