Ever increasing attendance has caused this years 'Get Real Mens Expo' to move venue to Prescott High School so they can show all of cars and motorcycles. This years 'Show-N-Shine' display will feature all makes and models, all classes, from all over Arizona. The show starts at 8:30 and runs through lunch at 1pm on August 20th. All are welcome to enter or admire.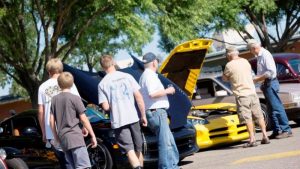 Annually tied to the 'Get Real Men's Expo' this years event also features men only exhibits, outdoor archery, fishing and sporting events. Highlights this year is the Southwests very own, chainsaw artist Mark Chavez, with his art being raffled off to attendees. Ax throwing is back by popular demand thrown by all ages for a father, son experience that will not soon be forgotten.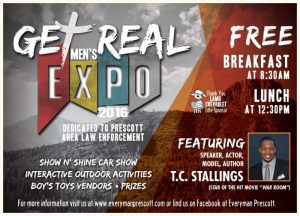 This is a non-profit event sponsored by men from 14 different churches in the community. There is an inspirational, to down right spiritual, piece of this years expo with positive messages of hope, commitment and love delivered by T.C. Stalling, author, model, actor in his latest fill 'The War Room".
To find out more about the Get Real Men's Expo, or the Show-N-Shine car show Contact:
Dan Olsen, cell 928-713-2428 or visit www.everymanprescott.org