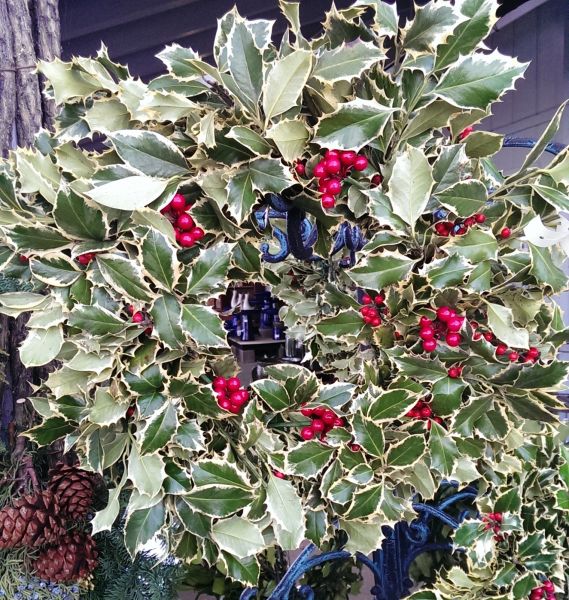 It is hard to believe that Hanukkah ended last week, Christmas celebrations are next, and that welcoming in the New Year is only two weeks away.  In our household it might be the frenzy of twin girls shopping for universities as their last year of high school comes to a close, but does anyone else wonder where 2013 went?
At our garden center there are two signs that we are well on our way to Christmas celebrations.  First is that the mountain of cut trees has disappeared from our lot.  By running one of the larger Christmas tree lots in our area, I know that it is a retailer's relief when that last cut tree, tied to the top of a family's SUV, is driving out the gate to its holiday home.
The second sign is the numerous 'phone calls the garden center receives from across the country. This week we even had a call from another continent !  The calls are from people who grew up in local neighborhoods but have moved away.  They are arranging spring-time Christmas gifts for their parents who still reside in the area. You read it right, I mean Christmas gifts for spring. More nursery gift cards are sold these few days before Christmas than in the days of May leading up to Mother's Day.  Usually the gift cards are enclosed in a personalized note that is bundled with a festive poinsettia.
The gift cards are in anticipation of the deluge of seed catalogs that arrives at the start of the New Year.   With a gift card from a favorite garden center, it will be exciting for Mom and/or Dad to while away winter weeks planning the spring garden.
Most boxed store garden centers and local nurseries have gift cards front and center because they really are great gifts for the gardeners in our lives.  Come spring, when any of these recipients is in the nursery to redeem a Christmas gift card, we are privileged to help with garden planning, but inevitably we get to hear some bragging about the relative who sent the card!  It's really fun for all involved!
~~ ~~ ~~ ~~ ~~ ~~ ~~
Each year, 33 million Americans lug home cut Christmas trees.  The unfortunate truth is that often the trees end up not looking right in the rooms where they will be displayed.  Here are things to consider so your Christmas tree will make its best possible appearance in your home.
For Smaller Spaces
Choose a live tree and nature will lend a helping hand. Because the north side of a tree is usually the least full, it is the perfect side to be placed against the wall, which will shrink your tree's footprint.   If necessary, move a cabinet or occasional table into another room to create the perfect space for the tree.
For Larger Spaces
Float a full tree in the center of a room. This is especially effective in a rectangular space.  With a seating area at each end of the room facing the tree, it will become the centerpiece of your home for the holidays.
---
Pamper yourself this holiday – just enter your email address for a chance to win a massage gift certificate at The Natural Healing Garden in Prescott AZ.  http://woobox.com/wsprxi
---
For Special Spaces
Do you have a large foyer? Place a tree front and center to be enjoyed by all as they enter your home. When dealing with an interesting ceiling line, place your tree under the highest point of the ceiling. Do you have a lovely, wide archway between your living and dining rooms? By placing your tree under this arch it will lend ornamentation to both rooms. Don't forget the beauty of a tree standing in front of a window, especially a window of exceptional height and/or architectural appeal.
For Outside Spaces
Add a tree to your porch or patio and lace it with strands of twinkling lights. For very small apartments a balcony tree can deliver the desired Christmas spirit without consuming any indoor floor space!
For No Space at All
If a tree absolutely will not fit in your house, consider the large live or artificial spheres of greenery, known as kissing balls.  Also, hanging baskets of greens suspended from the ceiling are fun to decorate with your favorite ornaments.  You might even hire an electrician to remove your overhead fixture for the season; then use that electrical source to light up your hanging basket that is overflowing with greens and decorations. Wow!
Double Your Pleasure
Are you ready for two trees? In a central location of your home maintain your traditional tree. Then add a small second tree on a tabletop, perhaps in a separate room. Regardless of its size decorate the second tree with ornaments that have a commonality of color, period, or theme.
~~ ~~ ~~ ~~ ~~ ~~ ~~
Fresh wreaths look great hanging outside the front door, but if you decorate with an artificial tree, try using freshly cut greens indoors.  Even just a few 'fresh' pieces will impart the fragrance of the season to your rooms. This is a month-long celebration, and adding an indoor fresh wreath, some garlands, swags, or some fresh cuttings will inject that inimitable air of freshness to your decor.
~~ ~~ ~~ ~~ ~~ ~~ ~~
Gardening Class – It's hard to believe, but the first free gardening class of 2014 is almost here.  Mark next year's calendar on January 4th from 9:30 to 10:30 a.m.; then take in the first of these classes. That morning, snow or shine, I personally will be teaching the dos and don'ts of pruning and landscape cleanup of our local landscapes.  Weather permitting we will have live demonstrations in the parking lots at the garden center.  Believe it or not that is just three Saturdays from today.  Bring on spring 2014!
Until next week, I'll see you in the garden center.