by Ken Lain, the mountain gardener
Bright snapdragon blossoms bloom profusely throughout cool weather with intensely saturated colors more vivid than mountain wildflowers.

Snapdragon's botanical name, Antirrhinum, means "like a snout" and refers to the seed pod's resemblance to a calf's nose. Such an ungracious name for such charming flowers!

The common name derives from the way the flowers resemble opening mouths when they are pressed on their sides. The flowers are snapped tightly shut, requiring more pressure to open them than possible by honeybees, so snapdragons rely on the larger, stronger bumblebees for their pollination.

We have just about every colorful shade of snap blossoms available at the garden center now through May.  They bloom in vibrant, bold tones, soft pastels, and some show subtle bi-colors.   Every mountain garden should have at least one of these early spring bloomers ushering in the new season.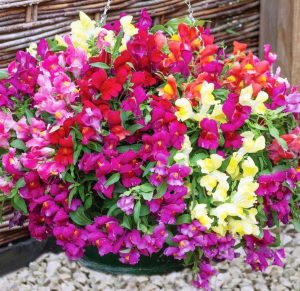 Snapdragons are tender perennials hardy to USDA Zones 7 to 9 and often reseed like wildflowers throughout a garden.  Sun, sun, and more sun for these profuse bloomers because the more sun, the more flowers can be expected.  However, snapdragons bloom their best in cold weather. They bloom repeatedly throughout the season but bloom best when spring and fall nights dip close to freezing.  They often flower through early January!  In summer they take a blooming break until the cold nights of autumn. 

The dense bushy plants often grow to over a foot tall, covered in blossoms through spring. The flowers start blooming at the bottom of the stalk and work their way up, making for an extremely long spring bloom cycle. 

Deadheading spent flowers definitely increases the number of buds, but since the flower stalks begin blooming from the bottom up, they innately have a reasonably long bloom time.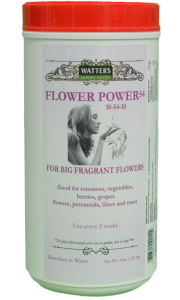 Snaps like a neutral soil pH, between 6.2 and 7.0, and bloom best when fed twice monthly with Watters Flower Power54.

Snapdragons can be started indoors 8 – 10 weeks before the last frost date, grown from cuttings, or purchased as seedlings. When starting from seed, merely press the seed on the surface of the damp potting soil. The seeds need bright light to germinate.

If snaps die back after a bitterly cold winter, prune them back by about 1/3, to encourage new spring growth. Don't be disappointed if they don't last. These flowers look their best the first year and fade in years two and three. Many varieties do self-seed and come back on their own, but blooms won't always look as vibrant as on the original plant. I find the best blooms are on plants freshly planted each spring. 

Snapdragons' tall, spiky, bright flowers are exciting when planted with Brunnera and Bleeding Heart. They also are striking when planted in large clusters in raised beds and containers.  Gold Yellow varieties are best mixed into borders, working together nicely with shades of pink, purple, and red.

Trailing and creeping varieties are becoming more widely available. We like them because they make exceptional filler plants for containers, baskets, and tucked into the crevices of walls.

Snapdragons are affected by few pests or diseases, although some years aphids will attack the foliage. Rust and other fungal infections can be a problem, primarily through monsoonal wet cycles.
All parts of a snapdragon are poisonous, so deer, javelinas, and rabbits knowingly avoid these plants!
57th Spring Open House ~ March 16 & 17 – It was 57 years ago this month that Watters Garden Center opened its doors as the first nursery in Northern Arizona. At this year's Open House we will introduce new plant varieties, new flower colors, and a vast selection of cold-hardened blooming baskets specially grown for the event. Meet our growers and talk directly to the plant breeders that have made Watters Garden Center a favorite all these years.

Until next issue, I'll be helping gardeners choose the best snapdragons here at Watters Garden Center.
Ken Lain can be found throughout the week at Watters Garden Center, 1815 W. Iron Springs Rd in Prescott, or contacted through his web site at WattersGardenCenter.com or FB.com/WattersGardenCenter .