by Ken Lain, the mountain gardener
The wind is no problem for this evergreen bloomer. Rose, Pink to white flowers cover this spring bloomer that often repeat blooms in fall. The dark blue berries adorn this compact bush that takes the wind and soaks up the sun like a native. Perfect for low maintenance gardening with virtually no pruning ever. Every backyard should have at least one.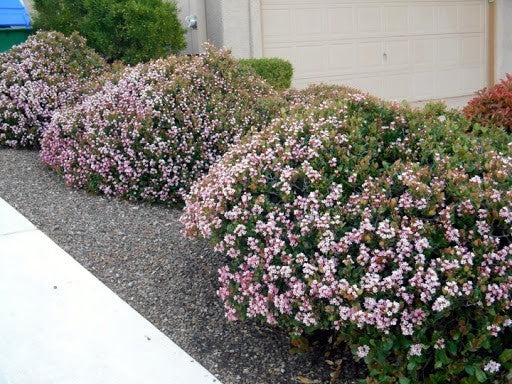 Indian hawthorn is an excellent shrub for urban landscapes USDA zones 7 to 11. It is a focal point of the spring landscape when it's covered with large clusters of fragrant white to pink flowers. It is a beautiful small shrub year-round since its foliage is evergreen.
Indian Hawthorn Plants
Indian hawthorn is a small, slow-growing shrub. Its shape is naturally neat and round that rarely required pruning. The pink or white flowers give way to blueberries that wildlife adore.
The leaves are 2-4 inches and oblong with a thick, leathery texture and serrated edges. Look for the top side of the leaf to be a darker shade of green than the underside. Some varieties may have leaves that are red when they first unfurl. Others change to red or purple in autumn.
The stunning flowers are star-shaped. They feature five petals and are clustered together in panicles. The dark blue fruits are called a pome. Other examples of pomes include apples, pears, and rose hips.
Botanical Information
The botanical name is Rhaphiolepis indica. Indian hawthorn and its relatives are native to temperate and subtropical regions of eastern and southeastern Asia. Indian hawthorn falls in the Maleae (apple) family that is also related to pears, quince, serviceberry, and mountain ash. The loquat (Eriobotrya japonica) is a close relative. Crosses have been made between these two genera.
The shrub does well in USDA zones 7 to 11, and most varieties grow to a mature size of 2 to 5 feet in height and width.
Landscape Uses
Indian hawthorn is one of the smaller evergreen shrubs, so it lends itself to versatile uses. It is particularly good in urban environments since it tolerates pollution and salt, heat, drought, and high humidity. They are excellent at seaside landscapes.
These evergreen shrubs can be planted close together to form a dense hedge, and they also grow well as foundation plantings. Birds love the fruit, including cedar waxwings. Due to its small size and compact shape, they grow well in containers and raised beds.
Growing Indian Hawthorn
Full sun location is preferred by Indian hawthorn, or at least 6+ hours per day during the growing season. It does well in most soils of any texture or pH level as long as the soil perks and has drainage. Add Watters Premium Mulch to the garden soil to ensure proper drainage and root formation.
Fertilizer
The best flowers and deep green foliage are produce by feeding every spring, summer, and fall (March, July, and October). Feed with Watters 7-4-4 All Purpose Plant Food at each interval.
Water deeply and consistently for the first season to develop a mature root system, and they become exceptionally drought hardy.
Pruning
Pruning is mainly used to create the desired shape and is not necessary for plant health. Often, gardeners prefer to let the shrub mound naturally. You can also make this shrub into a ball, a hedge, a standard shrub, or, with more extensive varieties, a small tree. Do any pruning just after flowering has occurred, so you do not curtail next year's bloom crop. You can also deadhead to remove spent blossoms and make the shrub look more appealing.
Propagation of this plant may be done from seeds and semi-hardwood cuttings.
Pests and Diseases
Common pests found on Indian hawthorn include:
Aphids
Black vine weevil
Chilli thrips
Flathead borers
Florida wax scale
Fuller rose beetle
Diseases include:
Entomosporium leaf spot
Fire blight
Powdery mildew
Root rots
Verticillium wilt
Recommended Varieties
Companion Plants with Indian Hawthorn for a Stunning Backyard
The perfect mountain perennial with huge fiery flowers on a compact plant. She loves the heat and super drought hardy. You can count on this bloomer to show off all summer long in raised beds, containers, or directly in the ground. Javelina and rabbit proof, this bloomer is a 'must-have.' Arizona plant.
Just plant in a sunny spot and enjoy! We've married the beauty of long stem roses with the Easy-care of shrub roses for landscape color like no other plant in the backyard. Choose fragrant reds, radiant pinks, corals, vivacious yellows, and stately whites. Extremely fragrant and only found locally at Watters.
A super vigorous vine with dangling stalks of fragrant flowers appears in early spring. Blooms are often followed by showy, 4″ purple edible fruit . . .yum! She proliferates up arbors, pergolas, fences, and stunning as a ground cover to retain hills. One of the fastest-growing evergreen vines for mountain gardens.
Purple Robe Locust Tree
Incredible, long clusters of purple flowers in May that look just like Wisteria flowers hanging from this local bloomer. The 8″ inch fragrant clusters cover the tree profusely! Super hardy and drought tolerant with a brisk growth rate of 2 feet in one year. It's the perfect summer shade tree.
Mountain famous for continual blooms spring through autumn with just a bit of care. The perfect cottage garden flower ideally grown in containers, hanging baskets, or raised beds. Sunshine Geraniums make gardening brighter! Feed twice monthly with Watters 'Flower Power' for a riotous bloom all season long.