By Ken Lain, the mountain gardener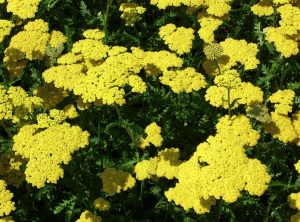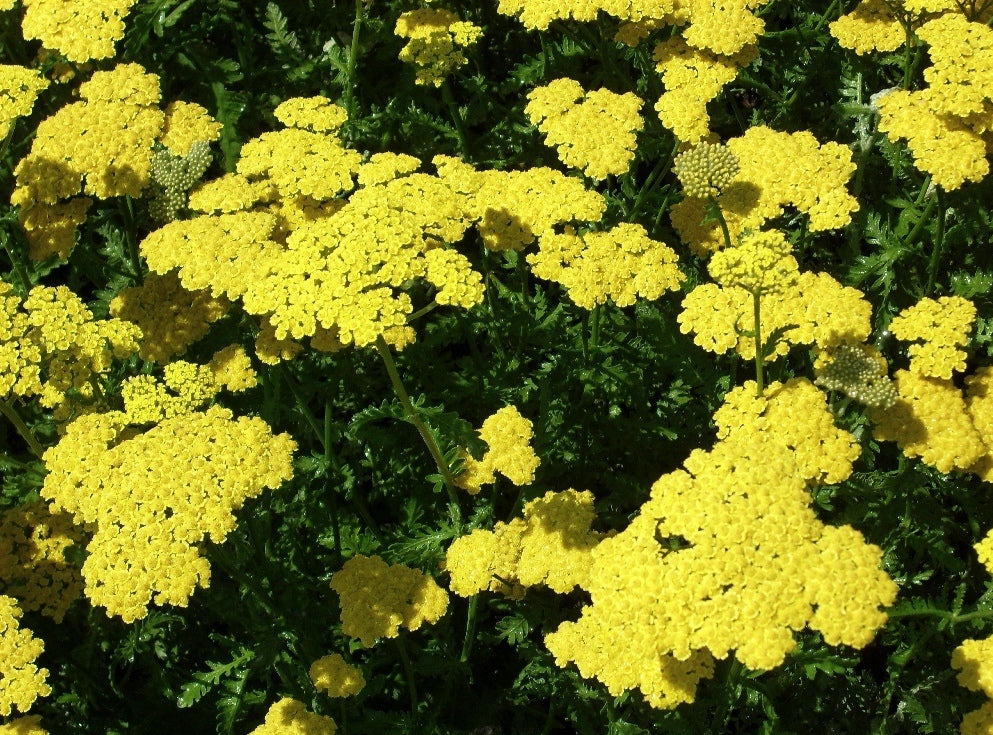 A fuss-free, heat-loving bloomer with large clusters of canary yellow flowers held above ferny, grey foliage, just stunning. Sunny borders and rock gardens are perfect or planted in a mass to create a bold band of color throughout summer. Mountain tough, you can't kill this perennial that blooms better each year it returns. Javelina and rabbit detest the summer blooms.
The perennial flower yarrow goes by several names – gordaldo, nosebleed plant, and old man's pepper. In the Mountain West, it's often referred to as a plumajillo, or "little feather" in Spanish because of the plant's leaf shape and texture.
We simply refer to this delicate beauty as Yarrow (Achillea millefolium). It's native to temperate regions of Northern Asia and Europe and introduced to North America during the Colonial times. The plant features flower stalks that are nearly four times its foliage height and fern-like feathery leaves.
Botanical Name – Achillea millefolium
Common Name – Yarrow, gordaldo, nosebleed plant, old man's pepper, devil's nettle, sanguinary, milfoil, soldier's woundwort, thousand-leaf, thousand-seal
Plant Type – Herbaceous flowering perennial
Mature Size – 1′ foot x 2′ feet wide
Sun Exposure – Full sun
Soil Type – Sandy, loamy, clay, well-draining
Bloom Time – June to September
Flower Color – White, yellow, paprika, pink, red
Hardiness Zones – 3 to 9
Native Area – Northern Asia, Europe, and North America
How to Grow Yarrow
Yarrow is most often propagated, so you will likely buy it as a plant. To add it to your garden, loosen the soil about 12 to 15 inches deep and add 3 inches of Watters Premium Mulch blended into the soil. The soil should be well-drained, as Yarrow doesn't like wet soil. Space plants at 1-2 foot center and they fill in quickly. Extremely drought tolerant and grows well in poor soil, this plant is ideal for xeriscaping in desert environments.
Light
Yarrow prefers full sunlight, but it can grow in partial shade. If the plant doesn't get enough sunlight, the long, thin stems can become floppy and need to be staked. Best grown in 6+ hours of sun during the growing season.
Soil
Yarrow grows best in dry soils that drain well. It tolerates poor garden soils where few other perennial thrive. Soils too nutrient-rich encourage aggressive growth.
Yarrow is drought-tolerant, but if the garden receives less than 1 inch of rain in any given week, give the plant extra water.
Temperature and Humidity
Tolerates both hot, humid days, as well as dry drought conditions. This bloomer is tough.
Yarrow adapts much like mountain wildflowers when treated with any care. Feed with Watters 7-4-4 All Purpose Food three times per year in March, July, and October for a super bloom each year.
Propagating Yarrow
The plant can be divided every 2-3 years and replanted throughout the gardens. This also maintains the vitality of your perennial.
Toxicity of Yarrow
Yarrow is toxic to deer, rabbits, and javelina. It is also bad for dogs, cats, and horses. Consumption can cause vomiting and diarrhea, as well as depression, anorexia, and hypersalivation. In humans, touching Yarrow can, in rare cases, cause skin rashes as well as increase the skin's photo-sensitivity.
Pruning
Yarrow needs to be pruned regularly for a few reasons. Deadheading will keep the flowers in near-continual bloom. Cut back the plant in late winter to reduce the plant height and avoid flopping.
Growing Yarrow From Seeds
Start Yarrow from seeds indoors about six to eight weeks before the last predicted frost. Sow the seeds in Watters Potting Soil, and put the plant in a warm, sunny location. In about 14 to 21 days, the seeds begin to germinate. Plant outdoors in spring after the risk of frost.
Common Pests and Diseases
Yarrow doesn't need much attention, but it can be susceptible to botrytis mold and powdery mildew, both of which appear as a white powder on the leaves. Treat it with an appropriate fungicide. Yarrow can also be affected by Spittle-bugs, which looks like spit on plants. If the number of bugs seems overwhelming, first hose them off with water and then move onto using an insecticide applied under high pressure.
Companion Plants with Yarrow for a Stunning Backyard
Portulacatolerates the blazing sun, where the neon flowers attract butterflies. Available in red, orange, violet, white, and pink. Great for containers, rock gardens, between sunny stepping-stones, or any hot, dry garden space where nothing else grows. The brighter, the better!
Sunburst Honeylocust – This mountain native cheerfully shouts, "Hello, Spring!" with its glowing yellow leaves. As summer heats up, it settles down to a naturally cool green, only to turn gold again in autumn. This Watters exclusive casts a dappled shade perfect for reading a book or sharing an outdoor meal. Take the sun and wind, yet easy on your time, water, and maintenance, even the fall cleanup is a piece of cake! Impervious to deer.
Halls Japanese Honeysuckle – An outstanding mountain vine with fragrant yellow flowers that loves blooming in the summer heat. Wind, drought, deer, javelina are no problem. Ideal at growing up fences, walls, or as a ground cover. An excellent solution for a fast-growing screen, even in the poorest of soil. Summer is the preferred planting time for this heat lover.
Gilt Edge Silverberry – Variegated leaves of bright gold and blue provide interest every month of the year. Growing to head high, she screens out the most obnoxious neighbor while standing up to blistering heat and wind. The super sweet flowers are utterly animal proof, even javelina and deer don't like the taste of this local shrub. Best planted in the heat of summer for faster growth.