by Ken Lain, the mountain gardener
We've all seen well-meaning, but dreary, low-water landscapes. The only color is gray to gray-green, with plants that look brittle and bone-dry. But water-wise gardens can be vibrant, colorful, and yes, even lush-looking.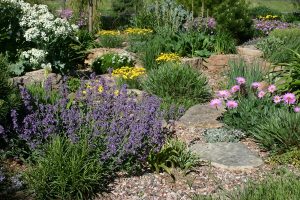 We've all seen well-meaning, but dreary, low-water landscapes. The only color is gray to gray-green, with plants that look brittle and bone-dry. But water-wise gardens can be vibrant, colorful, and yes, even lush-looking.
Yellow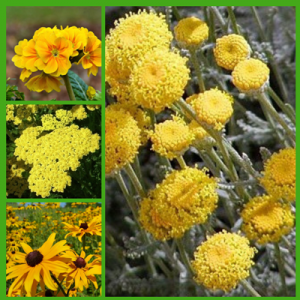 Yarrow has low, ferny foliage of gray-green, with flat-topped bunches of tiny, pale to intense yellow flowers on skinny stems. Watters also has this plant with flowers of white, pink, paprika, and terracotta.
Primrose blossoms of bright, single, clear yellow flowers look a bit like poppies. Oenotheras (pronounced "ee-NO-thur-a") are a great addition to any Arizona cottage garden.
Black-Eyed Susan, aka Rudbeckia, has giant, daisy-like flowers on 18-inch to 3-foot tall plants, depending on the variety. Commonly yellow, black-eyed Susan has a close cousin, Gloriosa Daisy, available in orange, lime, and red.
Lavender Cotton, aka Santolina, is a classic Mediterranean-style plant with mounds of silver foliage and small button flowers of pale or bright yellow. Javelinas, rabbits, and deer detest the herbal taste of this evergreen perennial.
Orange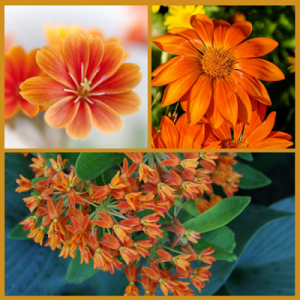 Butterfly Weed, or Asclepias (Pronounced "a-SKLEE-pee-us" ) produces clumps (3 feet tall and1 foot wide) of narrow leaves, and covered with clusters of bright orange flowers that butterflies love. There's a popular yellow-flowering butterfly weed, too. Both are at their best with regular water, but will hang tough with little water once established.
Lewisia is an annual succulent that looks great in containers. In summer, rounded pairs of gray or green leaves provide an attractive background to the clusters of bell-shaped orange flowers.
Ganzania is a classic annual low, mounding, water-thrifty plant with bold daisy-like flowers in wonderful Mexican hues. Orange is the most common, but there are pink, red, yellow, and cream varieties, too. Flowers close up for the evening.
Pink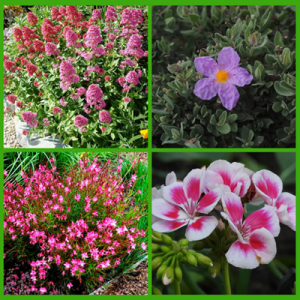 Jupiter's Beard, Centranthus, is the perfect, self-sowing perennial. It's very drought-tolerant and tolerates nasty soil. You'll find it with blossoms of red, pink, and white.
Rock Rose, or Cistus, is a tidy shrub of varying sizes which covers itself with white, pink, rose, or purplish poppy-like flowers. Simply replace it if it gets overly woody. Cistuses are great choices to soften those really hot spots in the garden.
Gaura looks best in mixed plantings with other perennials and annuals. The entire plant is wispy, and the effect of the flowers along the tall, narrow stems is like clouds of tiny white or pink butterflies.
Geranium is the most popular garden flower in Arizona. It blooms almost year-round. (Ivy geraniums do bloom 12 months out of the year.) Geranium requires little to no care beyond watering. It's most forgiving if you forget to water it occasionally, and it thrives in our hot, dry climate. Bring this annual indoors for the winter months for continued colors that guarantee a thrilling show.
White, Cream, Silver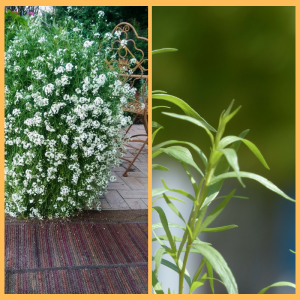 Alyssum is an annual that deserves to be on a low-water list. If you ever have grown alyssum, it probably reseeded itself in some unwatered, out-of-the-way place, just as a perennial might do. This is one tough annual, and oh-so pretty.
Artemisia has a mounding, finely-cut, silver or silvery-green foliage that is stunning when mixed with perennials—especially with shades of pink and purple. It looks delicate, but it's can take heat and drought better than many other plants. Plus, animals leave this drought lover alone.
Purple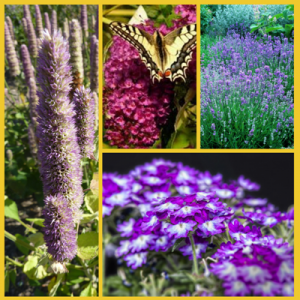 Hummingbird Mint, or Agastache, is just beginning to get the attention it deserves. It has a wild, untamed look, a bit like a lavender plant. The color range certainly exceeds that of lavenders, with its blooms of purples, reds, oranges, pinks, and yellows. A tidy substitute for Russian Sage.
Butterfly Bush, or Buddleia, is one of the most colorful water-wise shrubs for Prescott gardens. If not cut almost to the ground each winter, it can become large and ungainly. Fortunately for small gardens, new dwarf forms are now available here at the garden center. Their tiny-blossomed spikes are available in lavender, white, or rosy-purple. Swallowtails, Painted Ladies, and Monarchs are drawn, as if magnetically, to this blooming beauty.
Lavenders are classic, Mediterranean water-wise plants. For year-round color, plant Spanish, French, English, and fern-leaf types.
Verbena is a wonderful, tall, and airy plant that rises above most perennials to add spots of purple to borders. Cedros Island verbena is a highland lover that forms a low, mound of airy foliage, and blooms almost all year long.
Lavender and Blue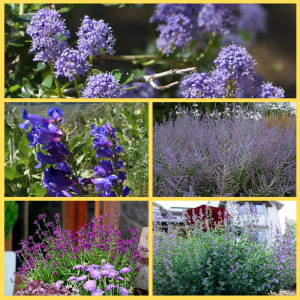 Ceanothus comes in many sizes, from ground covers to large shrubs. All have small leaves and beautiful clusters of spring flowers, ranging in color from light blue to stunning indigo. Plant in full, blistering hot sun for results that come back year after year. In bloom and at the garden center now.
Penstemon is a dainty, sophisticated perennial with bluish-green foliage and bright blue or blue-purple dainty bell-shaped blossoms. Watters specializes in native penstemons, and collects more drought-hardy varieties each year. One trait is true for all penstemons: hummingbirds love their taste!
Russian Sage, or Perovskia, when grown against a contrasting backdrop is spectacular. Plant it by itself or where it's the tallest flower, it can seem ho-hum. Plant it with Gaura or Autumn sage for truly striking companions in the drought-hard landscape.
Autumn Sage, or Salvia, has rather undistinguished foliage, but pretty spectacular flowers. Flowers range from blues, purple, reds, white, and even apricot, and all are loved by hummingbirds. Javalinas, rabbits, and deer truly detest their herbal taste.
Catmints, or Nepeta, are gaining respect in mountain landscapes. They form long-lasting mounds of gray-green foliage topped with spectacular 12-inch long spikes of beautiful lavender flowers. Watters also grows a white flower variety. Every low-water landscape deserves at least one of these show stoppers.
Green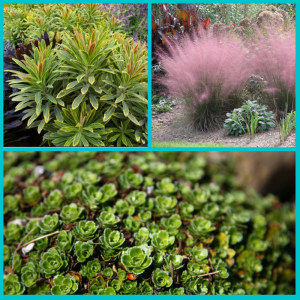 Euphorbia, or spurge, has many different varieties that are drought tolerant. This evergreen perennial grows knee-high with the most striking chartreuse flowers that, when combined with white flowers, make stunning bouquets. Mountain mammals steer clear of this plant.
Muhly Grasses, or Muhlenbergia, have narrow blue-green leaves. Watters specializes in several varieties of this tough two-foot tall grass. All have large, showy, colorful summer blossoms that last through winter. When in full flower, it looks as if a mist is hovering above the foliage.
Sedum has so-o-o-o many varieties, and almost all are low water plants. Especially valuable are the interesting and very colorful ground covers with their fascinating textures. Not all sedum are created equal, so be sure to use hardy winter varieties outdoors as permanent landscape features in rock gardens and/or containers. This family of plants is so interesting, that Watters also carries many of the annual types as well.
Free Gardening Classes each week at Watters Garden Center.
June 28, Friday @ 3:30 pm "Animal-Proof your Landscape" Yes, there are plants that actually taste bad to critters and still look gorgeous in the garden! This class is crucial for gardeners trying to enjoy our beautiful outdoor environment and abundant wildlife, but not have their landscapes become feeding grounds. Learn which plants deer, javelina, and rabbits usually shy away from, and where in the garden they will grow best.
June 30, Sunday @ 5 to 8 pm ~ "Grapes 4 Grades – A Garden Party" Watters Garden Center is hosting the ultimate garden party with Prescott Frontier Rotary to raise awareness and money to benefit the PUSD Summer School Enrichment Program. El Gato Azul has specially paired foods with featured wines and sweets. All auction money raised goes directly to the students. Rotarians are donating their personal villas in Austria and Italy, private golf tours, garden consults, and more. Tickets are $50, and are available at Watters, Olsen's for Healthy Animals, Prescott True Value, and online at https://www.PrescottFrontierRotary.com/.
Consider this a personal invitation to join us for a festive, fund-raising garden party that benefits PUSD summer school students.
Until next week, I'll see you browsing among the low water plants here at Watters Garden Center.
Ken Lain can be found throughout the week at Watters Garden Center, 1815 W. Iron Springs Rd in Prescott, or contacted through his web site at WattersGardenCenter.com or FB.com/WattersGardenCenter.