By Kate Lain Cespedes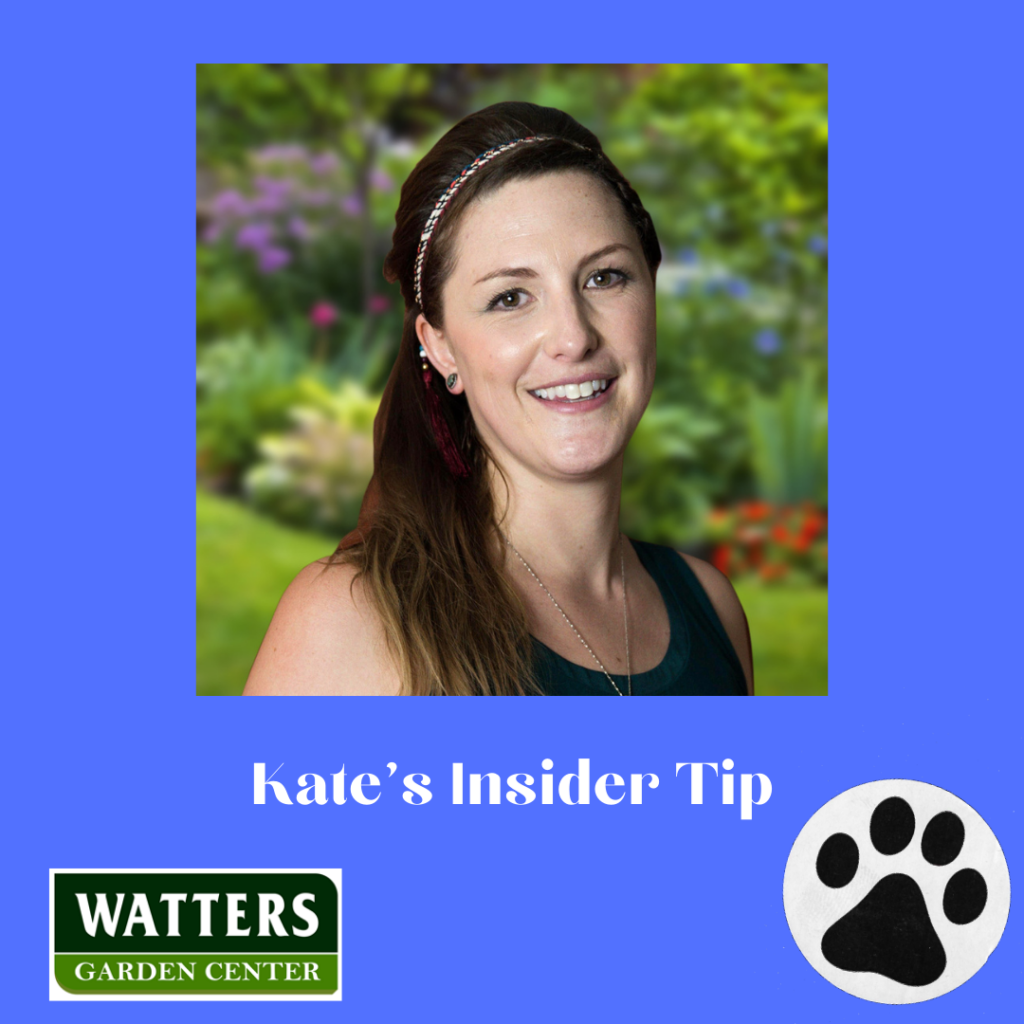 There's no doubt that plants and pets greatly enrich our lives. Unfortunately, many common plants are not safe for our furry companions. It can be difficult to keep a houseplant away from a pet that is determined to chew, so it's up to us to ensure that any plants we grow in the home are safe and non-toxic to cats and dogs. Watters is here to help you keep your pets safe. Look for the paw print badge on our houseplant signage to know which plants are safe for your pet. The plants described here are recognized by the American Society for the Prevention of Cruelty to Animals (ASPCA) as being non-toxic to cats and dogs.
Kate's Pet Safe Houseplant List
African Violet
Air Plant
Aluminum Plant
Amur Maple
Areca Palm
Bamboo
Bamboo Palm
Banana Plant
Bromeliad
Calathea
Canna Lilly, Garden Canna
Cast Iron Plant
Chinese Money Plant
Creeping Charlie
Cushion Aloe
Donkey Tail
Ferns (most ferns, but not all are pet safe): Boston, Maiden Hair, Staghorn, Button, Birds Nest, Rabbit's Foot/Ball, Dallas, Christmas Dagger, Carrot, Bold Sword, Plumosa, King & Queen Fern
Friendship Plant
Goldfish Plant
Hawothoria
Hibiscus/Rose of Sharon
Honeysuckle Fuchsia
Hoya Carnosa/Wax Plant/Honey Plant
Ice Plant
Impatience
Jasmin
Kentia Palm
Lipstick Plant
Money Tree
Moth Orchid
Nerve Plant
Parlor Palm
Peperomia Peltfolia/ Rotundifolia/Sandersii
Peperomia, Baby Rubber Plant, American Rubber Plant
Platinum Peperomia/Silver Leaf Peperomia/Ivy Leaf Peperomia
Polka Dot Plant/Baby's Tears
Ponytail Palm/Elephant Foot Tree/Bottle Palm
Prayer Plant
Rattlesnake Plant, Peacock Plant, Zebra Plant
Spider Plant
Star Jasmine
Succulents (some, but not all are pet safe): Blue Echeveria, Copper Rose Echeveria, Hens and Chicks, Living Stones
Sweet Potato Vine
If you're ever curious as to whether a certain plant is a safe investment for your home, the ASPCA also has an extensive list of plants to avoid (including both indoor and outdoor plants).