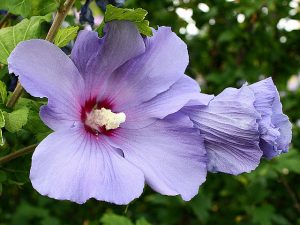 Breathtaking large blue flowers are adorned with lacy centers to create anemone-like blooms.
Each stem of this hardy hibiscus is packed with numerous buds.
This vigorous head-high shrub offers late-season color for hedges and perennial or shrub borders.
Blooms continuously over a long season, and rarely sets seeds.
Makes a beautiful informal hedge or screen, and is easily trained into a small tree.
Available Prescott colors show in blue, purple, white, red, and pink for years of enjoyment.