| | |
| --- | --- |
| FOR IMMEDIATE RELEASE | Contact: Ken Davis – Watters Garden Center |
| | Phone: 603-456-3581 |
| | Email: [email protected] |
This week is the peak planting season for local gardens
PRESCOTT, AZ, March 23, 2019
The week between Earth Day and Arbor Day is really something special! April is the peak planting season for local gardens.  To celebrate these important gardening holidays, Sunday, April 28, Watters Garden Center will host it's annual 'Great Ladybug Release' at 2 pm.  Fun for gardeners of all ages, so bring the grandkids!  Free for all to attend, with prizes for those that come in costumes Ladybugs will love.  This event is an Instagram dream.
Ladybugs are the best way to control aphids, scales, mealy bugs, white flies and mites NATURALLY! These colorful carnivores can eat 60 aphids per day, and live for years in the garden, consuming over 5,000 garden pests in a lifetime. These pint-sized powerhouses keep gardens insect-free by just having lunch.  No spraying, no chemicals, and NO WORK required! Beneficial Insects are stocked full all week with ladybugs, praying mantis, nematodes and worms ready for release into you the garden.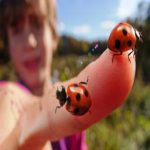 Ladybugs are a special friend to roses, and Watters Garden Center has especially grown 700 organic roses just for this event, along with a free garden class Saturday, April 27th @ 9:30 am titled "Everything Fragrant with Roses."  The entire garden center will be filled with the fragrance of roses and ladybugs.
How to Release Ladybugs in Your Garden
Keep them Cool – Ladybugs have wings and like to use them.  You need to slow them down long enough to find your gardens attractive.  When you get home with your ladybugs, leave the cup sealed and place them in the refrigerator or cool space. Being cool calms ladybugs down.  Keep them refrigerated until you're ready to release them that evening.
Ladybugs are thirsty – Spray or mist the parts of the garden you plan to release your ladybugs.  This allows them to rehydrate before searching for a meal.
Release them at night – plan to release ladybugs in your garden at the base of a plant just as dusk arrives in the evening.  If you have a plant with a particular aphid problem open the cup at the bottom of that plant.  This gives them the night to settle in, find food and realize that your garden is a great place to live!
Get your kids involved! Children especially have fun releasing ladybugs, and this is a great way to teach them about environmental responsibility. Ladybugs stick around safe sources of food so kids will find them all season long. Stop by Watters Garden Center for a cup of ladybugs, take them to your garden, then have fun enjoying nature in your own backyard.
Watters Garden Center is a locally owned and operated garden center that specializes in providing avid gardeners and novices alike with the expertise and products to get things growing in the mountains of Arizona.
###