PRESCOTT, AZ, November 26, 2019
Watters Garden Center is happy to shine the light on the Shriners Children Medical Centers. SCMC was founded in 1952 to provide the highest quality care for children with orthopedic conditions, burn scars, cleft lip and palate, and other special health care needs. All while discovering ways to improve the quality of care of children and their families.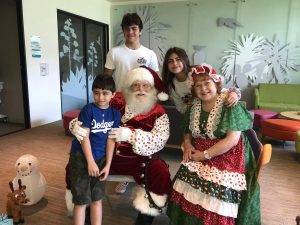 It's a noble cause and Watters is collecting toys this season for the children who have to spend the holidays in a Shriner hospital. Bring a new toy for children ages newborn to 13 by Watters Garden Center before December 18, and we'll make sure the children receive your gift. New art supplies, Legos, Play-Doh, trains, stamp kits, school supplies, and gift cards all make ideal gifts. No need to wrap a gift, Watters will take care of that for each kid individually.
A giving box is set up in Watters Garden Center to receive your donations. Buy a Christmas tree, poinsettia, greens, or wreath for yourself and consider a toy for kids in need. We accept cash donations on behalf of SCMC and will make sure the right age-appropriate gift is donated on your behalf.
Toys, gift cards, and cash for the Shriners Children Medical Centers are accepted through December 18 at Watters Garden Center, 1815 Iron Springs Road, Prescott AZ 86305. Buy a Watters Gift Card between now and then, and the monies go directly to the cause as well, now through December 18.
Watters Garden Center is a locally owned and operated garden center that specializes in providing avid gardeners and novices alike with the expertise and products to get things growing in the mountains of Arizona.