by Ken Lain, the mountain gardener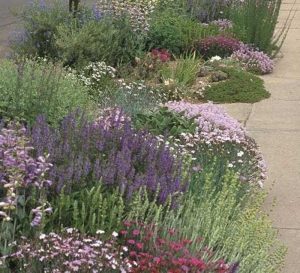 If the road to hell is paved with good intentions, there are probably some dried up annuals and disease-ridden roses along the way. No one invests time and money in a flower garden with the intent of letting it turn into a vacant lot, but sometimes life gets in the way. A new baby gives parents a primer on colic; a job increases travel demands; a sick relative or friend needs care, we become ill and for several months don't have enough energy to tend a garden. Fortunately, a busy life should not preclude the enjoyment of flowers in a landscape. With a little careful planning and planting a flower garden can grow up virtually without tending and still yield blooms that attract butterflies and provide aromatherapy.
Timing is critical when it comes to easy-care flower gardens.  Now through November some of the showiest mountain flowers can be planted, many that javelinas and rabbits won't touch.  Plant them now for a vibrant color show this winter and a welcome post-winter flush of flowers next spring.
Plant Bulbs

By planting a carefully curated selection of bulbs,  blooms can grace a garden from early March until late June, with some varieties increasing each year to form a large, handsome colony.
Begin with large drifts of the earliest bloomers like crocus and Siberian squill.
An endless parade of tulips, hyacinths, and daffodils will keep you in bloom until spring weather starts to turn torrid. Then, count on alliums to usher in summer with their fun pom-pom shapes. The last bulbs to close out the season are  Surprise Lilies which bring a bright injection of cotton candy pink to the landscape.
Consider Wildflowers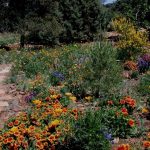 Mother Nature gives us a gift in native flowers, which are programmed to grow and thrive in mountain conditions. Whether your summers are hot and humid or cool and dry, wildflowers will bloom without any assistance from you! Plant your wildflower garden densely, and the plants will crowd out many stubborn weeds. The casual design of a naturalized wildflower bed allows a few weeds to grow incognito, with no one the wiser that a few foxtails dwell amongst the coreopsis and liatris.
Flowers That Plant Themselves
Long-lived perennial flowers that reappear each season are very desirable in low maintenance gardens, but that doesn't take annual flowers out of consideration. By planting a few packets of annual flowers that self-seed, you plant once and appreciate the results for many seasons. Flowers like bachelor buttons, cosmos, nicotiana, and poppies fill any blooming gap between perennial plants, giving you a lush look with less work. Best planted in informal gardens, as you never know where a self-seeding flower will pop up the next year!
Be Water Wise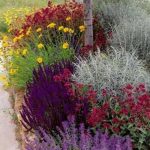 Hand-watering flowers with a hose or watering can is one of the biggest chores in the garden. Address watering challenges with a dual approach of wise plant selection and technology. Once established, drought tolerant flowers like bearded iris, dianthus, gaillardia, and sea holly can usually get by on whatever rainfall nature provides. For plants requiring regular watering, preprogram start-and-stop times for your irrigation system by using an inexpensive sprinkler timer attached to the faucet. Some systems even have a rain sensor that shuts off irrigation when rain falls, truly a water and money saver.
Skip the Deadheading
With some flowers, deadheading serves an essential function.  Removal of spent blooms and seed heads signals the plant that reproduction has not yet taken place, causing the plant to continue its production of flowers. However, some flowers don't need deadheading to continue blooming throughout the season:  Add wax begonias, alyssum, and impatiens to your landscape, and you always will be greeted by blooms.
Giant Pumpkin Harvest   November 3 @ 11am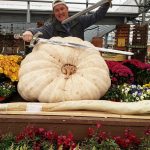 Ever wonder what's inside a GIANT pumpkin?  There are rumors of super slim, double thick walls and thousands upon thousands of seeds inside.  The second largest pumpkin in the state of Arizona is on display here at Watters Garden Center.  On November 3rd at 11:00 a.m. we will slice and dice this big boy to discover its Contents of Horrors! Every attendee receives one of the seeds, and the rest will be grown for next spring's garden customers to plant.  Join us and be part of the fun!
October 27 @ 9:30 a.m.    Winter Wellness – How to Keep Plants Healthy in Winter
Which plants need to be brought inside for winter? What's the best way to keep them healthy after they're moved indoors? How do I protect the plants in my garden from frost? Do I have to water in winter?  We'll answer all these questions and more in this winter-preparedness class. Learn the best practices for helping your plants through the chilly winter months so they can be at their best in Spring.
November 3 @ 9:30 a.m.     Fall 'To-do' List for a Healthy Yard
Get the most out of your landscape with an easy-to-use checklist of fall care.  Bring color to fall gardens, reduce bugs next spring, or just put your landscape to bed with these simple to follow ideas.
FB.com Live – If you can't attend this class, watch the Livestream on Facebook. Like our Page to be notified when we go Live.
Until next week, I'll be here at Watters Garden Center helping local gardeners prepare their landscapes for fall and winter.
Ken Lain can be found throughout the week at Watters Garden Center, 1815 W. Iron Springs Rd in Prescott, or contacted through his web site at WattersGardenCenter.com or  FB.com/WattersGardenCenter .