by Ken Lain, the mountain gardener
The word xeriscape doesn't mean zero landscaping. Rather, it comes from the Greek word xeros,   which means dry. Flower gardeners may turn up their noses at the idea of xeriscaping, thinking they have to sacrifice color for cacti and ornamental grasses, but xeriscapes happen everywhere, not just in desert regions. The goal of a xeriscape is to rely only on natural rainfall, no matter how sparse it may be.
Here are 10 flowers that can thrive in your landscape without supplemental watering.
Alyssum ~ Don't confuse this bulletproof plant with the annual sweet alyssum. Perennial Alyssum also called basket of gold, is reliably hardy to USDA zone 3, forming a carpet of yellow flowers in the spring. The plants have a cascading habit that makes them attractive when you allow them to drape over a rock wall.
Mexican Evening Primrose ~ The delicate pink of these blossoms belie their ability to flourish in hot desert heat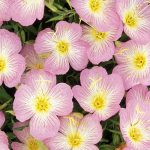 and show off right through summer.  Hardy well below zero degrees this xeriscape flower spreads without ANY care!  Start this primrose in the toughest parts of the landscape and watch it bloom for years to come.
Butterfly Bush  ~ This is a guaranteed butterfly magnet. The bushes never drop their spent flowers, making them tidy selections to grow beside walkways. The butterfly bush is a good choice for wildland gardens, as browsing deer will ignore it.
California Poppy ~ When spring flowers are starting to fade, poppies are just hitting their stride. Poppies self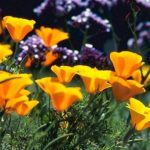 seed so freely that you'll find yourself pulling them from the cracks in the driveway. The beauty of their vivid orange petals can be enjoyed after they've bloomed by pressing poppies for use in crafts projects.  California poppies love Northern Arizona and easily self-seed down hillsides, across rock lawns, and through gardens.
Miss Huff Lantana ~  Like most mountain perennials it survives by hibernating underground through winter, then bursting back to life as summer arrives each year.  It is the only winter-hardy variety of lantana that is suitable for the mountains of Arizona.
Rugosa Rose ~ This is a rose in a class apart from the hybrid tea and its finicky clan. The rugosa rose is popular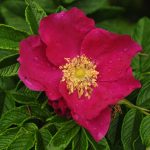 with novices and organic gardeners as it doesn't require an extensive spray program to prevent pests and diseases. This rose can grow unprotected in our zone 6 gardens and colder. The large rose hips of the rugosa give this shrub four seasons of interest in the landscape.
Snow-in-summer  ~ Forming a dense mat smothered with small white flowers in early summer, this is a vigorous choice for hillside gardens. Profuse blossoms appear luminescent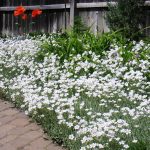 at night, making it a pleasing addition to the moon garden. The plant spreads so freely that you'll be digging up clumps to share with friends or to add to the container garden.
Yarrow ~ Like many xeriscape flowering plants, yarrows feature grayish-green foliage that makes a good foil for pink or purple flowers. 'Moonshine' is a popular variety found at most garden centers; its dense yellow flower umbels stand up well in cut flower arrangements. White yarrow is a wildflower that can take over a landscaped bed.
Lavender Cotton, aka Santolina ~ This tough plant will grow happily beside a sun-baked driveway displaying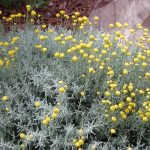 attractive grey leaves with yellow pompom flowers all spring long.  An evergreen herb, it thrives in abusive soils, and even under the neglect of abusive gardeners. Pruning maintains the mounded shape of the plant and rewards the gardener with a musky scent.  Deer, rabbits, and javelinas find this plant utterly distasteful.
Until next week, I'll see you among the tough xeriscape plants here at the garden center.
Ken Lain can be found throughout the week at Watters Garden Center, 1815 W. Iron Springs Rd in Prescott, or contacted through his web site at WattersGardenCenter.com or  FB.com/WattersGardenCenter .