by Ken Lain, the mountain gardener

The mountains of Arizona are famous for glorious weather best enjoyed outdoors. Many gardeners created outdoor decks, living rooms, and kitchens that call to the outdoors. Plants that perform well in raised beds and containers add vibrancy to these relaxed spaces. You have to love the patio this time of year. Whether your deck basks in the sun or functions as a shady retreat surrounded by trees, there is a gorgeous patio plant for your garden. Our top picks for mountain plants that outshine the rest through the growing season from April to November.
Begonia – few plants tolerate windy shade with such blooming beauty. Nonstop flowers cover this waxy plant for continual color until the first hard freeze in November. Even then, plants can be brought indoors for winter-long beauty and a fresh new set of flowers next spring.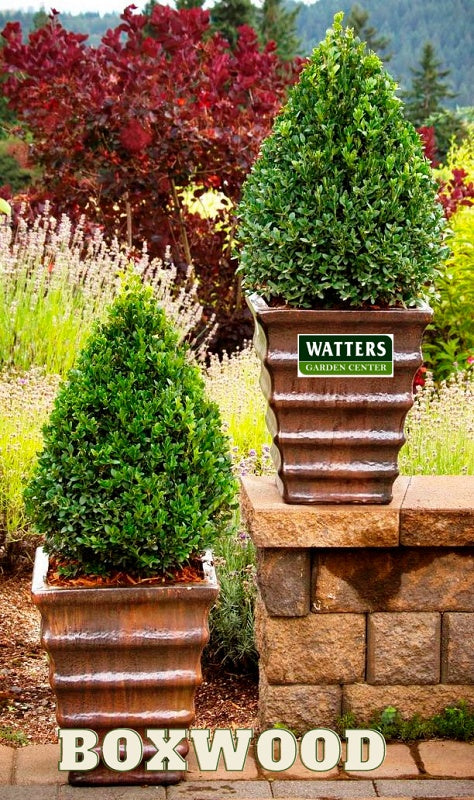 Boxwood, Buxus, a formal patio isn't complete without the elegance of boxwood. 'Petite Pillar' maintains a tidy shape in containers, while larger cultivars like 'Green Tower' make an excellent accent or screening plants.
Bromeliad, Bromeliaceae, the strappy tropical leaves make a fun patio accent. Plants usually fade after blooming, but you can repot the pups forming around the plant's base and grow more of your own. Best of all, they make a great houseplant when stored inside for winter.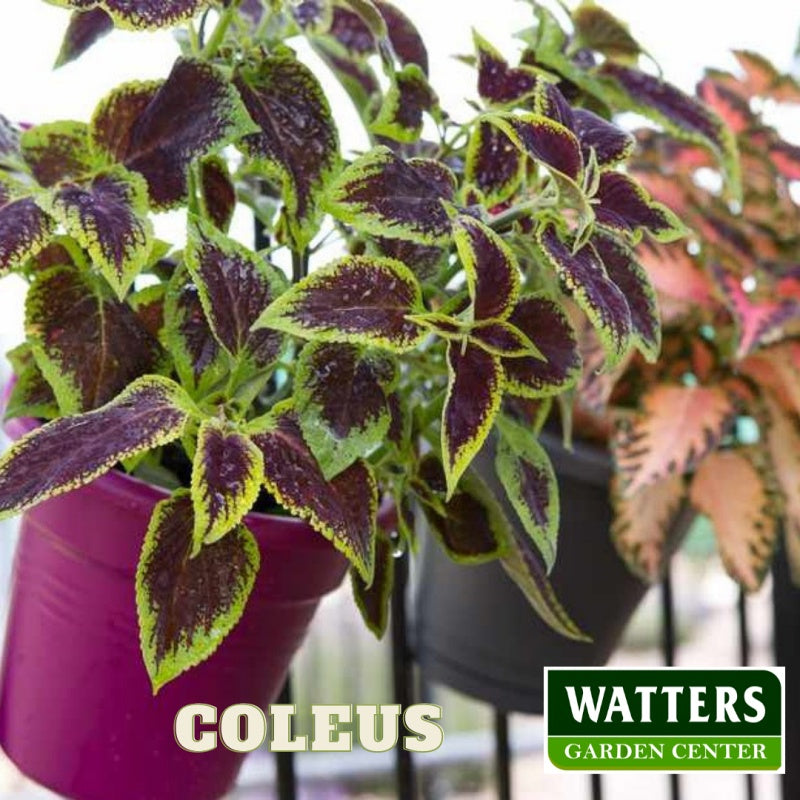 Coleus, Plectranthus scutellarioides, the explosion of new cultivars at the garden center means a leaf color to match every gardener's whim. Bright flowers are best pinched from the plant to keep it fat and bushy, but remember, hummingbirds and butterflies are highly attracted to the flowers. Best grown in the shade.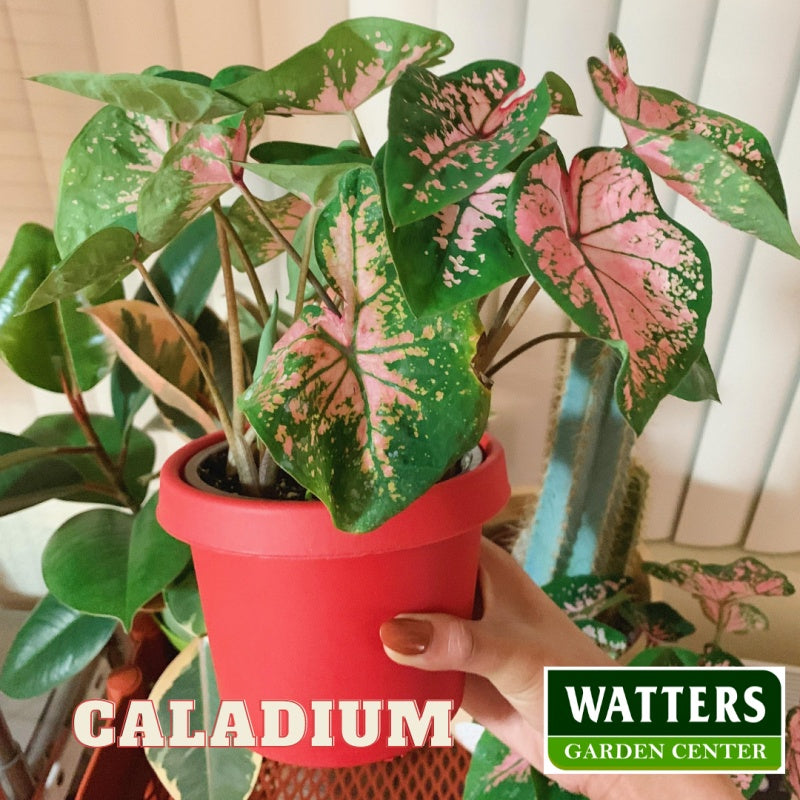 Caladium – not many patio plants show off in the full shade, but caladium does so happily. Average water needs and a pest-free disposition make caladiums an easy addition to any container garden.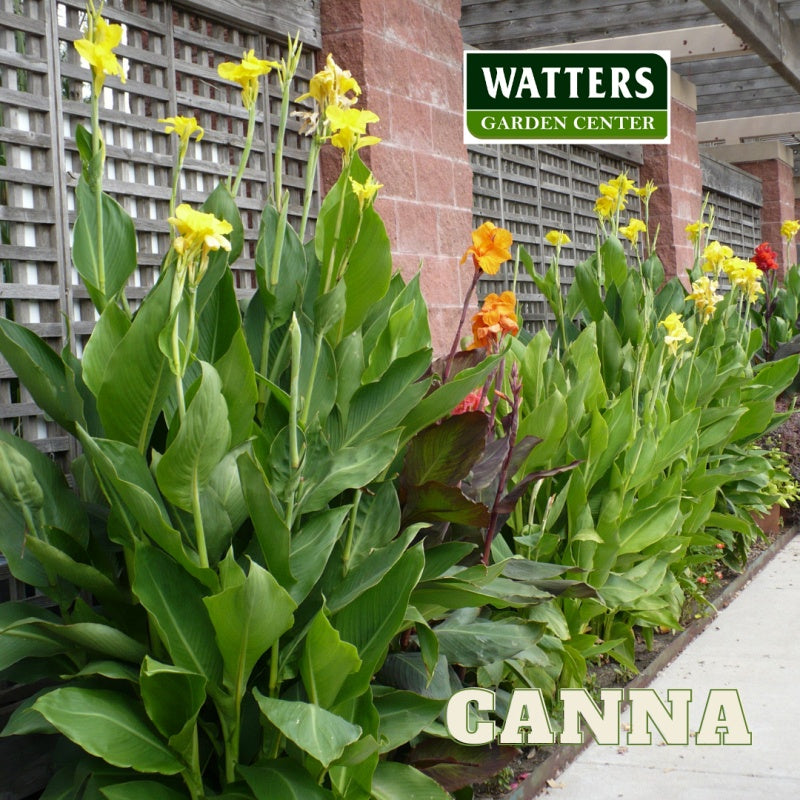 Cannas, Cannaceae, command attention wherever they grow and the taller varieties like 'Giant Durban' make great screening plants for your patio. Cannas are very hungry and thirsty plants, so keep them moist and feed them with 7-4-4 All Purpose Plant Food to reach their full potential.
Creeping Jenny, Lysimachia nummularia, is the perfect patio plant for container edging, ground covers, hanging baskets, or anywhere you want a splash of chartreuse foliage. Plants fare better in partial shade than in intense afternoon sun, which can bleach the leaves.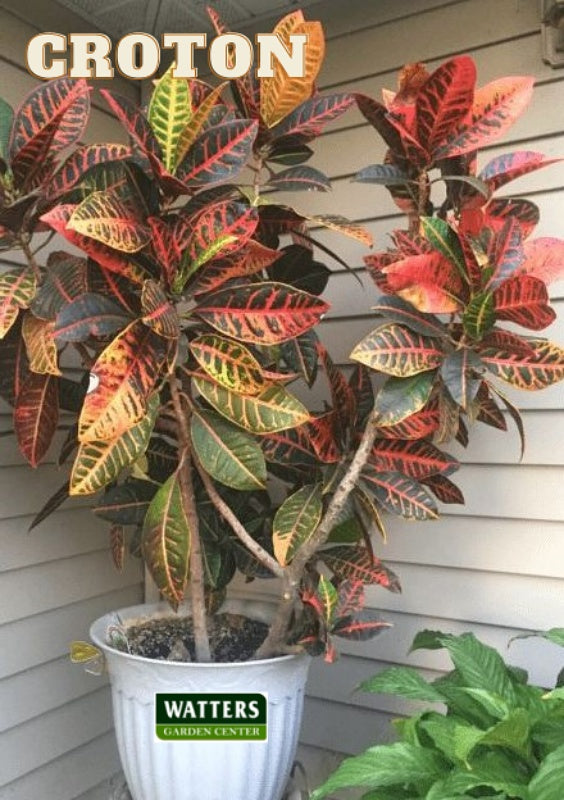 Croton, Codiaeum variegatum, is often found in the houseplant section of the garden center. The leathery rainbow-hued leaves thrive on covered patios and only require moderate water. They make excellent tropical patio plants that grow better on a bright patio exposed to the elements through the end of October.
Dwarf Alberta Spruce, Picea glauca, is for those craving a specimen tree with the perfect tiny evergreen form that never outgrows its welcome. These pants are so cold hardy it survives the coldest winter, even in pots.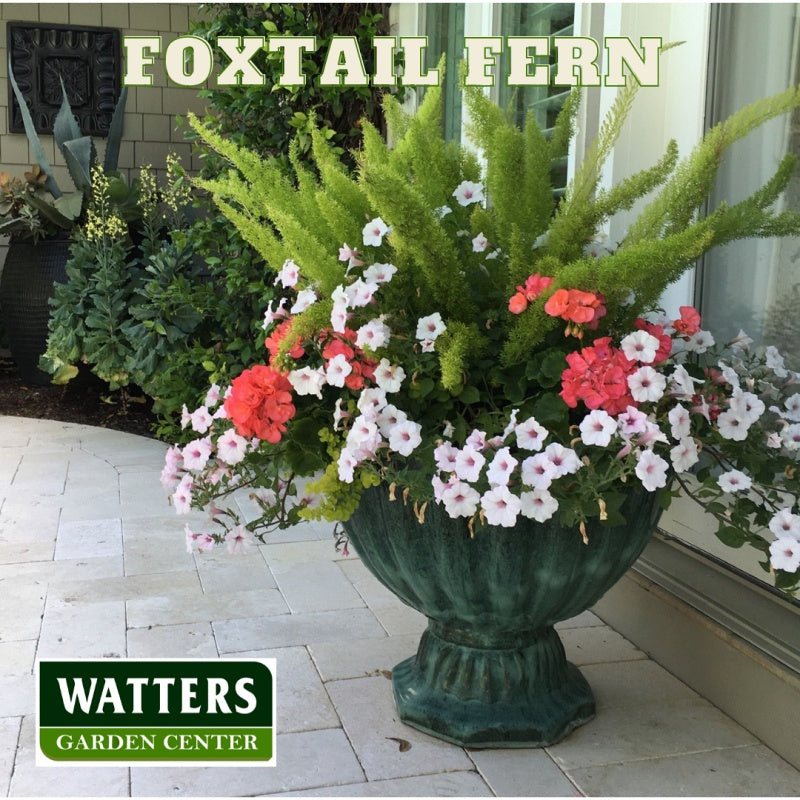 Foxtail Fern, Asparagus aethiopicus, add a fun sculptural accent to patio containers and hanging baskets. It looks like a Medusa-inspired gathering of bright green plumes. Plant in partial shade for more ferny heads.
Gardenia is famous for its heady fragrance and grows best as a patio specimen in partial shade. Gardenia roots don't like to be disturbed, so choose a larger 18″ inch container for years of evergreen patio enjoyment.
Geranium, Pelargonium, appears at the garden center in late spring, which coincides with Mother's Day. Moms love this bright bloomer; tell her to grow them in full sun, water regularly, and feed bi-monthly with Watters famous Flower Power.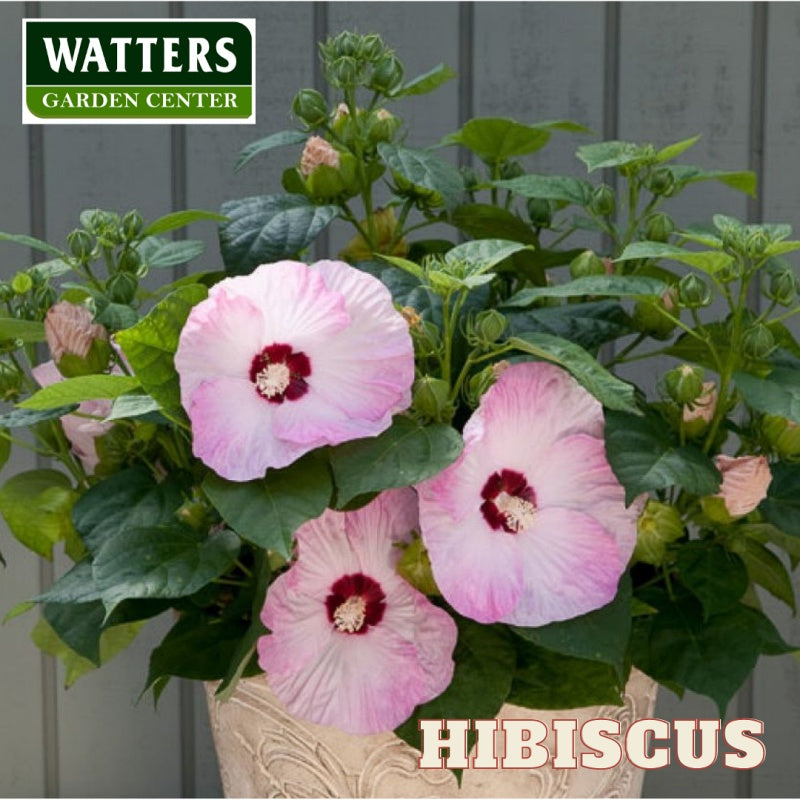 Hibiscus – jumbo blooms and bright neon colors make the tropical hibiscus a patio favorite. Provide plenty of sunshine and a bi-monthly feeding of Watters 'Flower Power' to keep this bold bloomer showing through Autumn.
Lantana suffered a bad rap for being invasive in the desert; the new cultivars at Watters Garden Center are fruitless, limiting their spread through neighborhoods. They bloom continuously in summer through Autumn in the brightest sun and exhibit drought resistance, especially in larger patio containers.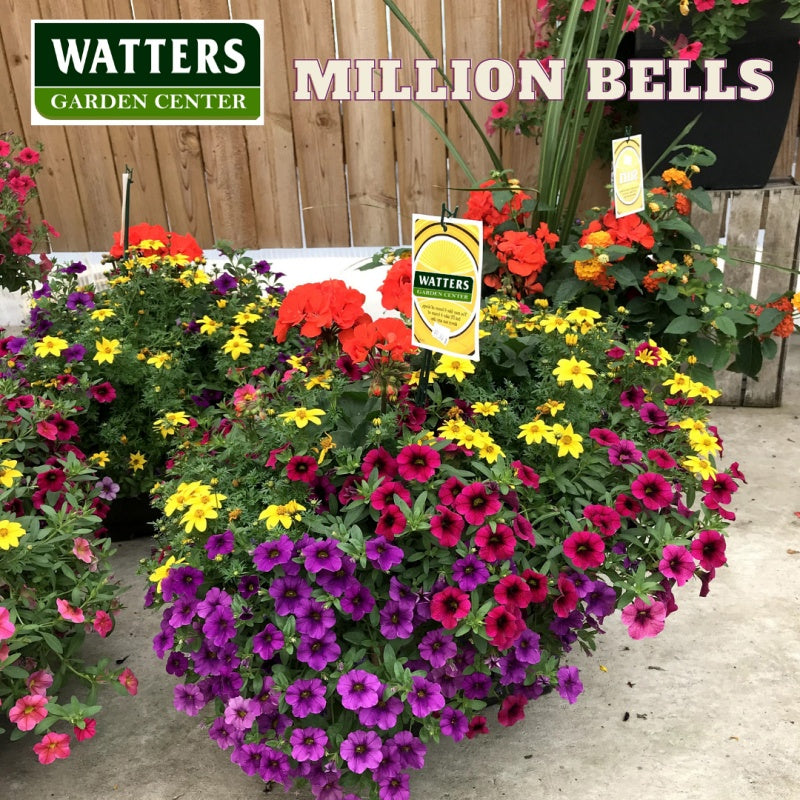 Million Bells, Calibrachoa, bloom prolifically through the heat of summer. Add them to the edge of a patio urn, where they cascade and spill over containers that SCREAM, a gardener takes care of me!!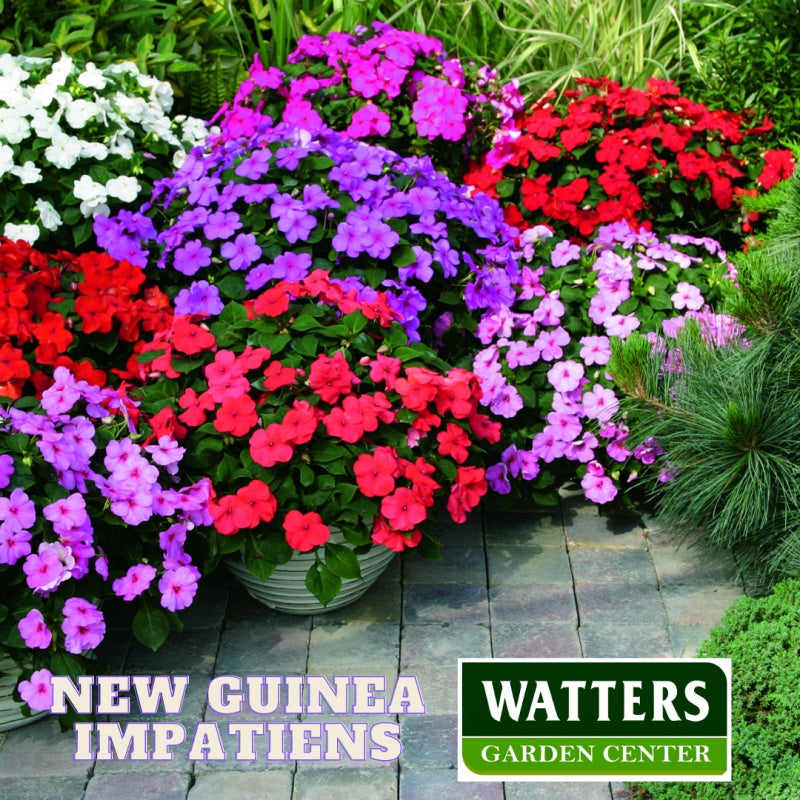 New Guinea Impatiens – place containers of this shade lover away from the afternoon sun for a bright bloomer until the first deep freeze.
Ornamental Pepper, Capsicum anuum, move over flowers and foliage for brilliant fruits of these ornamental peppers. Plant them at the edge of your container in front of a tall spiky plant like purple millet and showy Autumn grasses. Found late summer through fall, this edible pepper is more shine that you will never want to pick a single fruit.
Pentas – few plants attract more butterflies and hummingbirds than this free-flowering beauty. Cheerful star-shaped flowers bloom in fat clusters of white, pink, lavender, and red all summer long on mounded foliage that reach 18″ inches with 6+ hours of sun.
Purple Fountain Grass, Pennisetum setaceum, waves merrily in the slightest mountain breeze, adding instant drama to a bland patio. The plants look gorgeous as standalone specimens and make handsome partners when paired with trailing plants like the sweet potato vine.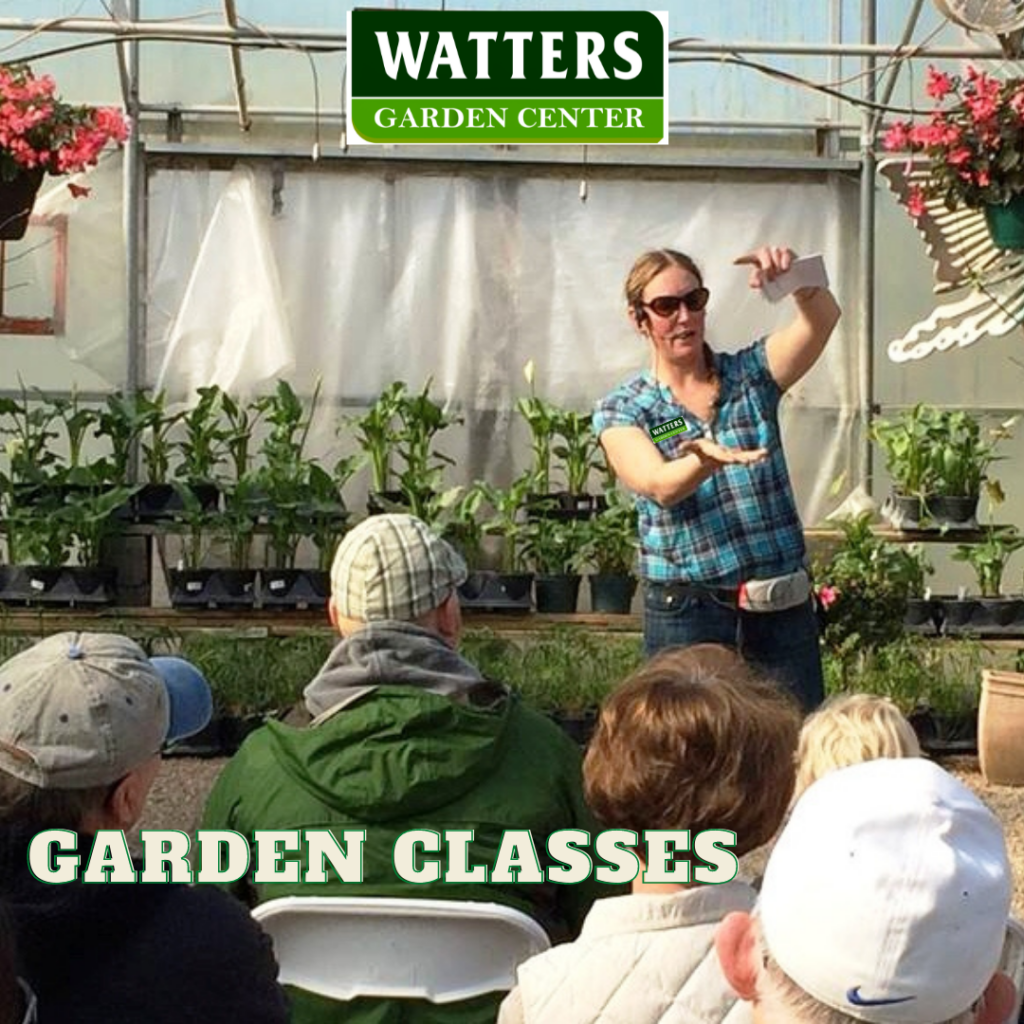 August Garden Classes at Watters Garden Center Saturday @ 9:30 am
Every Saturday morning at 9:30, I host free garden classes correct for our garden season. Here are the free classes for the next few weeks.
August 6 @ 9:30 am – Proper Planting for Success
August 13 @ 9:30 am – Wildlife & Bug Prevention
August 20 @ 9:30 am – Best Evergreens for Mountain Landscapes
Until next week, I'll be helping local gardeners landscape stunning patios here at Watters Garden Center.
Ken Lain can be found at Watters Garden Center throughout the week, 1815 Iron Springs Rd in Prescott, or contacted through his website at WattersGardenCenter.com or Top10Flowers.com.