What kind of trees grow in mountain landscapes?
List of flowering trees with pictures.
What is the most beautiful flowering tree?
Small flowering trees.
Which trees can be seen in full bloom?
What flowering trees bloom the longest?

by Ken Lain, the mountain gardener
Flowering trees are among the most prized specimens of the yard, making a bold statement that heralds the return of Spring. Trees form the backbone of the landscape, but flowering trees add pizazz to a yard in a way few plants can match.
"A true conservationist is a man who knows the world is not given by his fathers but borrowed from his children," famously quoted by John James Audubon. The same idea is shared by gifting trees into the future, enjoyed by the next generations as much as ours.
Reminder – The central highlands of Arizona is a growing zone 7 or 8 and below. Here's my list of flowering trees planted now.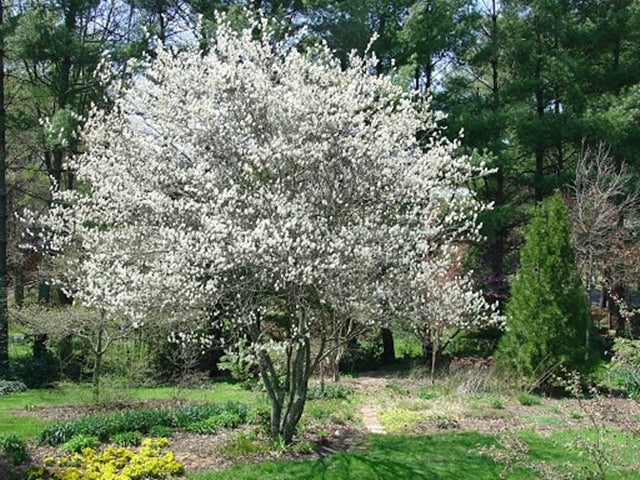 Autumn Brilliance Serviceberry (Amelanchier x grandiflora Zone 6-9) is an exceptionally bright native tree that provides the perfect focal point for a natural garden. Add to landscapes for hardy, vigorous carefree autumn color. Clusters of fragrant white flowers give way to small fruits often used in jams and jellies. Vital to wildlife and bird gardens that feed upon its delicious fruit.
Cleveland Flowering Pear(Pyrus calleryana Zone 5-8) has a distinctive form hardy enough for street or sideyard planting. Clusters of gleaming white blooms showoff in early spring, followed by glossy green foliage. Flowering pear is the last tree to turn brilliant red-orange, usually in December.
Oklahoma Redbud(Cercis canadensis Zone 6-9) is an impressive native valued for its profusion of vibrant purple-red flowers that cloak bare branches that bridge the gap between winter and spring! Lustrous heart-shaped foliage emerges on this 15′ tree with a soft pink tinge as the flowers fade then matures to a rich green.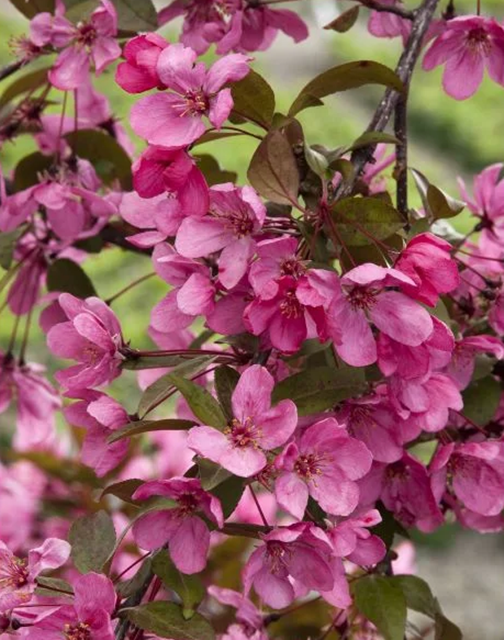 Prairefire Crabapple(Malus Zone 4-8) is an easy-to-grow accent tree that can be used as a single specimen for curb appeal or in the back, where you may enjoy its seasonal changes. An excellent habitat and food source for birds and butterflies. Its dark fruit is very decorative. There is nothing more beautiful than a gateway flanked with flowering Crabapple or a long run of them up the driveway for a large-scale display. Perfect for country and cottage gardens to achieve that old-fashioned romantic character.
Rose of Sharon(Hibiscus syriacus Zone 5-8) is thought of by many homeowners as being a small flowering tree. In mountain landscapes, it's usually classified as a large flowering shrub. When grown as a small tree, it tops out at about 10 feet with a spread of about 7 feet. It is a long bloomer from June until October. Plant this flowering tree as a complement to those that bloom in spring and early summer. Rose of Sharon is most often used in hedges and foundations plantings or grouped in mass in shrub borders.
Royal Star Magnolia(Magnolia stellata Zone 4-8) Star magnolia tree is one of the first trees to bloom in spring. Its white flowers open before the foilage forms at a time when most other trees are just starting to bud. The Royal Star is smaller than saucer magnolias, reaching 15 feet with a similar spread. Star magnolias make up for their smaller stature with a sheer volume of blooms.
Smoke Tree(Cotinus coggygria Zone 5-8) is also referred to as "smoke bush" because it can be either a large shrub or a small tree. Any size produces a "smoking" cluster of fuzzy flowers that float atop the plant. The smoke tree attains a height of 10-12′ feet with a spread of 10 feet; very drought hardy and deer resistant.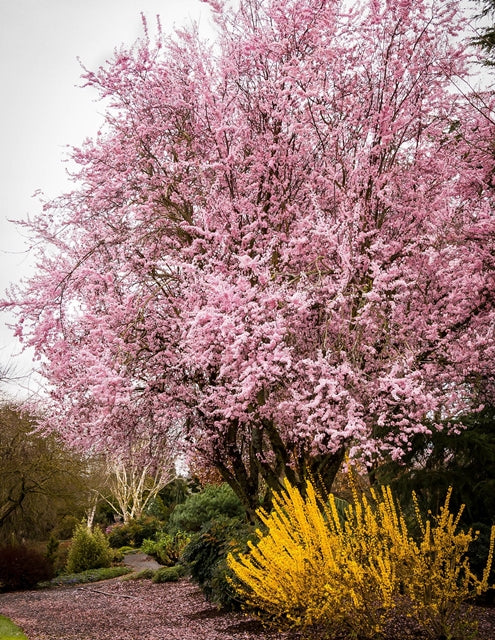 Thundercloud Purple Leaf Plum(Prunus cerasifera Zone 4-9) This ornamental cherry produces light pink flowers in April. An added bonus with this flowering tree is its thunderous purple foliage that is both deer and javelina resistant. Its best season is spring for its flowers just before the new reddish-purple leaves. In Autumn, the spectacle returns with another show of reddish-purple leaves. Large enough to use as a single front-yard tree or lining long driveways and gates
The second week in March 1962, Harold Watters opened the first garden center in Northern Arizona. 59 years later, we still celebrate the grand opening with a Spring Open House. Consider this a personal invitation to join the celebration March 12-14. We start at 3 pm Friday with a happy hour, only with plants. Saturday the 13th local gardeners can talk directly with our growers fresh from the fields. Sunday, Lisa and I host our weekly radio show, then spend the rest of the day sharing local garden secrets. Join us for the start of the spring planting season.
Until next week, I'll be helping locals plant the perfect trees here at Watters Garden Center.
Ken Lain can be found throughout the week at Watters Garden Center, 1815 W. Iron Springs Rd in Prescott, or contacted through his website at WattersGardenCenter.com or FB.com/WattersGardenCenter.