by Ken Lain, the mountain gardener
What are the best trees for landscaping?
Popular ornamental trees.
What types of trees grow all year round?
Best trees for backyard.
What are the best trees to plant in a small front yard?
Which trees keep their leaves in winter?

Trees are where your landscape value is. Plant them right, and your home value grows; get trees wrong, and they take over, lift patios and driveways, hide beautiful architecture, and more. Think of trees and the four-season. Begin with trees that announce spring by blooming, then have trees that offer summer shade, autumn reds, and gold, ending with visual interest through winter. The goal is not simply to collect specimens in the yard but rather to have at least one model tree per season that adds pizzazz to your landscaping.
Spring Trees for the Landscape
Oklahoma Redbud grows just 16′ feet tall. This local native is super easy to grow. Vibrant, red flowers cloak the branches of early spring. Luscious heart-shaped leaves emerge with a soft pink tinge that matures to a deep green. Small enough to grow in any yard.
Purple Robe Locust shows incredible, long clusters of purple flowers in May that look just like Wisteria flowers hanging from this local bloomer. The 8″ fragrant clusters cover the tree profusely! Super hardy and drought tolerant with a brisk growth rate of 2′ feet in one year. It's the perfect shade tree later in summer.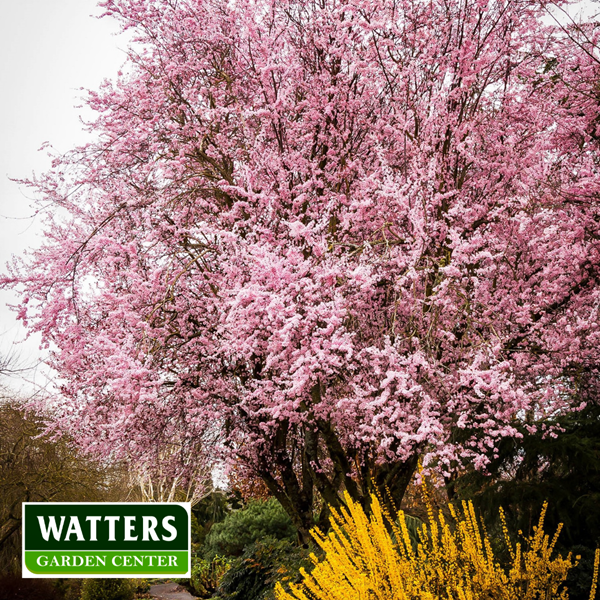 Summer Trees for the Landscape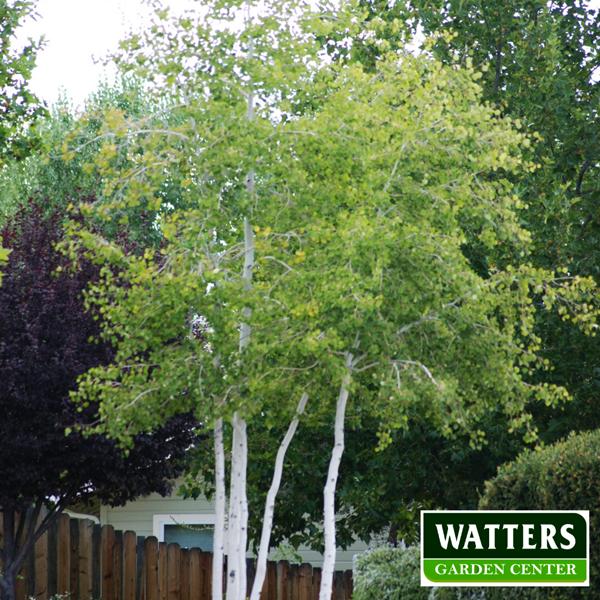 Quaking Aspen has a tall columnar form that provides excellent shade in small backyards or between homes at the edge of property lines. Perfect at shading scorching sun bakes walls. They eventually grow tall enough to shade second-story decks. A valuable characteristic of aspens is that they don't take over the yard after several years like many other fast-growing trees.
Sensation Maple is a stunning shade tree that thrives in severe garden conditions without skipping a beat. Faster growing, the spring leaves erupt in soft copper that quickly matures to a refreshing green with just a hint of copper undertones for the summer. Through Autumn, it unleashes a brilliant display of red leaves. Where this tree really shines is in areas having challenging conditions. Once established, it is super drought tolerant. The perfect tree to line a long driveway or the picture-perfect patio shade tree.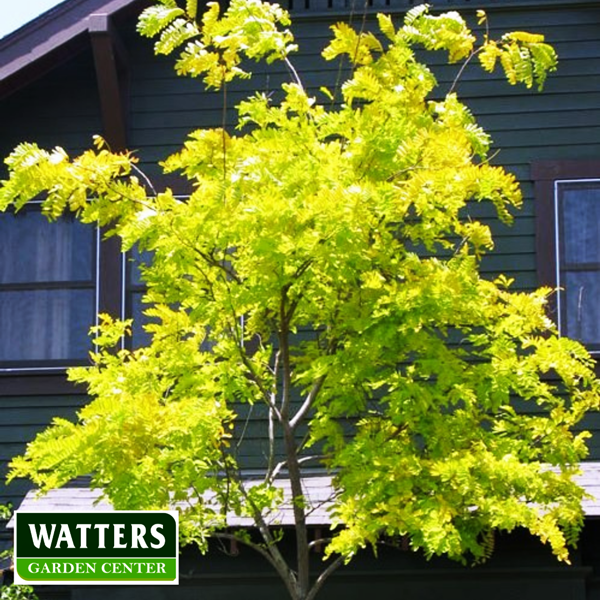 Sunburst Honeylocust cheerfully shouts, "Hello, Spring!" with its glowing yellow leaves. As summer heats up, it settles down to a naturally cool green that turns gold again in Autumn. This Watters exclusive casts a dappled shade perfect for reading a book or sharing an outdoor meal. Takes the sun and wind, yet easy on your time, water, and maintenance. Even the Autumn cleanup is a piece of cake! Impervious to deer.
Autumn Trees for the Landscape
Prescott Blaze Maple flaunts fall color like embers in a blazing hot fire. It loves mountain soil, extreme conditions and takes our wind better than all other shade trees. Perfect for patios, hot sunny walls, street and driveway trees, or anyplace shaded relief is needed.
Raywood Ash has the boldest fall foliage. The dark green summer leaves turn attractive wine-red through Autumn. Plant as a single shade tree or grove for more widespread shade, especially on hotter south and west walls and patios. The perfect street tree lining a driveway that is both drought-hardy and beautiful.
Winter Evergreen Trees for the Landscape
Austrian Pine blocks the neighbors with a gorgeous evergreen tree! A handsome tree with a densely branched conical form when young and becomes umbrella-shaped with age. Needles are long and dark green. Superb for windbreaks or as a single specimen. The fastest-growing local pine that quickly grows 40′ tall x 15′ wide.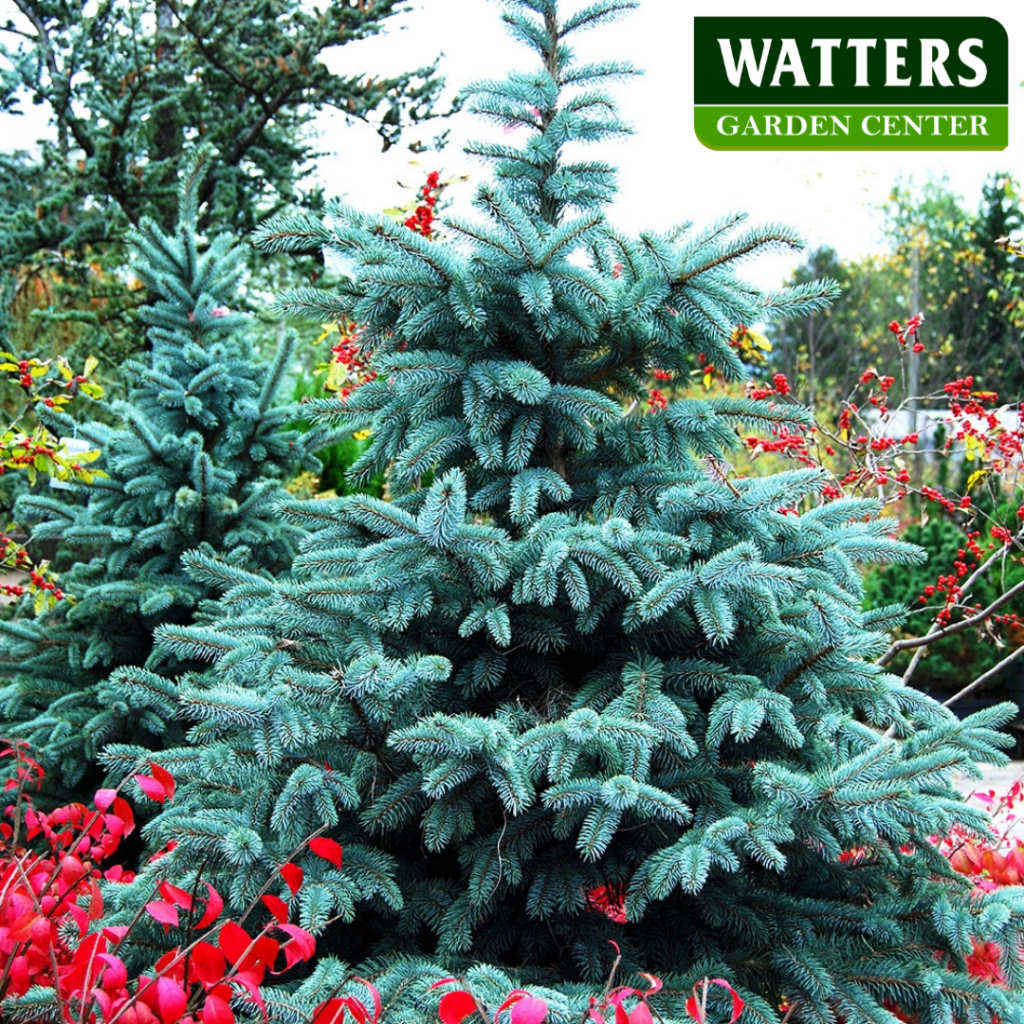 Blue Spruce trees combine beauty and function. Their distinctive blue foliage is a stunning addition to any landscape that grows tall enough to screen and break wind. Twice taller than wide, this native evergreen is best planted where it has room to grow. Use it to separate tall multistory buildings. Tall enough to screen the view from second or third story windows. Gorgeous in estate-sized landscapes.
Vanderwolf Pine is related to Arizona Pinion Pine producing fluffy foliage that resembles a blue Cedar from a distance. It is remarkably resilient in dry Arizona soils. Makes a graceful single specimen in front yards, parks, or expansive estate-sized landscapes. This distinctive pine grows 12'x5′ with long, twisted, silvery needles covering the dense branches. Carefree and easy to grow.
You now have the ideal three trees for every mountain season. The soil is warm, and trees are actively rooting, making this an ideal season to plant new trees of your own. Research even more local choices through the web at Top10Trees.com.
Until next week, I'll be helping local gardens plant the best trees here at Watters Garden Center.
Throughout the week, Ken Lain can be found at Watters Garden Center, 1815 W. Iron Springs Rd in Prescott, or contacted through her website at WattersGardenCenter.com or Top10Plants.com.