by Ken Lain, the mountain gardener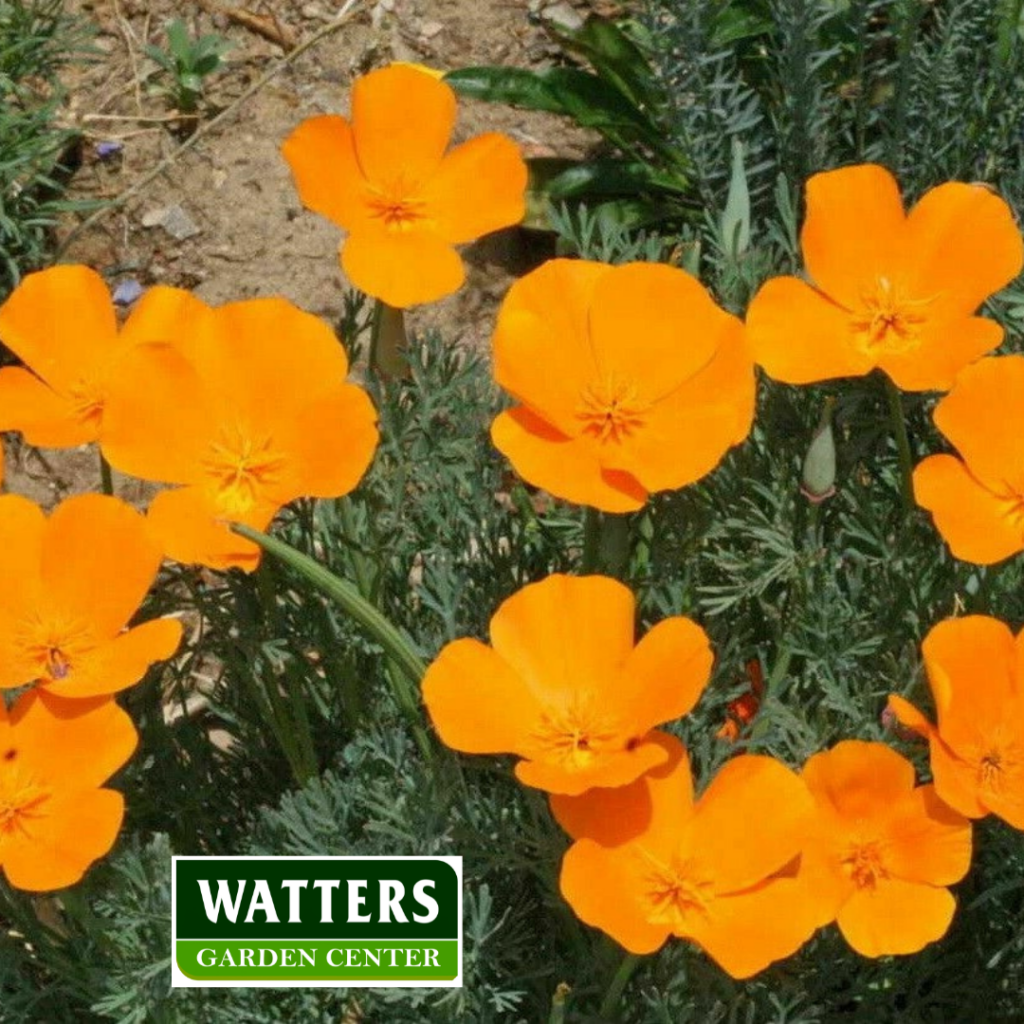 California poppy, Eschscholzia californica, are vibrant little flowers that grow in vacant lots and roadsides with no care. California poppies bloom throughout the mountains of Arizona in late Spring to early Summer. These festive flowers seem to spring up overnight, blanketing large areas with bright, silky petals that hover over ferny blue foliage. Pick a flower by its stem and discover the fleeting beauty as the petals fall to the ground before getting them in a vase.
Poppies are planted by seed from January through March for the best spring bloom. Watters Garden Center has mature plants in full color from March through May.
Botanical Name Eschscholzia californica
Common Names California poppy, cup of gold, golden cup
Plant Type Herbaceous, perennial
Mature Size 12–18 inches tall and wide
Sun Exposure 6+ hours to Full
Soil Type Well-drained
Bloom Time Spring
Flower Color Orange, yellow, red, pink, white
USDA Hardiness Zones 6–10
Native Area North America, Central America
Toxicity Toxic to people and animals
California Poppy Care
The key is providing them with growing conditions that mimic their native habitat. This plant is more about what you don't give California poppies than what you do give them. Less is more when it comes to water and fertilizer. Don't coddle your plants, and you'll enjoy watching them self-sow and pop up for many seasons to come.
Deadheading, removing the spent blooms, promotes additional flowering. If you wish plants to reseed themselves, leave some of the last flowers of Spring on the plant to cast more seeds throughout your gardens. Plants grown in hot desert climates and containers are typically short-lived and treated as annual bloomers. Local gardeners favor pulling them after blooming, making room for heat-loving summer flowers.
Light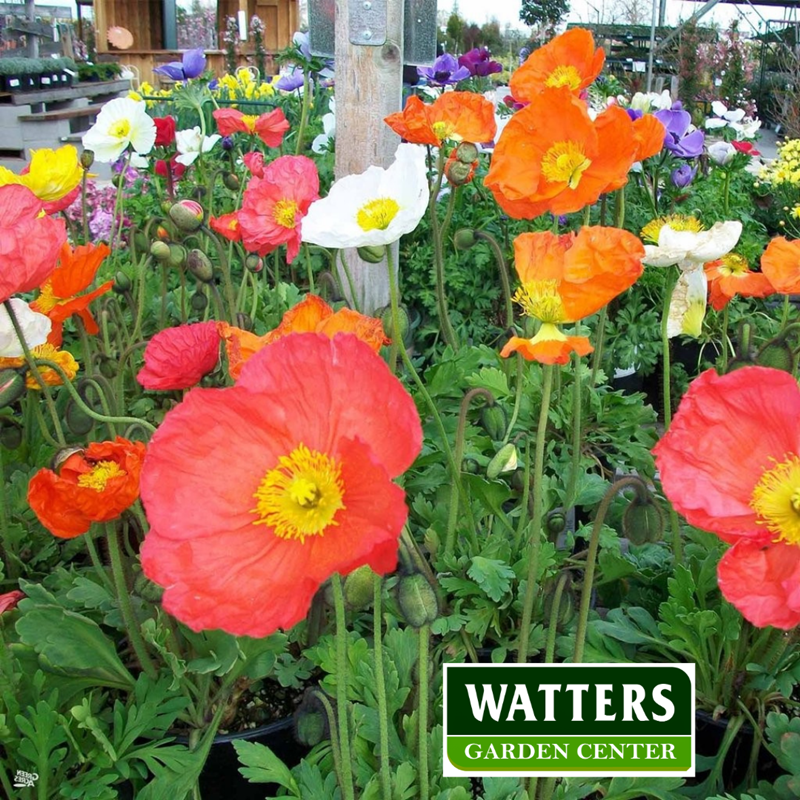 California poppies grow and bloom best in full sun, meaning at least six hours of direct sunlight per day. The more sunlight, the flower is expected. Poppies grown in shade conditions lean, fall over, become ragged and easily succumb to diseases.
Soil
Most flowers need rich, loamy garden soil, not California poppies. They thrive in the worst dirt. Sandy and rocky soils both provide suitable conditions for California poppies. Heavy clay soil doesn't work because these plants need sharp soil drainage. Try planting in a raised garden bed or container if you have thick clay soil.
Water
California poppies require very little water and are good candidates for drought-tolerant xeriscapes. Sporadic spring rainfall is usually adequate to water your plants. The plants will often go dormant in areas with hot summers and need no additional irrigation.
Temperature and Humidity
The warm soil of Spring, combined with moisture from the spring rain, triggers the germination of poppy seeds. California poppies continue growing as long as temperatures remain mild; they don't like summer heat. Excessive heat causes dormancy. Often, when cool temperatures return, the flowers regrow and rebloom. Even better, California poppies prefer low humidity levels.
Yarrow adapts much like mountain wildflowers when treated with any care. Feed with Watters 7-4-4 All Purpose Food three times per year in March, July, and October for a super long bloom.
California Golden delivers that classic bright orange color of the flowers.
Mission Bells is a mix of sherbet hues, including pink, salmon, and cream, with some semi-double blooms.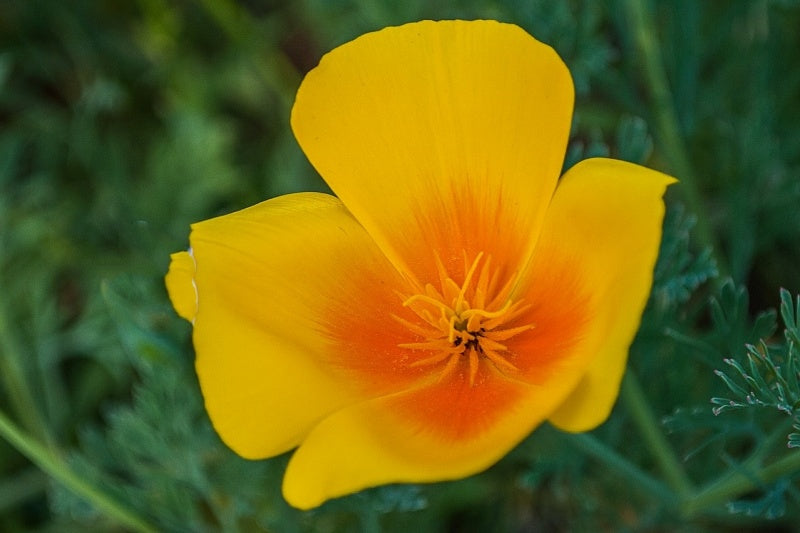 Golden West is a twist on the familiar orange bloom, as it features a darker center.
How to Grow California Poppies From Seed
Press the seeds lightly into the soil, watering gently to avoid dislodging the tiny seeds. Germination should occur in about two weeks when spring temperatures average 75 degrees. You can distinguish germinating poppy seeds from weeds by observing the blue tint of ferny foliage. Thin seedlings to about 8 inches apart.
Common Pests/Diseases
Poppies are deer and javelina-resistant and more resistant to powdery mildew and leaf spots than Iceland Poppy. Because powdery mildew, a fungus, thrives in humid weather, ensure good air circulation in and around your Poppies by giving them 8″ inches of space between plants.
Companion Plants with California Poppy for a Stunning Backyard
Arizona Gaillardia – The perfect mountain perennial with huge fiery flowers on a compact plant. She loves the heat and super drought-hardy. You can count on this bloomer to show off all summer long in raised beds, containers, or directly in the ground. Javelina and rabbit proof, this bloomer is a 'must-have.' Arizona plant.
Perfume Lilac – The fragrance will remind you of visits to Grandmother's house. She is in a class by herself, even in the hottest of sun locations. The more sun she receives, the more flowers you will have. A genuinely outstanding lilac for the large flowers and captivating fragrance, and super easy to grow.
Songbird Columbine – This graceful beauty dances in the garden's shade, holding its head high and smiling. Few Plants stand so bright in the cooler parts of the garden. Each Spring, this bloomer comes back with lacy green foliage promptly followed by a fantastic two-tone flower. An excellent cut flower that is both Deer and Rabbit resistant. So hardy, some varieties naturally call Arizona home.
Purple Twist Plum – This AZ plum is the perfect small purple tree between evergreens. Blooms in a profusion of pink flowers that precede the deep purple foliage. Large enough to use as a front yard tree and behaved enough to use as a street tree. Plant pairs flanking gateways, driveways, or in orchard-like rows to screen a view of neighbors.