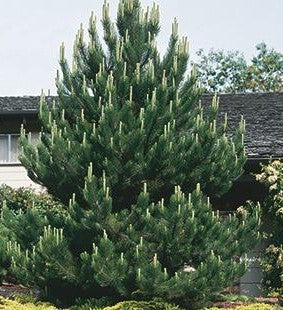 Of course, any plant can be decorated and used as a holiday decoration. Over the years I've sold all types of trees as living Christmas trees, even dormant fruit trees. The most popular choices have been: Colorado spruce – with its perfectly layered shape, Austrian pine – which looks like a mini Ponderosa pine, and Alberta spruce – cute, cuddly, and bushy.
Living trees used for Christmas and then planted outdoors are so popular that this year I brought in two new varieties for a shopper's consideration. One of them, the Vanderwolf Pine, is long-needled like a ponderosa pine, but the topsides of the needles are blue like a spruce, the undersides showing a noticeably white color. This two-toned tree seems to shimmer as if it were illuminated by cool moonlight.
The nicest crop of super Fat Alberta spruces arrived in the most recent shipment.  As usual, each tree is in a perfect Christmas tree shape, and at a maximum of 10 feet, the perfect height. After its Christmas duty indoors, this small spruce looks great when planted as an accent in the front yard or alongside the house as part of a privacy screen.  If needed, the screen can grow by adding each year's new Fat Albert.
The first two Saturdays after Thanksgiving are always the busiest days to shop for Christmas trees.  So here's an insider's tip . . . shop early for living trees as the best choices of the various crops are well decimated before December 25th. Because people's moods are elevated when they are shopping for Christmas trees, I love my job this time of year. It really is fun to help happy people choose the perfect trees for their holidays.
~~ ~~ ~~ ~~ ~~ ~~ ~~
Using a Living Tree indoors – Here are a few tips, tricks, and techniques for trees that will spend their holiday time indoors before being planted outside. Let's go through the steps of successfully maintaining and planting a living Christmas tree.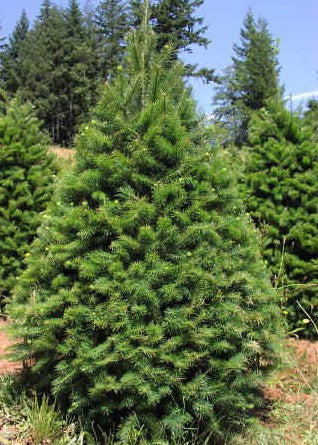 A living Christmas tree can be kept safely indoors for 7 to 10 days. Make sure you do not exceed the 10-day rule because our winter indoor environment is very drying. Exceeding this time limit will affect the survivability of the tree.
Once the tree is indoors situate it at least 10 feet from a wood stove or fireplace. Avoid placing the tree in a sunny window and do not place it where it will receive direct flow of heat from a furnace vent. Protect the tree from drying out by spraying the needles with "Anti-Stress 2000" plant protector, a clear polymer anti-transpirant. It slows the tree's evaporative loss of water through its needles.
Check the tree daily to be sure the soil is not dry. This is very important! At the garden center we water these trees every 3 days or so; at home you should do the same. Vinyl saucers under your trees will protect flooring from watering accidents. Ice cubes are an ideal way to water; they work like an artificial drip system as the ice slowly melts and cools and moistens the roots. Living trees can be decorated, but lights should be the small miniature types or LED, as they burn without releasing heat. Do NOT use spray snow that adheres to the needles.
When the celebrations are over, your living tree should be set in an unheated garage, carport, a shady protected location, or just at the North side of a house. It should be left there for a week to allow acclimation to outdoor temperatures. It has been toasty warm indoors for the holidays and now must get used to the out-of-doors. The tree should be hosed off and kept watered during this pre-planting period. To allow for proper drainage be sure to remove the saucer used indoors. Many people simply decorate their living trees and leave them outdoors throughout the season.  They like the festive touch at their entryways or on their decks or patios.
Any nice day in January is a good time to plant your living Christmas tree. In the meantime, snow can pile up on trees causing them to lean, especially on varieties like upright juniper, cypress, and pine, so remember to use stakes to keep the trees upright. Also, remember that trees planted in winter will have to be watered twice a month. For more information ask for my free "Mountain Planting Guide".
~~ ~~ ~~ ~~ ~~ ~~ ~~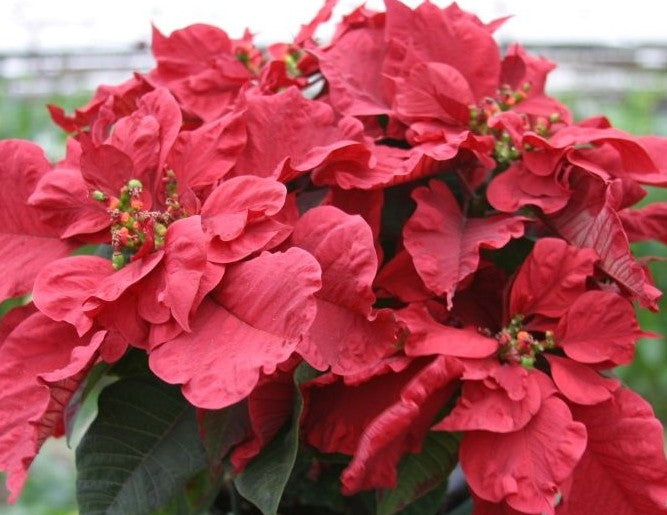 Plant of the week is the Red Carousel Poinsettia. Poinsettias are a natural gift for the holidays and this new variety is sure to make a grand impression.  The dark red flowers from this year's newest plant have curled bracts that resemble rose petals. Around the greenhouse it's a favorite with customers; they claim that it's so perfectly formed that it almost looks artificial!
Interesting Note – Many people believe the misconception that poinsettias are poisonous. Poinsettias are not poisonous. As part of the Euphorbia family, poinsettias do produce a milky sap that can cause skin irritation for some of us.  So, keep these beautiful plants away from small children and pets as ingestion could cause mild discomfort.
~~ ~~ ~~ ~~ ~~ ~~ ~~
This week, along with living Christmas trees, large numbers of poinsettias, Christmas cacti, cyclamen, and amaryllis arrived at local garden centers. The holiday season is upon us; so, here we go again!
Until next week, I'll see you at the garden center.