by Ken Lain, the mountain gardener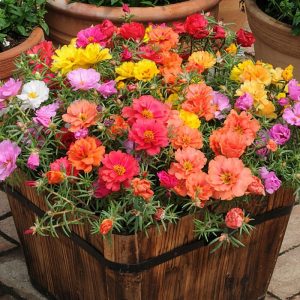 Portulaca plants grow to 8 inches tall, and spread 1 to 2 feet to create a dense mat, making this bloomer the perfect groundcover, or ideal at spilling over containers and sunny hot raised beds.
Botanical Name Portulaca grandiflora
Common Name Moss rose
Plant Type Annual flower
Mature Size 3-8″ inches tall and 12-24″ inches wide
Sun Exposure 6+ hours needed per day
Soil Type Sandy, well-drained, tolerates moist to dry soils
Soil pH 5.5 to 7.0
Bloom Time Early spring until fall frost
Flower Color White, orange, yellow, red
Hardiness Zones 2 through 11
How to Grow Portulaca Flowers
The low water and easy care requirements of moss rose makes this flower the perfect choice for hot, windy containers and hanging baskets.
Portulaca behaves itself as a ground cover, never going out of bounds, so try it in a small garden or fairy garden. Plant portulaca in the rock garden, where it flourishes in dusty soils. It is also vigorous enough to grow in the pockets of a stacked stone wall, where the plant tumbles down a sunny embankment.
Light
Portulacas need six to eight hours of sun to reach their full potential. Grow Portulaca in a shady area, their flowers pout and curl up. You'll also notice the flowers close at night and on cloudy days.
Soil
Portulacas demand well-drained soil. If your soil is mostly clay, you should grow your portulacas in containers rather than try to turn the clay into the sandy, rocky soil these plants adore.
Water
Portulacas are drought-tolerant, but they aren't cacti. The plants will tolerate periods of dryness, and you probably won't return home to withered specimens after vacation, but flowering is better with regular irrigation. Drip irrigation is best, as sprinklers can disfigure the delicate blooms.
Temperature and Humidity
A native of Brazil, Uruguay, and Argentina, moss rose likes heat and can tolerate dry conditions. It is commonly used in xeriscape landscapes.
Fertilizer
For amazing flowers, feed portulacas twice per month with Watters Flowers Power through October.
Varieties
Moss roses make excellent companions for flowers that also thrive in hot, dry, sunny gardens. Gomphrena flowers, zinnias, and dusty miller look handsome planted in moss rose borders.
Moss rose is excellent for filling in the gaps after spring bulbs have finished blooming, and foliage withers away. They grow over bulbs to form a matt without suffocating your bulbs. The low irrigation needs of moss rose won't put your bulbs at risk of rotting.
Pruning
Portulacas bloom all season, but they may begin to look lanky by August. If this happens, trim your plants back and feed with 7-4-4 All Purpose Plant Food, and watch them grow back with renewed vigor.
Growing Moss Roses From Seeds
If you're growing your portulaca plants from seed, take care not to over-sow the tiny seeds, which are as small as pepper flakes and need light to germinate. You can start the seeds indoors eight weeks before the last frost date for early spring flowers, or plant them directly in the ground after the last frost. The seeds take about two weeks to germinate in warm temperatures of 75-85 degrees. Plants also self-seed generously, so learn to recognize young seedlings in the spring garden.
Common Pests
Aphids occasionally bother portulacas, especially in spring. Spray affected plants with Triple Action by fertilome if this happens. Slugs and snails affect plants in wet areas. This pest is easy to control with organic baits sold here at Watters Garden Center.
Companion Plants
Portulaca begins blooming in late May and only become more spectacular as June progresses. They look great and grow well with the following companion plants.
Sunburst Honeylocust – This mountain native cheerfully shouts, "Hello, Spring!" with its glowing yellow leaves. As summer heats up, it settles down to a naturally cool green, only to turn gold again in autumn. This Watters exclusive casts a dappled shade perfect for reading a book or sharing an outdoor meal. Take the sun and wind, yet easy on your time, water, and maintenance, even the fall cleanup is a piece of cake! Impervious to deer.
Moonshine Yarrow – A fuss-free, heat-loving bloomer with large clusters of canary yellow flowers held above ferny, grey foliage, just stunning. Sunny borders and rock gardens are perfect or planted in a mass to create a bold band of color throughout summer. Mountain tough, you can't kill this perennial that only blooms better year after year. Javelina and rabbit detest the summer blooms.
Halls Japanese Honeysuckle – An outstanding mountain vine with fragrant yellow flowers that loves blooming in the summer heat. Wind, drought, deer, javelina are no problem. Ideal at growing up fences, walls, or as a groundcover. An excellent solution for a fast-growing screen, even in the poorest of soil. Summer is the preferred planting time for this heat lover.
Gilt Edge Silverberry – Varigated leaves of bright gold and blue provide interest every month of the year. Growing to head high, she screens out the most obnoxious neighbor while standing up to blistering heat and wind. The super sweet flowers are utterly animal proof, even javelina and deer don't like the taste of this local shrub. Best planted in the heat of summer for faster growth.
Ken Lain can be found throughout the week at Watters Garden Center, 1815 W. Iron Springs Rd in Prescott, or contacted through his web site at WattersGardenCenter.com or FB.com/WattersGardenCenter