by Ken Lain, the mountain gardener

There are as many ways to landscape around the pool as possible styles and shapes of pools. Formal styles show off the pool as part of your home's architecture. Whatever your style, you need non-messy plants that are low maintenance without dropping a lot of leaves in and around the patio deck. When selecting trees and shrubs, pay attention to plant height, both now and in the future. Seamlessly integrate your pool into the surrounding landscape as if it were a natural spring.
Here are my best poolside designs with different styles and planting approaches.
Extend the Pool
An unsightly concrete wall wholly wrapped around the pool. Solution: designed a raised planter from the wall to the pool's edge and cover it with luminous blue tiles that feel like part of the pool. It's now a planting filled with a garden that looks like it could grow underwater.
You find vivid plants with blue and purple tinges. Dracaena, canna, agaves, and asparagus fern punctuate the scene. The plantings carry your eye up the hill and blend in with the lighter chaparral beyond.
Plants in the Design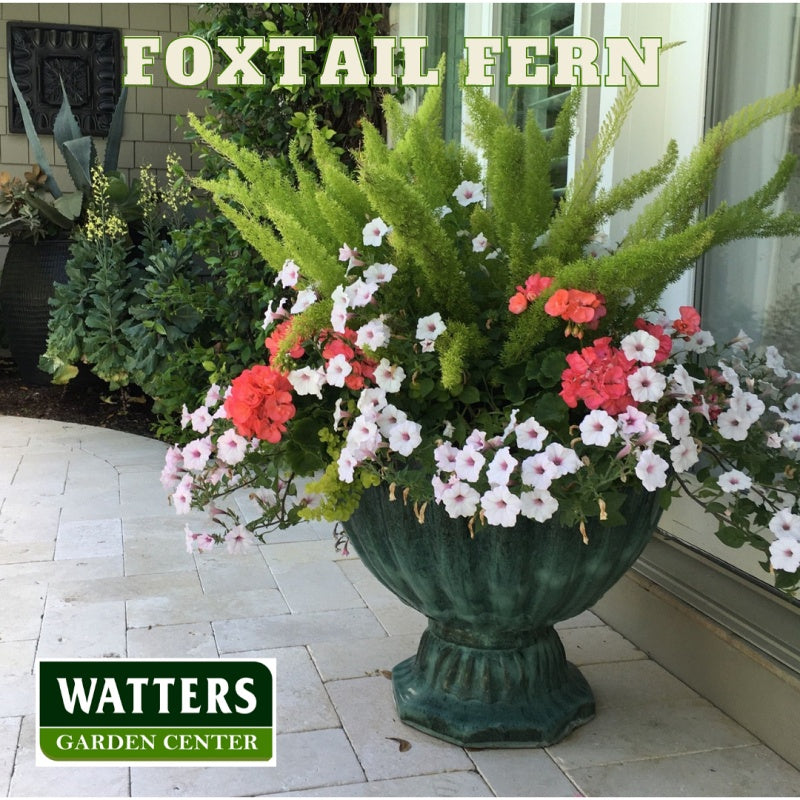 Foxtail Fern– Long, upright, plumy stems hold soft needles. Semi-evergreen in mild winter regions used in containers and overwinter indoors at mountain elevations. Develops red ornamental berries through Autumn. An ideal choice for hanging baskets and containers.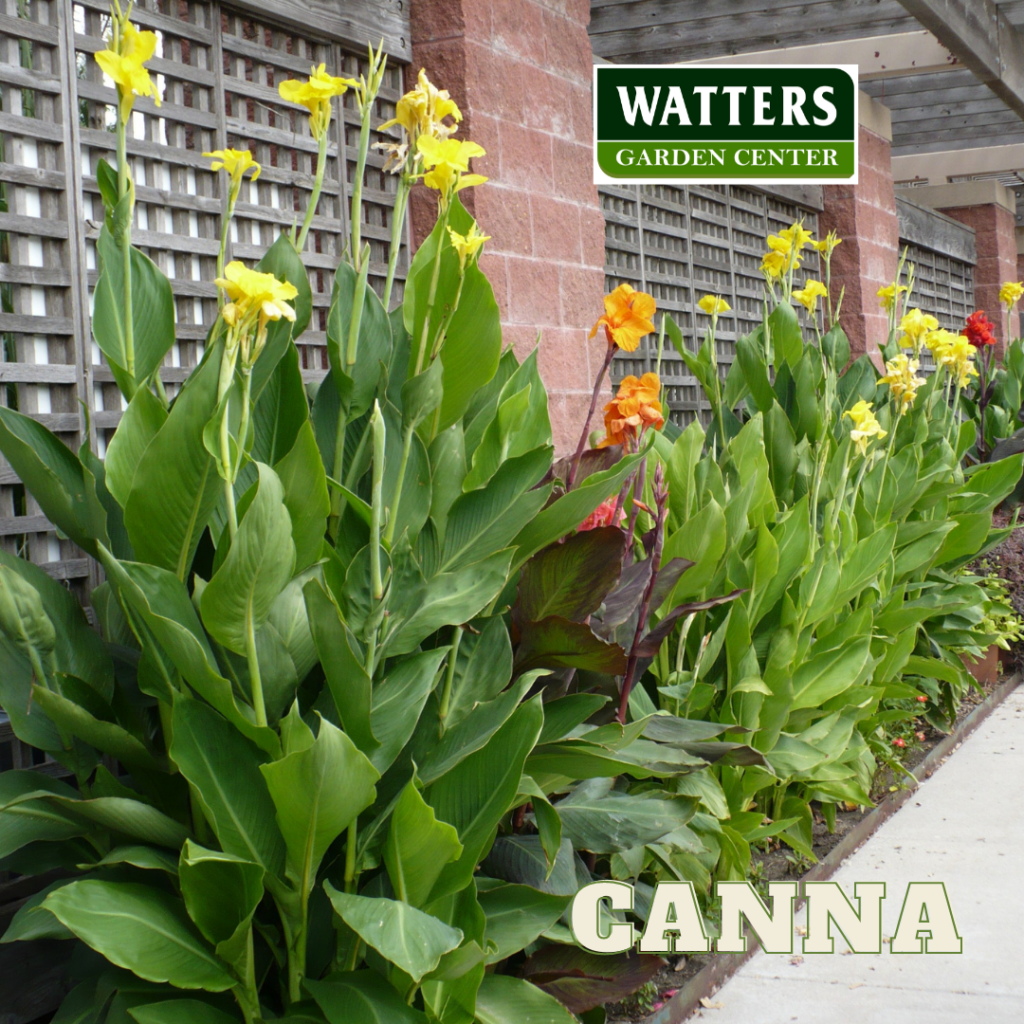 Tropicanna Canna– offers tropical style and exotic flair that looks great in patio containers. Large, bright-orange blooms and dramatic orange, burgundy, and green foliage. Up to 4′ tall by 3′ wide and perennially hardy down to 5 degrees.
Dracaena Palm– This dramatic palm-like dracaena has rich, dark foliage and an upright habit. Up to 5′ trunk with a 3′ wide foliage. Easy care and great as a covered patio plant. Store indoors through winter.
Loosen Up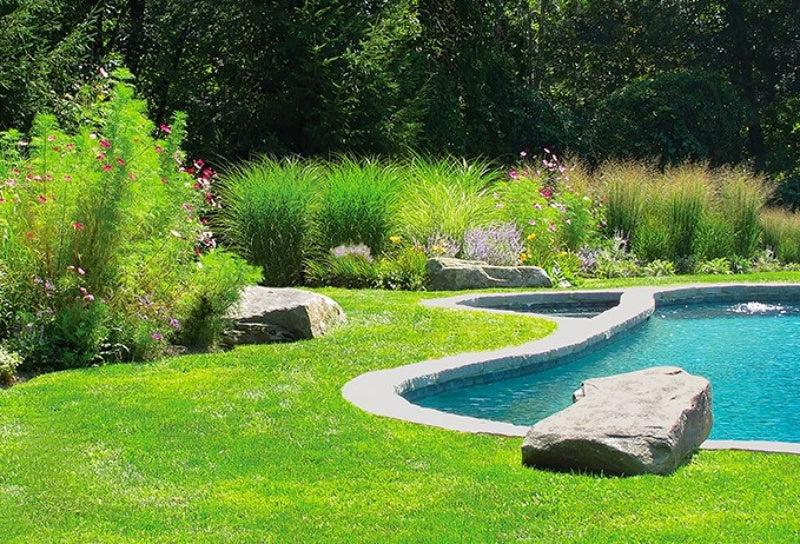 The best way to conjure the breezy elegance of a natural spring is by keeping the surrounding landscape loose. Artful rocks shoulder the pool area, with a flat-surfaced boulder strategically near the pool as a natural springboard. This bouldered landscape helps bridge the expansive lawn to the mature trees just beyond and changes with seasonal color. The grasses felt genuine when refreshing this exciting pool.
Plants in the Design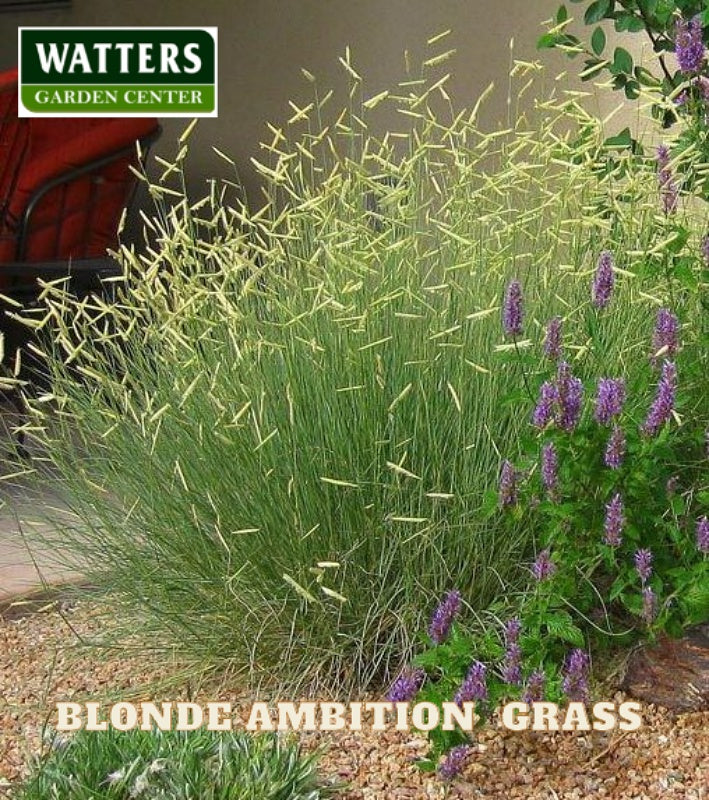 Blonde Ambition Grama Grass– This rugged, native grass features blue foliage and striking golden flowers on stiff, weather-resistant stems. Provides cool-season interest with long-lasting blonde seed heads that remain through winter.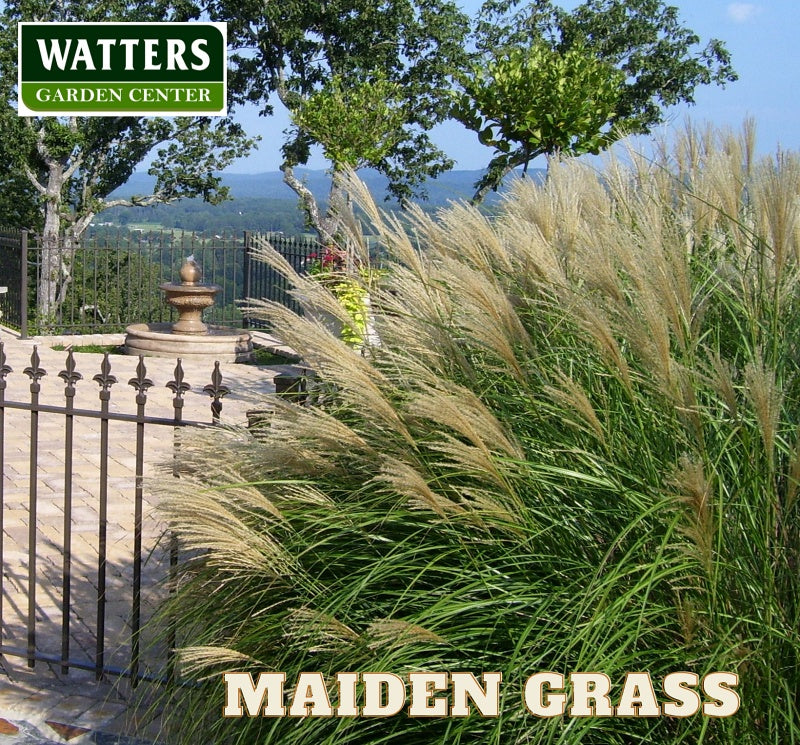 Maiden Grass flowers at an early age with silvery white blooms in summer. Foliage turns golden bronze in Autumn. Up to 3′ tall and 2′ wide and very hardy.
Agastache– burgundy-rose flowers pop against dark green foliage that attracts hummingbirds and butterflies. Thrives in local gardens; 3′ tall.
Pool with a View
This poolside setting is a series of terraces meant to celebrate the large trees and panoramic views. The soft grass and perennial flowers create an easy-care, contemplative landscape.
Lavender, salvia, and penstemon echo the pool's blue and provide other places for the eye to rest alongside flax and Erigeron. By using muted colors and a limited palette, the design draws the eye to other vistas.
Plants in the Design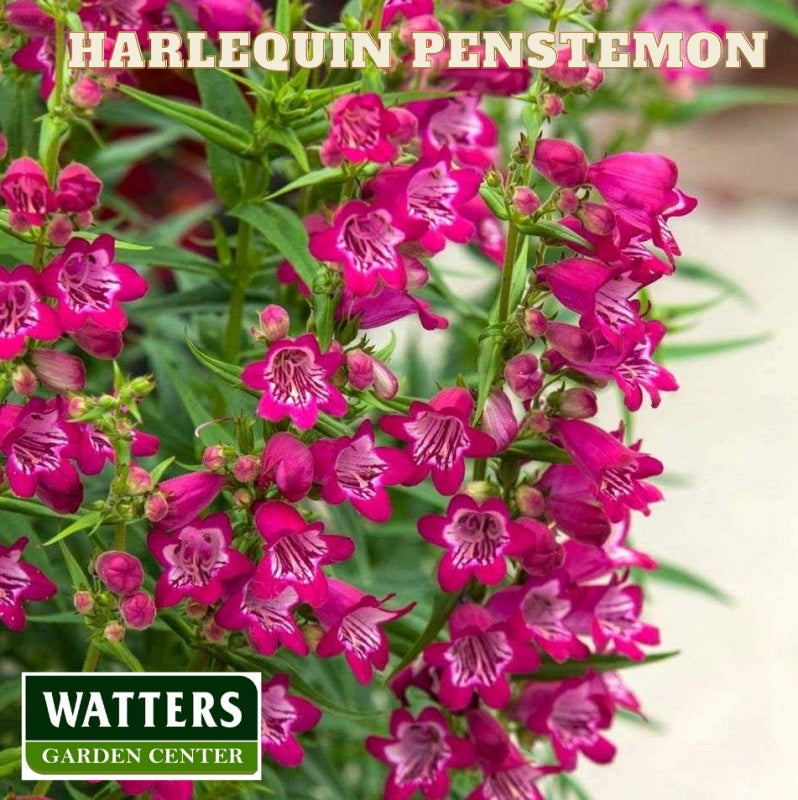 Harlequin Pink Penstemon– this cottage garden essential produces a profusion of tall, native spikes of bright pink flowers that bloom from early summer to fall. Locally hardy down to -30 degrees.
Munstead Lavender– A rugged yet beautiful evergreen shrub with mounding, aromatic foliage and an abundance of fragrant, rich lavender-colored flower spikes.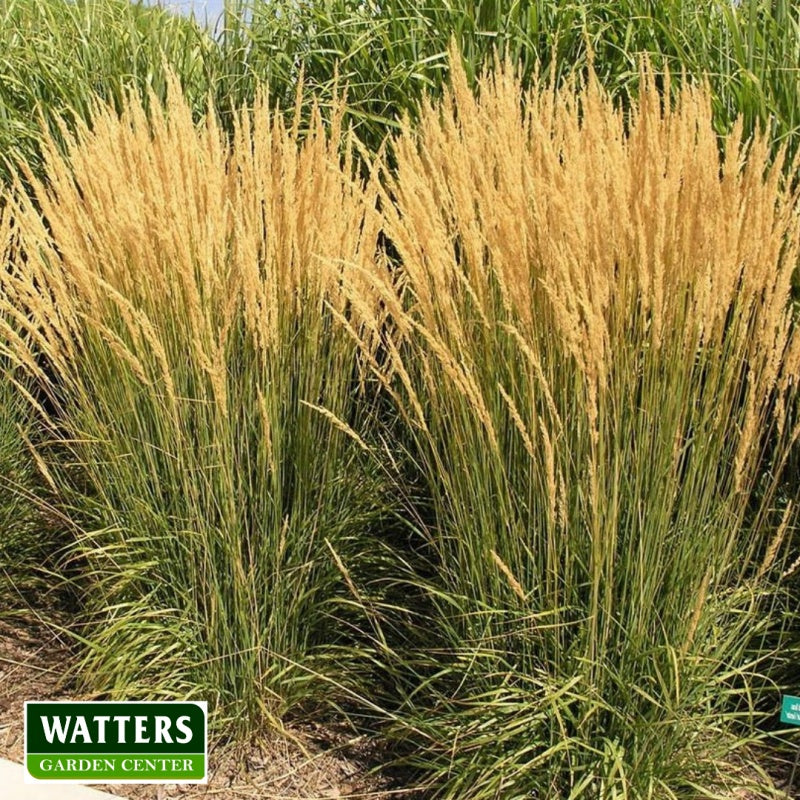 Karl Foerster Grass – Creates a stunning vertical effect with feathery stalks that emerge reddish brown in spring and turn a rich golden color in fall. Blooms much earlier than common feather reed grass.
Feast by the Pool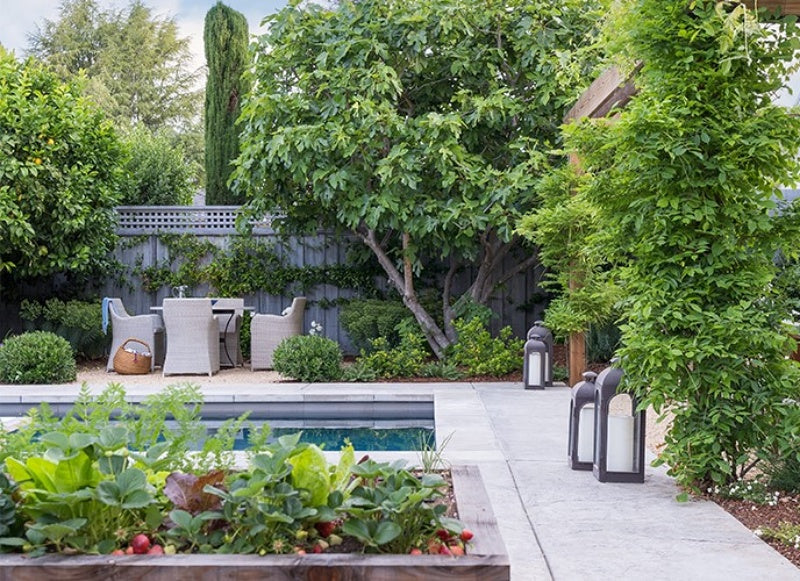 The secret to creating an edible poolside is to use edible perennials. These plants need less maintenance and provide greenery through the off-season. Grow seasonal vegetables in raised beds far enough to avoid splashes and rogue pool toys. Espaliered apples and figs balance the blueberries, artichokes, and strawberries. The herbs are reserved for smaller spaces.
Plants in the Design
Seascape Strawberry– A highly productive variety with a long season and large, delicious berries. Ever bearing with good disease resistance when splashed by the pool.
Fignomental Fig has all the big fig flavor of a classic fig but in a miniature form. Growing to only 28″ tall and wide, it's perfect for urban gardening, small spaces, and poolside.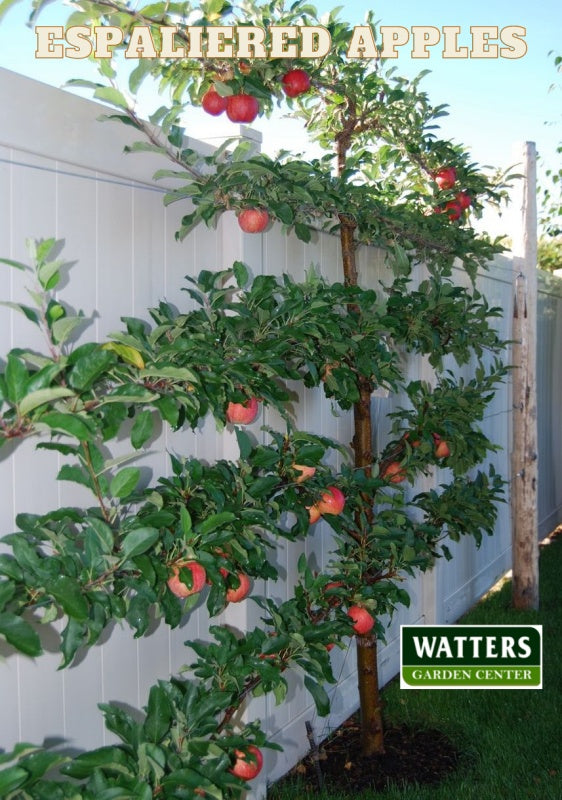 Honeycrisp Apple – Charming pink-white flowers provide a showy spring display, then produce large, vivid red fruit with exceptional flavor and crispness. Excellent for fresh eating, cooking, or pressing for cider.
Free Garden Classes at Watters Garden Center Saturday @ 9:30 am
Every Saturday morning at 9:30, I host free garden classes correct for our garden season. Here are the free courses for the next few weeks.
August 13 @ 9:30 am – Wildlife & Bug Prevention
August 20 @ 9:30 am – Best Evergreens for Mountain Landscapes
August 27 @ 9:30 am – Gardening for Newcomers
Until next issue, I'll be helping local gardeners landscape stunning patios here at Watters Garden Center.
Ken Lain can be found at Watters Garden Center throughout the week, 1815 Iron Springs Rd in Prescott, or contacted through his website at WattersGardenCenter.com or Top10Plants.com.