Enjoy Summer-Long Color With These Long-Blooming Favorites
By Ken Lain, the mountain gardeners
Beautiful spring days draw gardeners into their backyards for a soft launch away from isolation, cabin fever, and the joy of fresh air. I am a flower grower and love the therapy my backyard provides when caring for my flowers while sipping my morning coffee.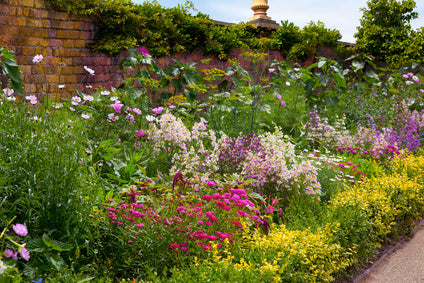 Lisa and I are planning our backyard entertainment area and gatherings with family friends we have missed during the lock-down. There's nothing like backyard burgers, a glass of wine, and cushy patio chairs around a fire pit with the special people in our lives. We are gardening in expectation of gathering with those we love.
There are two types of flowers, perennials and annuals. Annuals bloom non-stop the entire season we spend outdoors, then fade in the winter cold. Perennials usually have a shorter bloom cycle, but come back year after year for decades of garden enjoyment. Not all perennials are created equal in the mountains of Arizona, as many bloom longer like their annual cousins, but still come back every year.
Here is my list of long-blooming perennial flowers that repeat bloom and are magnets to hummingbirds and butterflies. Without question, they are a guarantee for extended periods of pleasant garden viewing.
Autumn Joy Stonecrop( Hylotelephium herbstfreud) is named for the literal translation of its German name, "Herbstfreud", which means autumn joy. It blooms in late summer with flowers that gradually darken over several weeks to a rust-red by Fall. The blooms are actually large masses of smaller flowers that clump together in groups 3 inches or more across. Autumn Joy is a very long-lived perennial and requires almost no maintenance.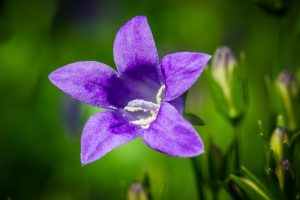 Bellflowers(Campanula) is a low, mat-forming plant that blooms for two solid months in late spring and early summer. It is an excellent plant for edgings, ground covers, or for trailing over walls. Divide plants every three or four years to keep clump vigorous.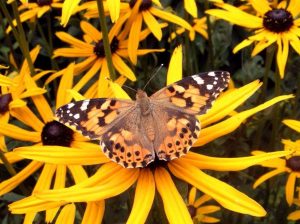 Black-Eyed Susan (Rudbeckia hirta) is popular because it blooms all summer, warms the yard with its cheerful color, and requires virtually no care. Deadheading prompts reblooming on this 2′ tall plant. Local gardeners allow it to spread like a wildflower through self-seeding.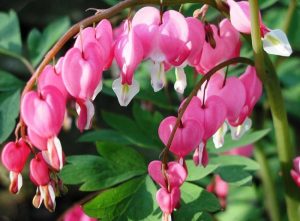 Bleeding Heart(Dicentra eximia) is perfect for shade gardens. Blooms last three straight months from spring through summer. It is super easy to grow this javelina-resistant, 12″ tall plant.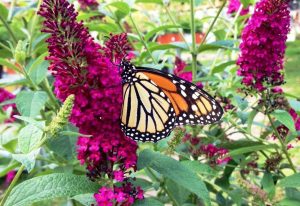 Butterfly Bush(Buddleja) typically blooms from June through September.  Few plants draw more butterflies into the yard than this one does. Dwarf varieties are good choices to plant in containers or raised beds. Larger types are best suited to landscape plantings. They are completely animal resistant, and bloom in colors ranging from purple, blue, pinks, and white. Every garden party should have at least one nearby for the endless butterfly entertainment it provides..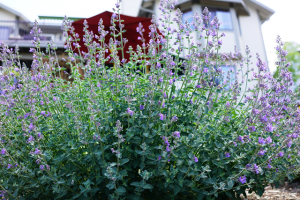 Catmint(Nepeta racemosa) should not be confused with the feline frenzy-inducing 'catnip.' Catmint grows just shy of knee-high so often is used as a groundcover. When sheared and fertilized with Watters 'Flower Power.', it repeat blooms with flowers that are a stunning blue. When planted in full sun, javelinas, deer, and rabbits find this plant utterly detestable!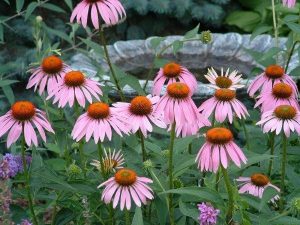 Coneflower(Echinacea) blooms from June through August on plants that grow 2′ tall. Although it benefits from division every few years, it is an otherwise low maintenance plant. This perennial loves mountain sun and butterflies. It is extremely animal resistant, making it a good choice for gardens bothered by forest mammals.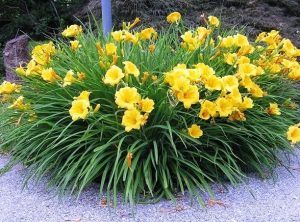 Daylily – Stella de Oro(Hemerocallis) is a compact plant 9″-12″ tall, and renowned for blooming May through July. This perennial requires very little care and often is planted as a companion to Iris. Its delicate appearance belies that
English Lavender(Lavandula angustifolia) is used to scent linens, sachets, and potpourris for a ridiculously easy touch of class to any home. Even gardeners with no interest in such domesticity grow lavender to "class up" their landscapes, patios, and/or decks. A sun worshiper, lavender grows to knee height, is animal-proof, and only can be killed by overwatering.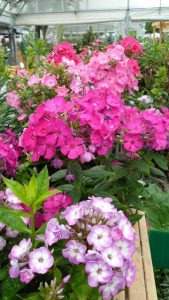 Garden Phlox(Phlox paniculata) is a long-blooming perennial that flowers from mid-summer well into the fall. Phlox does best in mild summer temperatures in a location that gets good air circulation. Spent flowers must be deadheaded to prevent rampant self-seeding.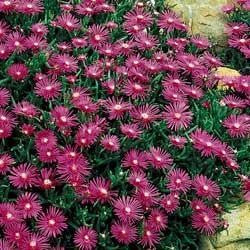 Ice Plant(Delosperma cooperi) has a succulent-like bloom from summer through fall, creeping through rock gardens with classic southwestern style. Virtually no maintenance is required once this bloomer takes to the garden.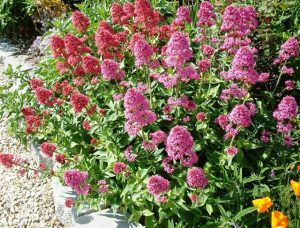 Jupiter's Beard (Centranthus ruber) has fragrant, 24″ carmine-red flowers that appear atop this plant over its long season, perfectly complemented by the fleshy, blue-green leaves. It performs heroically in poor, dry soils, growing well around rocks and masonry. It spreads easily, like wildflowers in sunny gardens.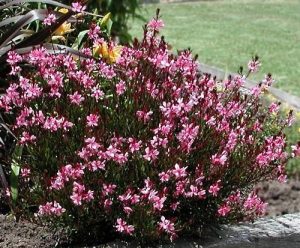 Passionate Rainbow Gaura (Gaura lindheimeri) bears a profusion of rose-pink flowers from spring to fall. Its variegated foliage of green leaves, white margins, and red-pink tones is as charming as its blooms. The 2' tall plant has excellent tolerances to heat and drought. Hummingbirds love to visit each flower in rock gardens, borders, and containers.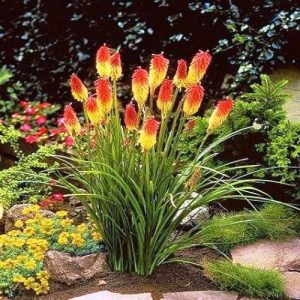 Red Hot Poker(Kniphofia uvaria) is most aptly named. The standard red hot poker grows to a height of 3′ feet tall with red and yellow cylindrical flowers. A dwarf Popsicle series found at the garden center this spring is named 'Mango Popsicle,' 'Pineapple Popsicle,' and 'Redhot Popsicle,' with each blooming late spring through mid-summer. This bloomer loves blistering hot sun, wind, and neglect, yet it is a bulletproof plant that javelina dislike immensely.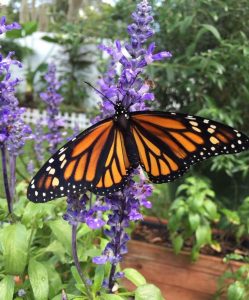 Salvia(Salvia nemorosa) needs to be deadheaded regularly so that this perennial 1' tall bloomer will bloom all summer. Salvia's naturalize in the gardens, much like wildflowers. This is another of Watters' javelina-proof plants that are ever so easy to grow.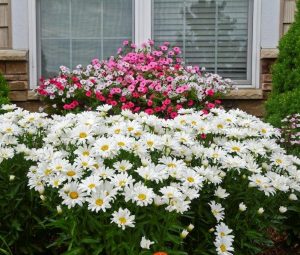 Shasta Daisy(Leucanthemum superbum) blooms arrive at the end of June, continuing through September. This 2' tall classic flower is more than just eye-candy backed by forest green foliage; it is sturdy, loves the sun and wind, and is animal resistant. Butterflies love the iconic blossoms as much as people do.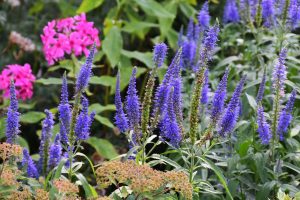 Speedwell(Veronica spicata) produces spikes of blue flowers on plants growing 9″ tall, and blooms from June through August. The key to extending the flowering season is regular shearing and feeding with Flower Power at 2-week intervals.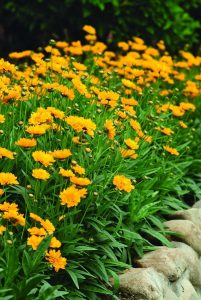 Threadleaf Coreopsis(Coreopsis verticillata) produces small, yellow daisy-like flowers on 2′-tall plants with delicately textured foliage. It can be stimulated into a second fall flush of flowers when the plant is sheared after the spring flowers fade. It loves our mountain sun and is amazingly easy to grow.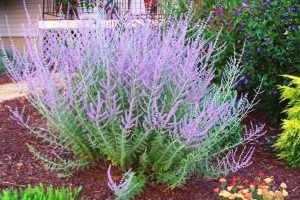 Russian Sage(Perovskia atriplicifolia) has a rather small blossom, but what it lacks in bloom size, it makes up for in bloom numbers that bring an attractive wispy look to the garden. This long-blooming perennial is showy but in the most tasteful way. The plant grows to 5′ tall, though it may sprawl. It blooms from July through October. Given lots of sun, neglect, abuse, and wind, and this tall garden bloomer's reward will be a long season of color. It is a blue pollinator for butterflies and hummingbirds.
Yarrow(Achillea millefolium) is an herb that blooms summer through fall on 1′- long stems. The native species blooms in yellow, but the plant is so happy in Arizona that we continuously introduce new colors like pink, paprika, white, and red. Grown as a medicinal, yarrow was used to staunch the flow of blood. Today gardeners are more interested in the beauty and low maintenance of yarrow than in its herbal use. It likes to be deadheaded, fed regularly with 'Flower Power,' and given lots of sun. Yarrow is noted for repelling Arizona snakes.
Until next week, I'll be helping local gardeners choose long-blooming flowers here at Watters Garden Center.
Ken Lain can be found throughout the week at Watters Garden Center, 1815 W. Iron Springs Rd in Prescott, or contacted through his web site at WattersGardenCenter.com or FB.com/WattersGardenCenter.